'Vanderpump Rules': Did Producers Already Know About Jax and Brittany's Controversial Pastor Long Before the Wedding?
Questions about a controversial pastor led Jax Taylor from Vanderpump Rules to ice out Tom Sandoval from his wedding.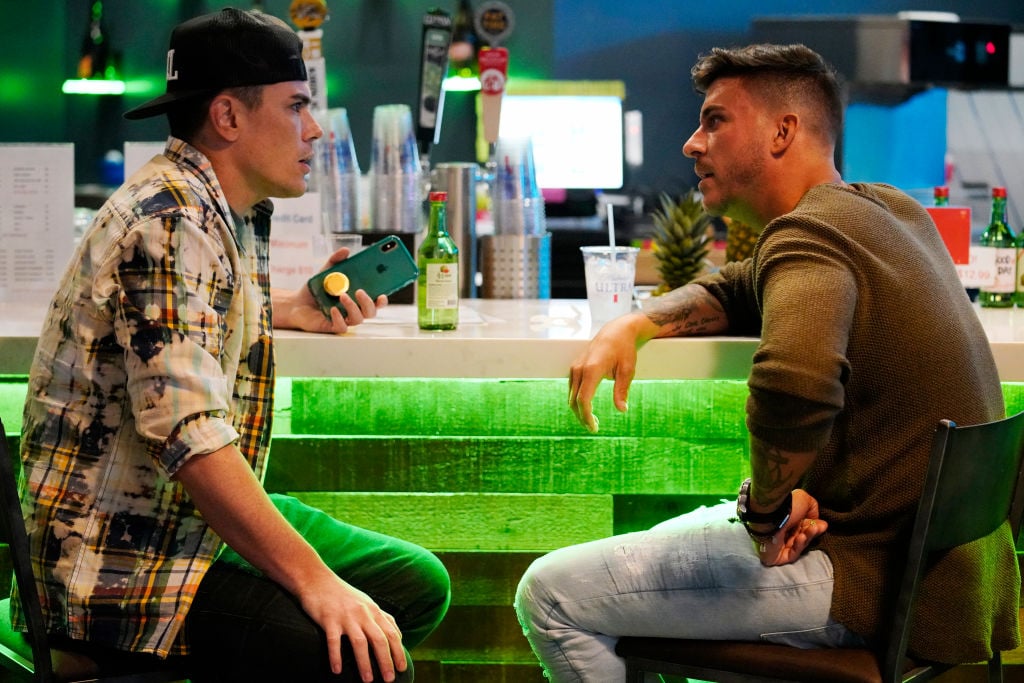 Taylor and Brittany Cartwright hired pastor Ryan Dotson to officiate their nuptials. Cartwright shared that she grew up with Dotson's daughter and knew him for several years. However, when fans unearthed several of Dotson's controversial Facebook posts, Cartwright was left to defend Dotson. She first defended him when she appeared on Watch What Happens Live with Andy Cohen. She claimed to have addressed the matter and cleared it up.
However, when Buzzfeed deputy editorial director, Lara Parker re-sounded the alarm, there was no way the couple could ignore multiple anti-gay and trans public posts Dotson shared.
Producers knew about Dotson long before the wedding
According to Bravo's The Daily Dish, producers knew of Dotson when they filmed the spin-off, Brittany and Jax Take Kentucky. However, producers added, "But nobody had interacted with him since then. We had not reached out to him yet about the wedding." 
Vanderpump Rules producers shared that Lisa Vanderpump read articles about the controversial pastor, plus she and other cast members were tagged in social media posts. "That led her to call Jax and Brittany," producers shared.
Additionally, producers commented on Cartwright's newfound assertive behavior on the show too. "Jax would do all the talking and Brittany would just listen," they shared, referring to when Cartwright joined the show. "Now she's much more confident and sure of herself. Brittany is someone who never wants to offend or upset anyone ever. She also hates confrontation."
Taylor becomes defensive toward Sandoval again
Taylor lashed out at Sandoval on Twitter when the episode aired showing Sandoval questioning the couple about Dotson. He took to Twitter insisting that Sandoval made a point about Dotson only to look good for TV. "Tom does things for tv so he looks good. Period," Taylor tweeted. "You all live in a fantasy world."
Taylor was on a roll and issued several tweets slamming Sandoval. "A good friend/business partner?" he added during the episode. "He constantly belittles Tom Schwartz and puts him down regarding his home, his marriage, how he handles business, but yeah, he's a good friend? Are we watching the same show?" Taylor also shared that Vanderpump didn't have anything to do with his wedding decision making too. "Lisa Vanderpump has zero to do with any decisions I have made," he tweeted. "I make my own decisions, I think I have earned that over 8 years."
Sandoval responds to Taylor's attacks
Sandoval didn't comment on social media. But he told Us Weekly that Taylor was just projecting on him. "It seems like he's angry and projecting," Sandoval said. "Jax will say that I'm doing everything for the wrong reasons. Try to discredit me in any way he can. Again authenticity is important to me and anything I ever do and say on the show is to be truthful, open and honest about my life and how I am feeling."
Sandoval added that he was well aware of Dotson before Parker put Taylor and Cartwright on blast. "Yes, it was bothering me before and it was all over the internet – but I didn't want to be the one to mention it. As Lisa had brought it up first then I felt it important to ask the question," he said. "I've experienced friends who are gay being influenced by these religious opinions and it has seriously affected their lives. Authenticity has always been important to me ever since I've been on the show and if I didn't say something then I would have been being inauthentic."