'Vanderpump Rules': Here's How to Make Tom Sandoval's Quarantini
Tom Sandoval from 'Vanderpump Rules' gives a quick tutorial on how to make a 'quarantini.'
Expert bartender Tom Sandoval from Vanderpump Rules demonstrated his version of the now popular "quarantini" drink, which includes a few tangy and savory ingredients.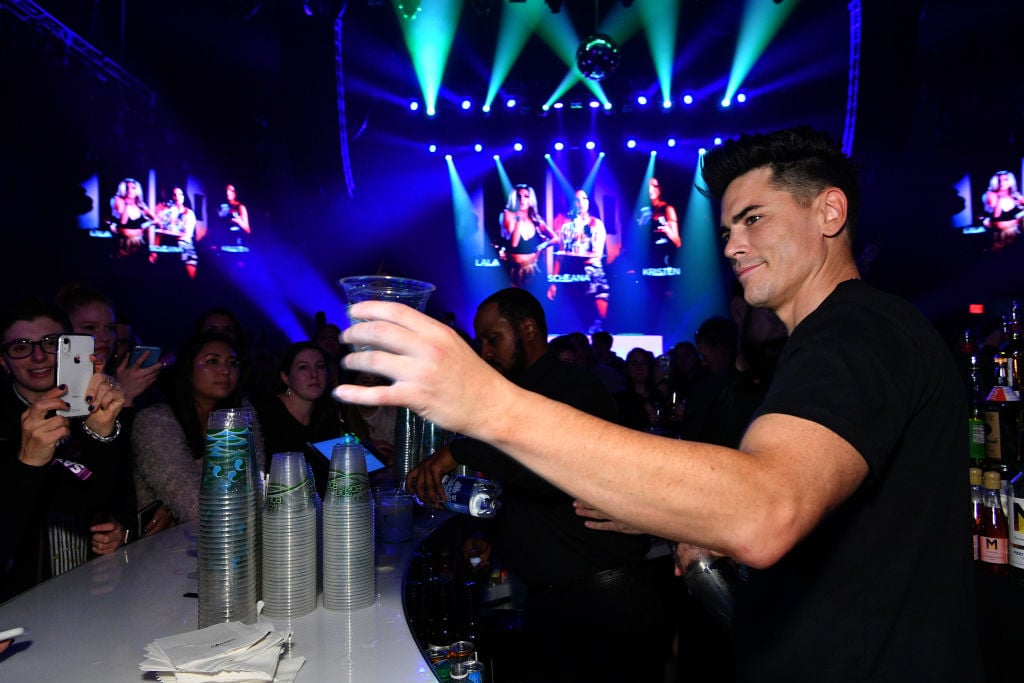 Sandoval hosted a demo video from his gorgeous home kitchen. He greeted fans and did the right thing immediately. "But first, I'm gonna wash my hands," he said squirting a few pumps of soap into his hands and lathering up.
While some people have made up songs to sing while they wash their hands to ensure they are washing them long enough, Sandoval sang his signature tune, "T.I.P." He even altered the lyrics stressing "don't touch in public, COIV-19 we gotta get above it!"
This is Sandoval's 'quarantini'
Sandoval's cocktail is pretty simple to make and he showed viewers a quick and easy way to measure ingredients. You'll need vodka, a jar of olives and a jar of pickles. Make sure both condiments include the juice. Sandoval also shared this hack. "And then one of these," he shows an empty plastic water bottle to the camera. "If you don't have a shaker you got one of these, right?" Make sure the water bottle also has the lid.
The water bottle also serves as a measurer. Sandoval first pours the vodka up to the first ridge or line of the water bottle. Worth noting, Sandoval's vodka bottle has a pour spout which makes dispensing the booze into the water bottle much easier and cleaner. No pour spout? A small funnel would also do the job.
Next, Sandoval adds pickle juice which is poured to the second line of the water bottle. "Everybody's got pickles lying around," Sandoval remarks. Finally, top off with olive juice. He tops the bottle with the lid and shakes. He pours into the glass and adds three olives.
Not a pickle fan? Try these ideas
While Sandoval's cocktail is probably delish, other versions of the quarantini are filling the Internet too. One person remarked on Sandoval's post that a quarantini with some immune system boosting elements would be nice. Another version includes vodka (or gin), lemon and honey. Rim the martini glass with crushed vitamin C, then fill a shaker with ice, according to the Novice Chef. Pour 3 oz vodka (or gin), 2 oz fresh squeezed lemon juice and 1 tablespoon honey to shaker. Shake and strain into a martini glass. Garnish with a lemon twist.
Want some spice? Try the Green Intensity. This includes 2.5 oz vodka, .5 oz simple syrup, .5 oz lime juice, 4 basil leaves, and 1 slice of jalapeno. Put everything except jalapeno into a shaker. Pour into a glass and garnish with the jalapeno.
Another refreshing (and somewhat "healthy") alternative is the Grapefruit Martini. 1.5 oz gin, 1.5 oz grapefruit juice, .25 oz simple syrup and 2 rosemary sprigs. Combine ingredients (except rosemary) in a chilled martini shaker and garnish with the rosemary sprig.
Of course, you can always just rename your favorite drink the "quarantini." The popular espresso martini, pear martini, and cucumber basil martini are also a delicious way to try to take a break from the madness.