'Vanderpump Rules': Is Tom Schwartz Cheating on Katie Maloney-Schwartz Again?
Tom Schwartz and Katie Maloney-Schwartz are the only couple from the first season of 'Vanderpump Rules' that are still together. But has Tom been cheating on Katie?
Tom Schwartz hasn't exactly been the most faithful boyfriend in the past. But since he and Katie Maloney-Schwartz got married, things have changed…or so we thought. On the Apr. 14 episode of Vanderpump Rules, Katie found something in her husband's suitcase that led her to believe that her beau may not have been as good of a boy as she would have liked.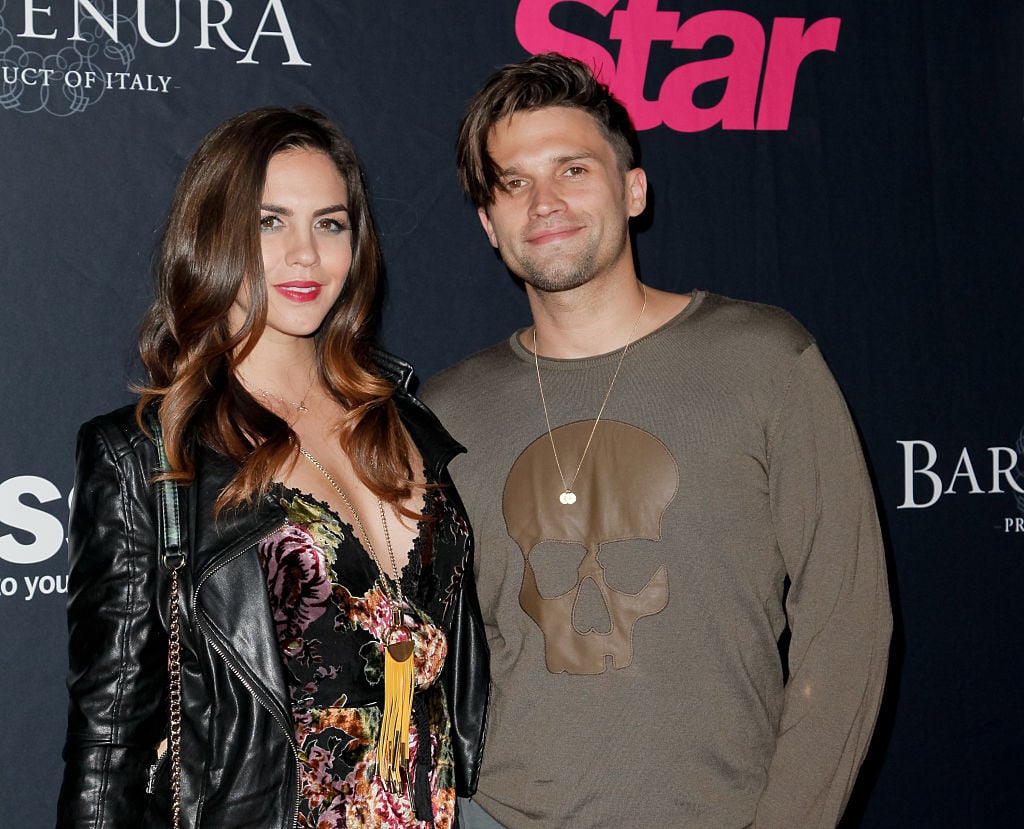 Katie and Tom's relationship
Katie and Tom are the only couple who has been together since season 1 of Vaderpump Rules. All of the other couples who started out the show together have broken up, made up, broken up again, and now split for good. Throughout their relationship, Katie pressured Tom to propose to her. Though Tom had cold feet, when Katie gave him an ultimatum, he straightened up and proposed.
The two were married in 2016, but the marriage was never made legal so they decided to do another wedding.
"It's all being filmed for next season of Vanderpump Rules, it's a huge chunk of Tom and Katie's storyline," a source told People ahead of the season. "They never had their marriage paperwork properly filled out, so they figured a trip to Las Vegas with their friends would be a great way to fix that."
Was Tom cheating on Katie?
On last night's episode of Vanderpump Rules, there was an item of women's underwear in Tom's suitcase. Tom claimed that the bra was Katie's.
"No it's not," she answered. "I've never seen that before in my life."
"Bubba, yes it is!" said. "Dude, what are you doing to me, man? I'm so f—ed."
Despite the evidence against him, Tom refused to back down from his story.
"Maybe I haven't always been innocent, but you know, mostly, and definitely as a lately," he told the cameras. "You know, I've got a clear conscience, nothing to hide, so get the fricking DNA tests out."
But really, it was just Lisa Vanderpump playing a prank.
"His case came to my room, and my case went to his room, so I put some of my underwear in Schwartz's luggage," Vanderpump told Katie. "And I just didn't want you to be upset, because, listen, he didn't file the paperwork. Everybody's always saying he gets away with s*it, okay, and he's never held accountable. So let's hold him accountable for something he didn't do."
Going along with the prank, Katie later told Tom that she didn't want to marry him.
"I don't know if we should do this today, because there's a bra in your bag that's not mine," she said. "I don't know if I can marry you."
When Tom looked like he was about to lose it, Katie came clean.
"I'm just f—ing with you," she said.
But for some reason, upon finding out who the bra belonged to, Tom wanted to keep it.
"Let's just see if she forgets, because I want to keep it," he said. "Not in a weird way."
Luckily, that was the end of the shenanigans and Katie and Tom were able to get married without any more issues.