'Vanderpump Rules': James Kennedy Gives an Update About His Friendship With Katie Maloney-Schwartz
After years of being at odds, James Kennedy and Katie Maloney-Schwartz from Vanderpump Rules seem to be in a good place.
Kennedy appeared on Watch What Happens Live with Andy Cohen and gave viewers a friendship update during the After Show. "Katie and I are on really great terms now," he says. "I'd say we're friends. You know, I say hi to her at all the events I see them at and I see her at TomTom sometimes too and I'm really happy to be in the place I am with her."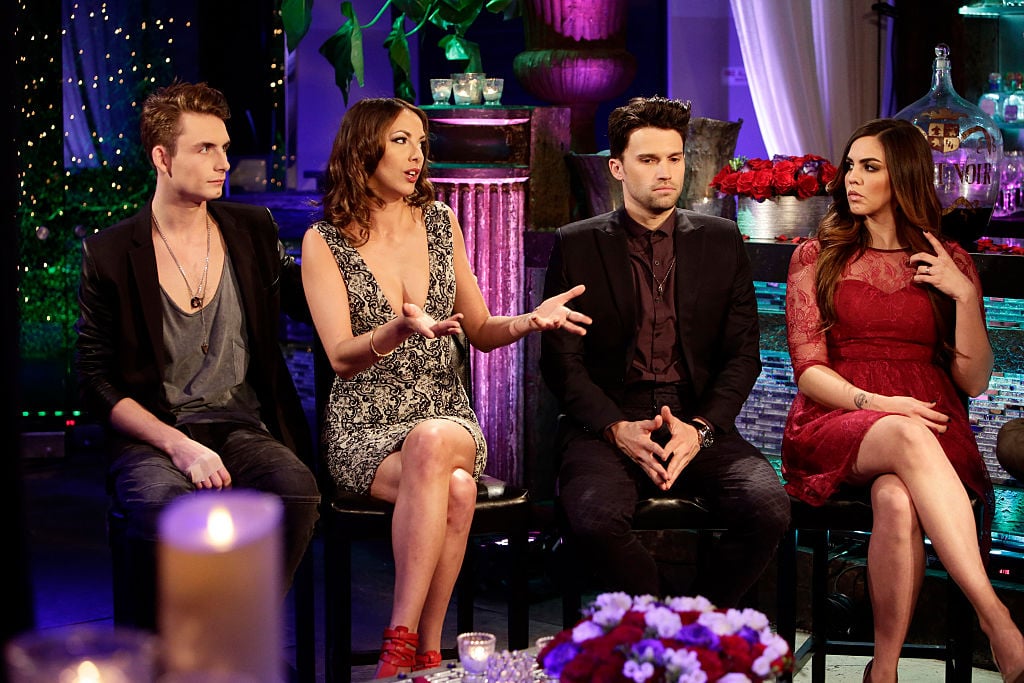 Kennedy played a "regret" game during his appearance, agreeing that he emphatically regretted fat-shaming Maloney-Schwartz. Viewers likely recall that Maloney-Schwartz gave boss Lisa Vanderpump an ultimatum last season to either fire Kennedy or she'd quit after Kennedy slammed her during a drunken tirade.
The feeling seems to be mutual
Kennedy seemed clear and present during his WWHL appearance as he announced he is nine months sober. The majority of Kennedy's problems stemmed from his drinking. He fat-shamed Maloney-Schwartz on more than one occasion and was always extremely drunk when he went on the attack.
But fans could tell something had changed with the two when Maloney-Schwartz gave Instagram fans a chance to "ask her anything." A fan asked if she was stuck on a deserted island, which would she rather do? Be completely alone for a year or be stranded with Kennedy for a month? Maloney-Schwartz happily answered, "DJ James Kennedy!!!"
Kennedy had to stop drinking
Maloney-Schwartz wasn't the only relationship in Kennedy's life that needed repair. Viewers watched an extremely painful moment during the latest episode where Kennedy viciously lashed out at girlfriend Raquel Leviss via text. He was angry she wasn't answering his calls so he rage texted her while he was drunk.
She was shocked and upset as several of her co-workers, including Ariana Madix told her she's in a verbally abusive relationship. Leviss confronted Kennedy about the text. But she also addressed how he spoke to her when he's drunk. He became defensive but eventually came around. She told him she will leave if he doesn't stop drinking. So he made the decision to get sober.
WWHL host Andy Cohen asked Kennedy if this time he plans to stay sober. He reminded Kennedy in the past he's insisted that he was going to quit drinking but would sneak drinks. But Kennedy insisted he's not only sober, but he's also been sober now for nearly nine months. Kennedy also shared a photo with Cohen. "Coming on to 9months sober and it feels so good! Thanks for having me tonight," he wrote. Leviss responded with pride. "IM SO PROUD OF MY BOYFRIEND!! I can shout it from a rooftop! I love you! Can't wait to watch this WWHL episode! 😍."
Kennedy returned Leviss' remark with, "I love you so much!!! MY LOVE ❤️😍 thank you." Madix replied with heart emojis as others shared their own stories.
Vanderpump Rules airs Tuesday night at 9 p.m. / 8 p.m. central on Bravo.