'Vanderpump Rules': Jax Taylor Slams Tom Sandoval For Trying To Look Like a Hero
Jax Taylor is slamming Tom Sandoval for his 'Vanderpump Rules' actions. The former believes he is only bringing certain subjects up on-camera to look like a hero.
Jax Taylor and Tom Sandoval are at odds once again on Vanderpump Rules. The Bravo stars had a massive fight on the latest episode of the series. All of the argument started over the pastor that was supposed to preside over Taylor and Brittany Cartwright's wedding. The pastor had made serious anti-LGBTQ remarks that went against their fan base.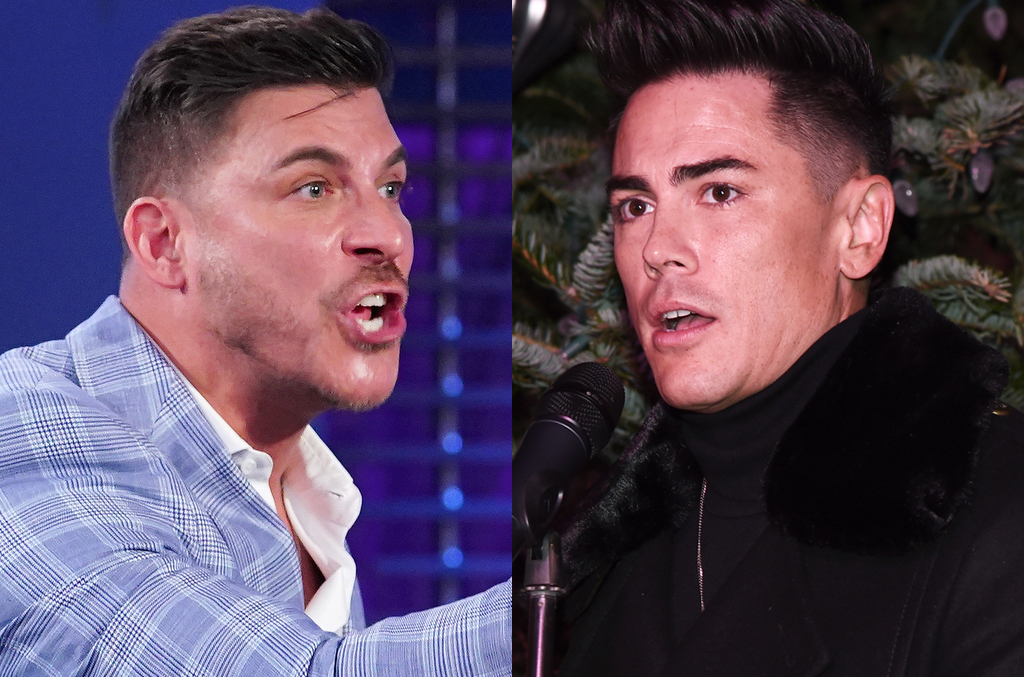 Cartwright and Taylor said they talked to the pastor about his statements but decided to forgive him. When more accusations came forward, Lisa Vanderpump intervened and that's when the couple fired him altogether. This is when Sandoval questioned why it took Vanderpump to say something for the pair to take action.
After the fight broke out during the episode, Taylor took to Twitter to take more jabs at Sandoval.
"Tom does things for tv so he looks good. Period.," Taylor tweeted. "You all live in a fantasy world."
"A good friend/business partner?" Taylor tweeted again about Sandoval. "He constantly belittles Tom Schwartz and puts him down regarding his home, his marriage, how he handles business, but yeah, he's a good friend? Are we watching the same show?"
Taylor said that Vanderpump didn't influence his decision to change the person that officiated his wedding.
"Lisa Vanderpump has zero to do with any decisions I have made," Taylor added. "I make my own decisions, I think I have earned that over 8 years."
"We did," Taylor wrote agreeing with a fan saying they took care of firing the pastor from their wedding. "It's our wedding, it's our choice. Period. I don't give a f*** what anyone thinks. We did what was right for Brittany and I. What Tom did was wrong, again, just like Stassi's party, he had no tact. That's the last I'll say about this."
Tom Sandoval reacts to Jax Taylor's Twitter-storm
Although Sandoval didn't engage with Taylor on social media, probably because the latter blocked him, he did react to the tweets. The TomTom business owner feels that Taylor went on a rant to try to hurt him.
"It seems like he's angry and projecting," Sandoval told Us Weekly. "Jax will say that I'm doing everything for the wrong reasons. Try to discredit me in any way he can. Again authenticity is important to me and anything I ever do and say on the show is to be truthful, open and honest about my life and how I am feeling."
Sandoval clarified that the pastor's drama was something he wanted to bring up since he found out. However, he didn't say anything because he didn't want to be perceived negatively. He said that the only reason he finally brought up the subject was after Vanderpump expressed concern.
"Yes, it was bothering me before and it was all over the internet – but I didn't want to be the one to mention it. As Lisa had brought it up first then I felt it important to ask the question," Sandoval added. "I've experienced friends who are gay being influenced by these religious opinions and it has seriously affected their lives. Authenticity has always been important to me ever since I've been on the show and if I didn't say something then I would have been being inauthentic."
Vanderpump Rules airs every Tuesday night at 9 p.m. ET/PT on Bravo.