'Vanderpump Rules': Jax Taylor Views Tom Sandoval and Ariana Madix as 'Glorified Roommates'
Although he tried to be cautious with his words, Jax Taylor from Vanderpump Rules doesn't see Tom Sandoval and Ariana Madix's relationship as anything more than a roommate situation.
Taylor shared his thoughts about all the relationships on the show in a Bravo Insider digital clip. He offered his opinion on which couples will make it and who is probably going to stay single in the near future. Although he struggled with some of his answers he had complete confidence about one relationship.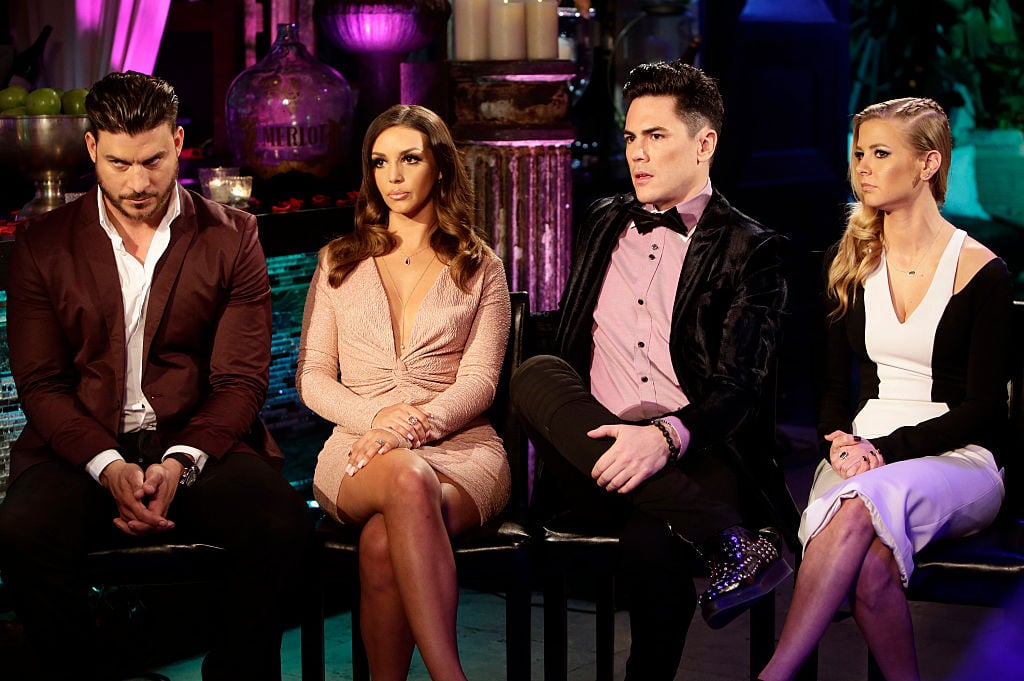 "They'll last forever," he says about Ken Todd and Lisa Vanderpump. "They're two peas in a pod. He's just her biggest fan. Does anything she says. And I really admire that. I wanna be Brittany's [Cartwright] biggest fan. I want her to rise and me just take the back seat and just support her."
But he didn't have much confidence about Madix and Sandoval
It's no secret that Tayor isn't on the best terms with Madix and Sandoval. Yet, he tried to choose his words carefully. "There's just no relationship," he says laughing. But adds, "I gotta be careful with what I say here."
"Ariana and Tom, again, I have no ill will towards either of them. I just see them as roommates. Glorified roommates. Who hookup occasionally. They're never gonna get married. They're never gonna have children."
He adds, "I think Tom wants to have kids. I think Tom wants to get married, I think he plays the whole, 'I don't need that.' I think that's bulls**t." Taylor predicts that in the next few years, "something's gonna happen." Adding, "I'm really good at predicting this stuff. Rarely ever been wrong on this show. Rarely. I can't even think of a time when I've been wrong. I don't think it's gonna last that much longer. Sorry."
He sees these couples going the distance but …
Taylor predicts that most of the couples on the show will stay together for the long haul. However, he (of course) threw in his two cents about issues he saw in the relationships. "If Katie [Maloney-Schwartz] doesn't drive Tom [Schwartz] crazy," he laughs. But then says, "I love them together, they are my best friends. [And] I want them to be together forever."
"I think Stassi [Schroeder] and Beau [Clark] will last a very long time," he observes. "But it takes a lot to deal with her. And I think Beau is the perfect man for Stassi." Taylor adds that he's going to be a groomsman in Clark's wedding too. He also hopes Lala Kent and Randall Emmett last forever.
Taylor also weighed in on James Kennedy and Raquel Leviss's relationship too. But adds, "I'm utterly shocked it's lasted this long. I personally don't think it's love and I think he has a good situation in his relationship. He controls it." Who will likely (or should) stay single? Taylor thinks Scheana Shay and Kristen Doute should take time to be independent for a while.
And as for his marriage to Cartwright? "I don't believe in divorce. Nobody in my family is divorced. Yeah, even if we are utterly, utterly miserable. We will still be together," Taylor laughs.