'Vanderpump Rules': Producers Were Shocked When Jax Taylor Kicked Tom Sandoval out of His Wedding
'Vanderpump Rules' producers were thrown a curve ball when Jax Taylor dis-invited Tom Sandoval from his wedding.
Although some fans saw it coming, Vanderpump Rules producers were surprised when Jax Taylor bounced Tom Sandoval from his wedding.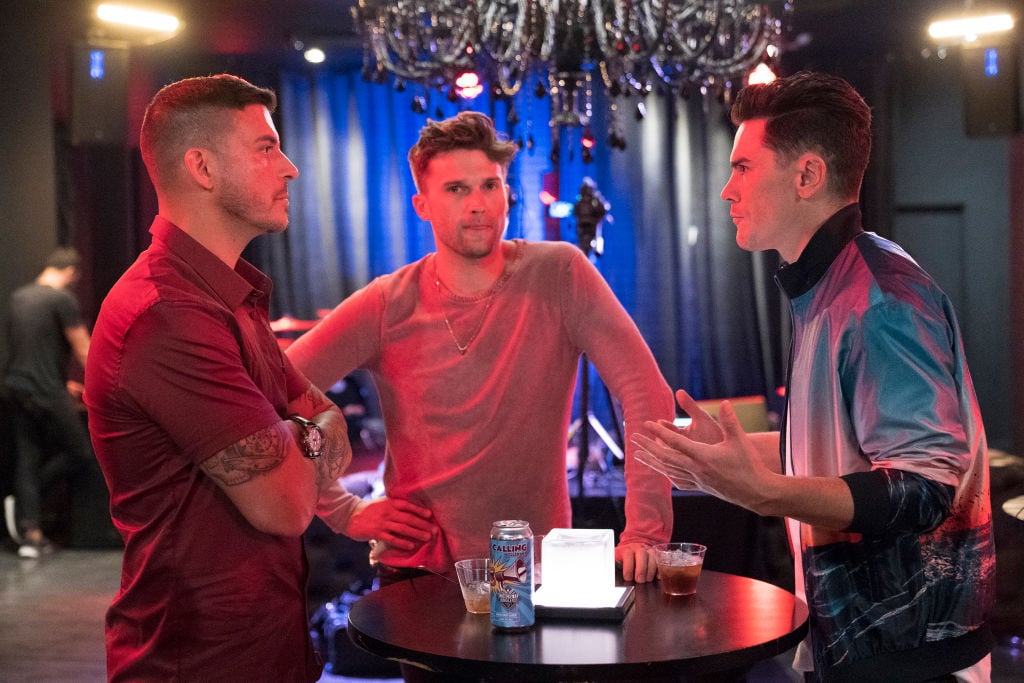 Producers revealed to Bravo's The Daily Dish they knew Taylor was annoyed with Sandoval. But they didn't think he'd actually kick him out. Taylor's resentment for Sandoval was bubbling under the surface for a few months. He griped about how Sandoval wasn't promptly returning texts (or not returning text messages at all). Also, Taylor seemed frustrated that Sandoval was going to miss his big pre-bachelor party too.
The final straw was when Sandoval continued to question Taylor about the controversial pastor he and Brittany Cartwright hired to officiate the ceremony. The crew knew about the pastor and his anti-LGBTQ comments made on Facebook. But pressure mounted days before the wedding when more of the pastor's comments were exposed and shared in a number of articles.
They wouldn't face each other
Taylor and Cartwright ultimately asked singer Lance Bass to officiate. But Sandoval wondered why it took them this long to realize the pastor's true position on a number of important issues.
When Sandoval confronted Taylor about the pastor, Taylor and Cartwright became enraged. Producers also said the mood was extremely tense. "They were both so upset and angry that they wouldn't even face each other," producers shared with Bravo's The Daily Dish.
At that point, Taylor hadn't made a move to ask Sandoval to step down. And producers could tell neither man was going to move away from his position. "That's too close to call," the crew said about which man was more stubborn.
The divide is serious
Producers also shared that the cast is severely divided right now too. "It was similar to when people were split after Jax and Stassi broke up in Season 1," producers said. Stassi Schroeder ended up being persona non grata amongst cast members. She had fallouts with close friends after displaying petulant behavior and was labeled "the villain" from season 1 too.
While Schroeder is no longer in the hot seat, fans and the cast are divided about whether or it was Taylor or Sandoval who was in the wrong. In fact, after Taylor welcomed Sandoval back to the wedding party (and to still be the co-best man with Tom Schwartz), he still hadn't forgiven Sandoval. He said in a confessional he wasn't over it, but it was easier to just have him at the wedding.
Sandoval's girlfriend Ariana Madix was also in the wedding. She shared with Cartwright it was going to be a tough decision to attend if Sandoval was off the guest list.
Taylor still regrets having Sandoval in his wedding
The wedding went well but Taylor shared that he regrets changing his mind. "I did change my mind and allow him to not only come to the wedding, but to be in my wedding and do I regret that, yes," Taylor told Entertainment Tonight. He wishes he stood by his convictions. "I just wish I would've stood by what I said. I felt I was a little bit bullied into bringing him back in."
Taylor adds that he felt conflicted about everything. "I wish he was at the wedding, I just wish he wasn't in the wedding, if that makes any sense. It takes, you know — everybody up there plays a huge role in my life, huge role from the moment I moved to L.A., 'til the day I got married. That's why I had so many [groomsmen] and I couldn't just pick one. Each one of those guys, I love individually so much, and they've done so much for me, and I just you know the things that I was going through with Tom, it just… it didn't make sense for him to be standing next to me."