'Vanderpump Rules': Scheana Shay Says She Talks to Stassi Schroeder More Now Than in the Past 5 Years
Scheana Shay from Vanderpump Rules recently opened up about having a miscarriage. The Bravo star revealed the tragic news recently and her reality show family reached out to comfort her. One surprising message Shay got was from Stassi Schroeder, who was recently axed from the reality series for racial remarks. Shay noted that she's been in close contact with the fired star more than in the last 5 years.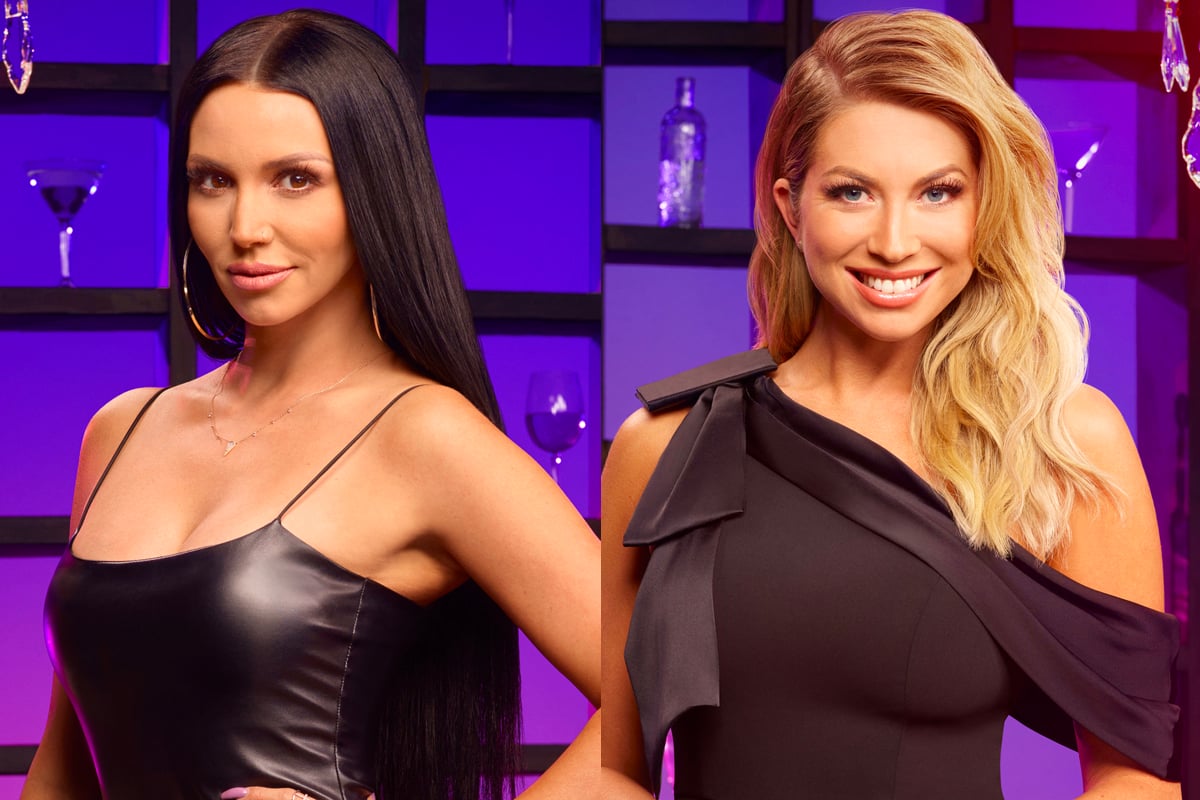 How did Scheana Shay lose her baby?
Shay revealed in the latest episode of her podcast Scheananigans with Scheana Shay that she had suffered a miscarriage. The reality TV star was expecting her first baby with boyfriend Brock Davies.
"I have always been an open book and I've always told you everything going on in my life and so many of you have followed me on my fertility journey over the last year and a half and this is a part of it. It's just a sad part," Shay recalled. "A few weeks ago, we found out that I was pregnant."
The Bravo personality said that her doctors had told her it would be difficult for her to get pregnant and she didn't think she would. When she got a pregnancy test done it came back positive and at the time she was only "two to three weeks pregnant." Shay was planning on telling her dad he was becoming a grandfather but she started experiencing bleeding.
"My OB got me in early, they did an ultrasound and there was no heartbeat," she continued. "There was just nothing progressing, nothing going on inside. There were just parts that he could see were starting to form, and it just didn't. It's still been a lot to process."
The whole process has been difficult on Shay as she now waits "to naturally miscarry." However, the reality TV personality is seeing the positive side of things and grateful to have experienced a "miracle."
"A miracle did happen, and I got pregnant for the first time in my life," she explained. "Although this one isn't working out and we don't know yet what's exactly gonna happen, I know that I was able to get pregnant on my own and that alone is a miracle."
Scheana Shay talks to Stassi Schroeder
At the time Shay found out she was pregnant, her former co-star announced she was having a baby as well. The former sent a congratulatory message to Schroeder on the exciting news.
"I obviously text her congratulations, but I don't say anything about me because not only did I start bleeding the night before and I'm worried I'm having a miscarriage, but it was too early," Shay said in her podcast. "I was only, I think at that time, about five weeks. So I wasn't really telling anyone other than my two best friends, my mom, and my sister, obviously Brock."
Shay continues to grieve the loss of her baby but her friends have been supportive through this process. Schroeder and she have been close and "[talking] more in the last five days [than] in the last five months or years."
"She sent me the sweetest, most heartfelt message just genuinely being there for me and that really meant a lot because she's pregnant right now," Shay noted. "I'm sure being pregnant, you can't imagine losing it."