'Vanderpump Rules': Stassi Schroeder and Kristen Doute Take Their Feud To Twitter
'Vanderpump Rules' stars Stassi Schroeder and Kristen Doute have been at war all season, and now their feud has spilled onto Twitter.
Vanderpump Rules stars Stassi Schroeder and Kristen Doute are taking their feud to the next level. The former friends lashed out on social media following another explosive episode of Vanderpump Rules. Schroeder and Doute have experienced plenty of ups and downs over the years, but taking their fight to Twitter could be a sign that this is their worse one yet.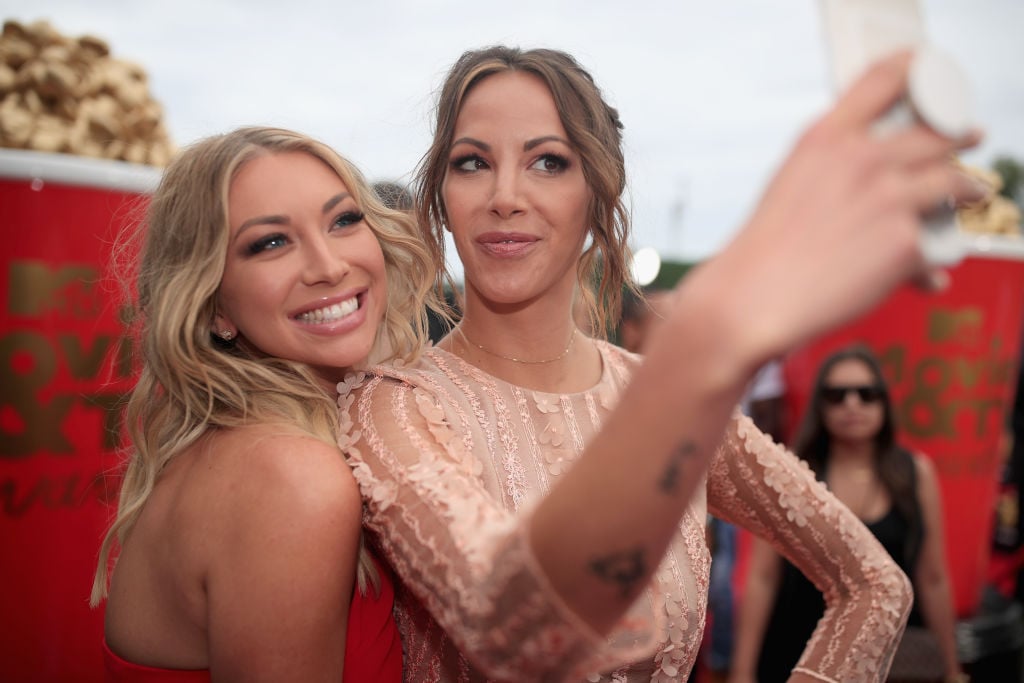 Inside Doute and Schroeder's feud
Doute and Schroeder got into a few mild fights during the first season of Vanderpump Rules, but their relationship did not hit a major snag until season 2. At the time, Doute confessed that she slept with Schroeder's former boyfriend, Jax Taylor.
In season 3 of Vanderpump Rules, Schroeder moved to New York City to stay with Patrick Meagher and returned to the show in season 4 after their relationship fizzled out. Although she initially lived with Doute, their friendship took a major hit last year — and it all started over a guy.
Doute felt like Schroeder and Katie Maloney were not supportive enough during her breakup from Brian Carter. Schroeder and Maloney, however, argued that they warned Doute about Carter and believed that she was never honest with them about what was really going on.
Fast forward to the most recent episode of Vanderpump Rules, and it is pretty clear that Doute and Schroeder have yet to make amends.
Doute slams Schroeder during 'Vanderpump Rules' after-show
Following the installment, Doute joined Brittany Cartwright for a Vanderpump Rules after-show. The two discussed Doute's ongoing feud with Schroeder, which is when things got interesting.
According to Us Magazine, Doute opened up about the business she started with Schroeder and Maloney and seemingly slammed them for not pulling their own weight.
"My business ventures are very important to me," Doute stated. "You were asked to push something on social media and because you have a f–king podcast and a book, you think you're the queen of England?"
Needless to say, the conversation did not go over well with Schroeder, who immediately contacted Doute about the comments. We do not know what the two discussed, but Schroeder made it clear that she was unhappy by the accusations.
The next day, Doute ignited a social media war by explaining her side of the story on Twitter. Although Doute tried to apologize for what she said during the Vanderpump Rules after-show, her comments failed to diffuse the situation.
Schroeder and Doute battle it out on social media
Doute told her followers that she did not mean to insult her Vanderpump Rules co-star's work ethic during the interview with Cartwright. She believes that Schroeder has built a great brand and praised her for being a good businesswoman.
"I just watched a VPR aftershow where it feels like I was insulting @stassi work ethic," she explained. "I [100 percent] think Stassi has built a brand for herself and I've always been proud of her."
Doute added that she is "not above" apologizing when she is wrong. She also stated that she never wants people to misconstrue her words. Unfortunately, her apology came too late for Schroeder.
The Next Level Basic writer countered Doute by slamming her on Twitter. Schroeder blasted Doute for "not apologizing" and revealed that she has been texting her this entire time about what happened on the after-show.
"I've never once said a word about the things @kristendoute work on," she shared. "And now you're just attempting to trash me publicly after we've been texting about this for the past hour."
While the Vanderpump Rules star was not afraid to share her thoughts on social media, she did express some regret about being involved in a Twitter feud.
Stassi Schroeder opens up about her Twitter war
According to E! Online, Schroeder talked about clapping back on Twitter during an interview with Taylor Strecker. The Vanderpump Rules star revealed that she does not like being in a Twitter feud and admitted that it is super stressful.
"I spiraled on Twitter. I've never been in a Twitter feud before. I don't like it. I don't know how Jax Taylor can do this all the time. Twitter feuds are stressful as f—k," Schroeder said.
After saying that she never wants to discuss her feud again, Schroeder confessed that she was very embarrassed after the fact. She also admitted that Doute had good intentions with her apology and that she should not have escalated things.
Schroeder's feud with Doute, unfortunately, is far from over. While Schroeder is clearly upset over the whole ordeal, she hopes that viewers will understand why she has cut ties with her former friend by the end of the season.
In addition to their Twitter feud, Schroeder has zero plans to invite Doute to her upcoming wedding to Beau Clark. That could change, of course, if they make amends, but it does not look like that is going to happen anytime soon.
Fans can watch the drama unfold when new episodes of Vanderpump Rules air Tuesday nights on Bravo.