'Vanderpump Rules': Stassi Schroeder Reveals This Lie From Kristen Doute Is What Ended Their Friendship
'Vanderpump Rules' star Stassi Schroeder is finally coming clean about what ended her friendship with Kristen Doute ahead of the season 8 premiere.
Stassi Schroeder is not ready to make amends with Kristen Doute. In a promo trailer for season 8 of Vanderpump Rules, Schroeder chats with Lisa Vanderpump about the end of her friendship with Doute. In the discussion, Schroeder reveals that a lie ruined their relationship – and it all had something to do with Doute's recent breakup.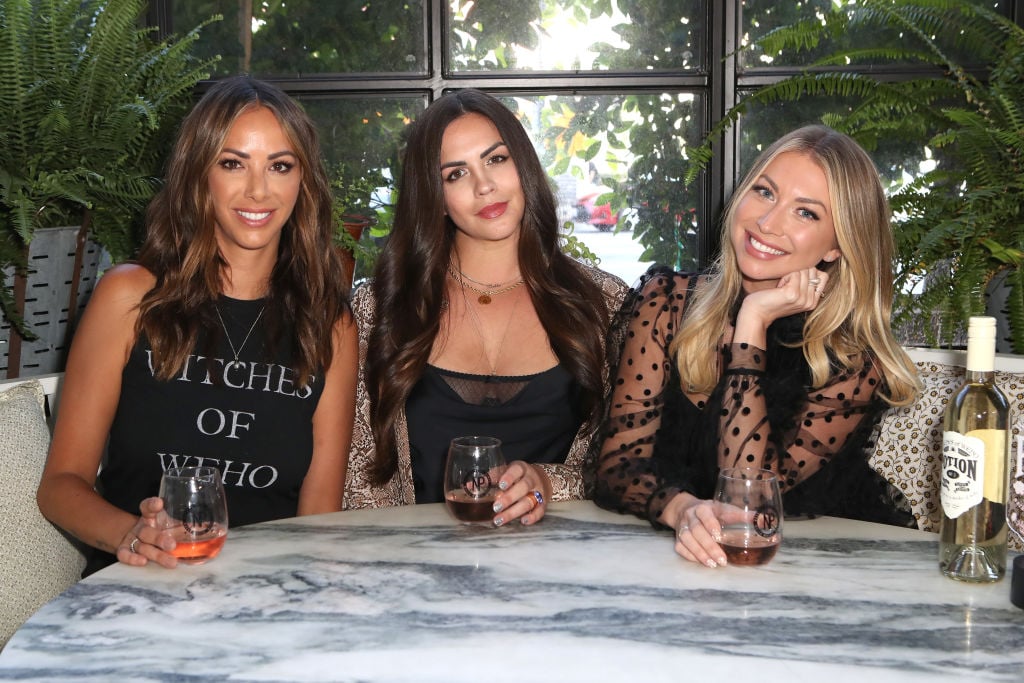 Stassi Schroeder dishes on her fallout with Doute
Schroeder started the discussion by talking about her frustrations with how Doute speaks to everyone. The Vanderpump Rules star told Vanderpump that Doute has been complaining to everyone about how she and Katie Maloney-Schwartz do not support her.
She then questioned whether or not Doute has really broken up with her boyfriend, especially considering how they still live together and have the same benefits as a couple.
"And I feel like she's been telling everyone that she's broken up with her boyfriend… she in the same breath says, 'But we still live together, have sex with each other, and hang out every day,'" Schroeder shared. "I feel like she's lying to me."
As Vanderpump Rules fans are well aware, Doute and her former boyfriend, Brian Carter, parted ways just prior to the season 7 reunion in 2019. Following the split, the two have faced numerous rumors that they have rekindled things (nothing official has been confirmed).
A few months ago, Doute reiterated that she and Carter are no longer together. But she still spent time with Carter while filming season 8, so it is a bit unclear what is really going on behind the scenes.
Will Schroeder and Doute make amends on 'Vanderpump Rules'?
Schroeder did not reveal where things currently stand between her and Doute in the clip. According to Reality Blurb, she previously told the cameras that they will not be making amends unless Doute does some serious growing up.
Schroeder then acknowledged that she has experienced ups and downs with Doute – as Vanderpump Rules fans are well aware – but their recent rift is different. She concluded that Doute has not matured as a person, and unless that changes, she does not think they will ever make amends.
Later in the clip, Vanderpump told Schroeder that she completely understands why she is no longer friends with Doute. Although Schroeder did not elaborate on the lies, Vanderpump made it clear where she stands on the matter.
"To me, lying is my Achilles heel. If someone lies to me, that's it. I'm f**king done," Vanderpump stated.
Schroeder completely agreed with Vanderpump and added that she always distances people who lie to her. Schroeder also does not like playing games, so it is pretty clear that she isn't following Doute's lead.
Vanderpump dishes on Schroeder and Doute's beef
The Vanderpump Rules trailer is not the first time Lisa Vanderpump has talked about Schroeder and Doute's feud. The former Real Housewives of Beverly Hills star recently appeared on The Kelly Clarkson Show where she was asked about what is going on.
When the cast and crew of Vanderpump Rules started filming season 8, Schroeder and Doute experienced a huge falling out. The two have been feuding ever since and do not seem to be any close to making amends.
Schroeder and Doute are not on the same page, but Vanderpump believes they will eventually come around and reconcile. That does not mean a reunion will be easy, but Vanderpump hopes they can pull it together.
"They're both growing up and I think the divide just got wider and wider and I don't know, but there's years of history," she stated. "So I'm hopeful because it's a shame to break up such a long friendship."
With the premiere of season 8 finally here, it will be interesting to see how things unfold.
What does Doute think about Schroeder?
In light of all the drama with Schroeder, Doute is looking to get her groove back in season 8 of Vanderpump Rules. To that end, Doute has been sharing some quotes on Instagram in a bid to get motivated and back in the fight.
"Say it over and over until you are out of breath: I will not make myself small," Doute shared. "This chapter of my life is called, 'Smiling Again.'"
Although we know that Schroeder is not backing down, it is a safe bet that Doute will also stand her ground in season 8. This could lead to some epic fights down the road, but hopefully the two can get back on track before things get too far out of hand.
If they do not, then it is possible that Doute will not make it to Schroeder's upcoming wedding. The Vanderpump Rules star is set to exchange vows with Beau Clark in what should be a gorgeous destination wedding in Italy.
Doute was originally set to attend the ceremony, but unless things change quickly, she probably won't get an invite to the wedding (and she's probably not the only one).
Season 8 of Vanderpump Rules kicks off January 7 on Bravo.