'Vanderpump Rules': Tom Sandoval Thinks Jax Taylor Picks on People out of Boredom
Does Jax Taylor from Vanderpump Rules get overly involved in other people's lives out of sheer boredom? Tom Sandoval thinks that may be the case as he gently reminds Taylor to think before he speaks in an upcoming episode.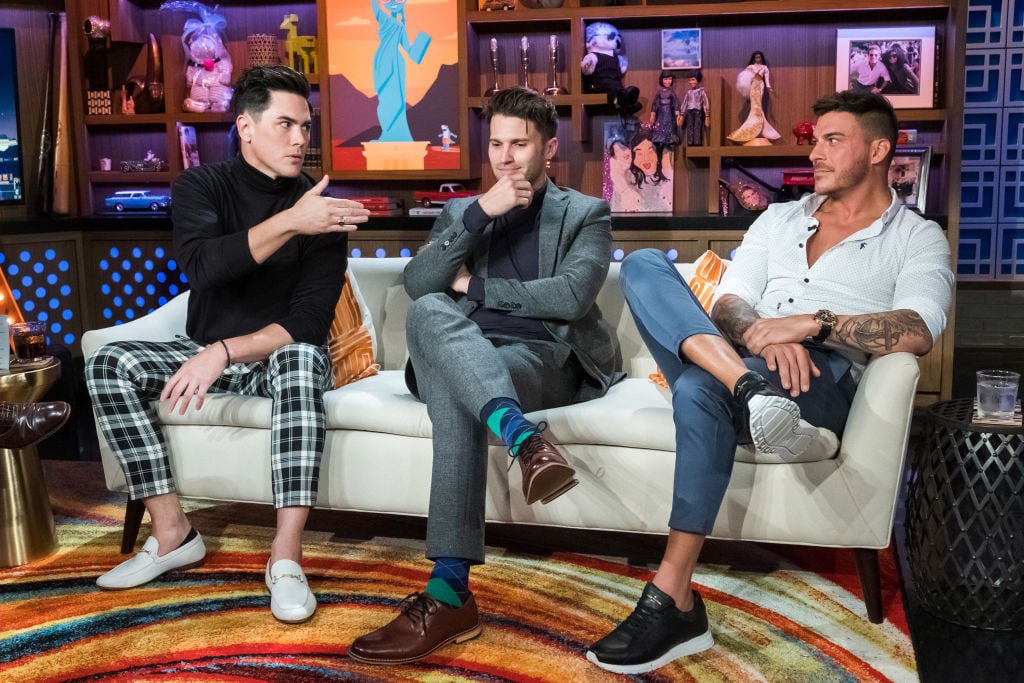 Taylor has been critical of Sandoval and girlfriend Ariana Madix's relationship this season. He ruminated on Sandoval's involvement in his wedding, kicking Sandoval out of being his best man and his wedding. But later reluctantly inviting to be in the wedding party. He's also harshed on Madix and Sandoval for most of the season too.
But, Taylor also loves to gossip and is known to dish about other cast members' too. While being open is the whole idea of reality television, Sandoval thinks maybe Taylor takes it too far especially when he can't find anything else to hold his focus.
Sandoval hopes Taylor will think before he speaks
In an upcoming episode clip Sandoval and Taylor shop for sneakers. Taylor asks how Sandoval and Madix's relationship is going, but then takes his comments too far. He asks if Sandoval is happy, but doesn't seem overly satisfied when Sandoval insists he and Madix are happy.
"I just see sometimes she gives you backhanded comments," Taylor insists about Madix. "I've noticed that." But Sandoval says Taylor is making more out of his observation. Taylor then wonders if Sandoval has ever called Madix a b*tch before. When Sandoval said he's never said that, Taylor says, "I thought she was being a b*tich. Many, many times."
At this point, Sandoval can't seem to believe what he's hearing. However, he remains calm and tries to gently offer some advice to Taylor. "I'm going to give you some really good advice," Sandoval says to Taylor. "Sometimes I know like, people come after and might question you. Sometimes it's good to just take a second, not get too responsive …" But Taylor cuts him off insisting he's bad at doing that. Sandoval adds that taking a second will really help him out.
Does boredom get the best of Taylor?
Sandoval shares in a confessional why he thinks sometimes Taylor gets too involved in other people's relationships. "I feel like when Jax gets bored he just picks something or somebody to just focus all of his attention and anger on," Sandoval says. "Just so he can feel important or better about himself."
Indeed, Taylor has thrown Sandoval and Madix's relationship under the bus more than once this season. He dished about the cast members' relationships and referred to Madix and Sandoval as "glorified roommates."
"There's just no relationship," he insisted in a Bravo digital original. "Ariana and Tom, again, I have no ill will towards either of them. I just see them as roommates. Glorified roommates. Who hookup occasionally. They're never gonna get married. They're never gonna have children."
He added, "I think Tom wants to have kids. I think Tom wants to get married, I think he plays the whole, 'I don't need that.' I think that's bulls**t." 
Vanderpump Rules is on Tuesdays at 9/8c on Bravo.