'Vanderpump Rules': Who Was the True Best Man at Jax Taylor's Wedding?
What did the 'Vanderpump Rules' crew think about Tom Sandoval's elaborate "gear" he brought to Jax and Brittany's wedding?
Who will be Jax Taylor's best man consumed a good portion of the storyline of season 8 of Vanderpump Rules.
Taylor initially asked Tom Sandoval and Tom Schwartz to be his best man but eventually, he demoted Sandoval to groomsman after several nasty spats. He kicked Sandoval out of attending the wedding at one point, furious that Sandoval questioned him about the homophobic pastor who was hired to officiate the nuptials.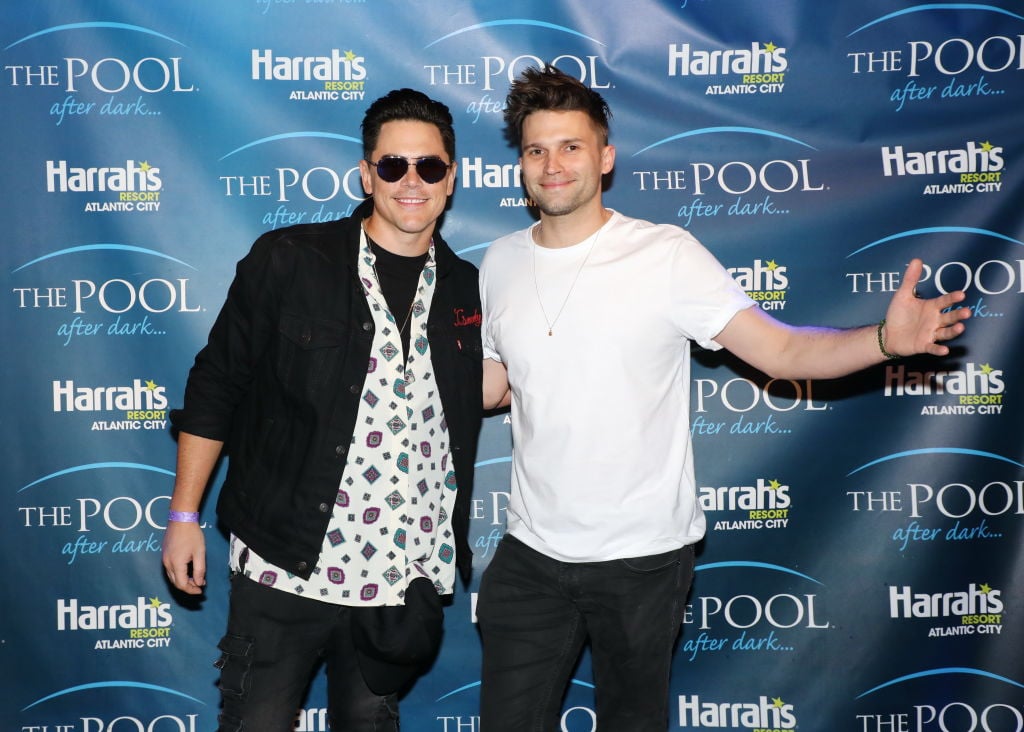 Taylor's says his angst stemmed from Sandoval's timing. Sandoval questioned Taylor about his decision only days leading up to the wedding. However, Taylor (reluctantly) invited Sandoval to return to the wedding and be part of the wedding party. Even though Sandoval was no longer the best man, he prepared like one. Now the cast weighs in on who really took the job of best man seriously and came through like a champ.
Sandoval came very prepared
The cast offered their opinions on how Sandoval prepared for the wedding. Cameras captured Sandoval following Taylor around with an umbrella to shelter him from the sun. He also had a portable fan to cool down heated attendants. Plus, Sandoval even packed tampons in case one of the bridesmaids needed one — someone did.
Lala Kent says Sandoval was the ultimate best man "Sandoval, he was the best, best man ever," she says in the Vanderpump Rules After Show. "When we were taking pictures, the bridesmaids, he had a mirror, not a compact. Like a mirror." Katie Maloney-Schwartz recounts, "An umbrella, water, a bar kit …"
Sandoval's girlfriend Ariana Madix picks up the list. "A rolling suitcase with a battery-operated fan because it's really freaking hot out." Bride Brittany Cartwright recalled how Sandoval was carrying around a fan and chairs. Maloney-Schwartz adds, "He had a backpack full of everything you could possibly need."
She thought Sandoval was all show
Despite all the thought and care Sandoval put into his best man kit, Kent thinks he did it for himself. "He didn't do that for Jax," he says grimacing. "He didn't have mirrors for us because he thought that we would need that." Kent added, "He does that because he has fun doing it. But we're not crossing his f**king mind."
But Maloney-Schwartz asserts that Sandoval was just trying to think of what everyone would actually need. And he's thinking of both the men and women's needs (hello the tampon). "I think it brings him joy," Maloney-Schwartz says. "He enjoys doing it so that's why he likes doing it. But I don't think it's like a self-serving thing." Stassi Schroeder thinks it's a little bit of both. But adds, "On a list of f**king traits you can have as a human being, that's really not that bad."
Sandoval explains why he packed for the wedding
Schwartz admits that Sandoval likes to "peacock" and "shine" but not in a self-centered way. But Sandoval has another explanation. "I also like gear," Sandoval says. "I f**king love gear. So once I start putting together a little kit, it's like, well … what about this? What about this, what about this? It's like, might as well get it."
"It's hot, you're in the sun, you're trying to look pretty, so what ways can I make that more enjoyable," he explains. "Because you don't want to be experiencing something miserable on something that is supposed to be the happiest day of your life. And having to take pictures for like two hours in the humid, hot sun." Sandoval adds that the "gear" he brought was to boost his friend's confidence too.