'Vanderpump Rules': Why Did Jax Taylor Say Shep Rose Was the Worst Wedding Guest?
Jax Taylor from 'Vanderpump Rules' revealed why Shep Rose from 'Southern Charm' was the worst wedding guest.
Jax Taylor and Brittany Cartwright from Vanderpump Rules reflected on their recent nuptials during a visit to the Watch What Happens Live Clubhouse.
Host Andy Cohen had rapid-fire questions for the couple and wanted to know who got really drunk, who gave the best gift and which "Tom" was more overcome with emotion. Cartwright shared that Tom Schwartz and Katie Maloney gave the best gift and that Scheana Shay was the drunkest at the wedding. Although Tom Sandoval seems to be quick to shed a tear, Taylor said Schwartz was the "Tom" who was more emotional.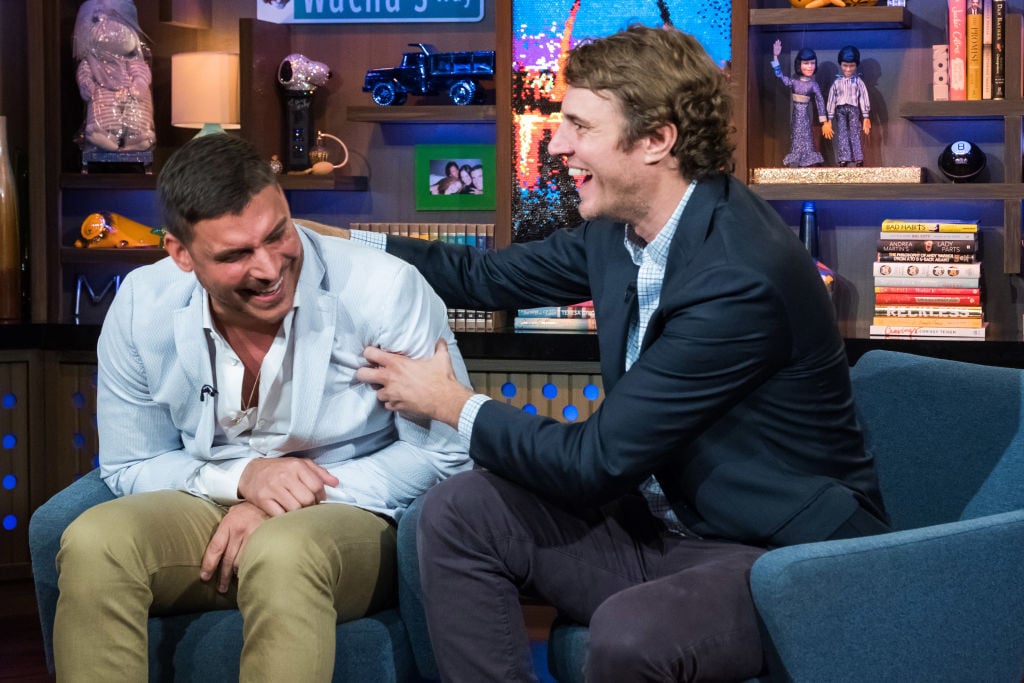 But when it came to "worst wedding guest" Taylor immediately shared that Shep Rose from Southern Charm took that dubious honor. He told Cohen that Rose overshared every moment throughout the wedding, even moments they asked not to be filmed.
Taylor says Rose knows he was the 'worst guest'
Taylor said Rose, by far, was the most annoying guest. "Out of all the people there," Taylor says rolling his eyes. Cartwright says Rose captured her walking down the aisle before anyone else. "And he's talking and videoing," Taylor adds. Cohen recalls that Rose posted a significant amount of footage too.
"He was the worst guest ever," Taylor adds. "And I told him, he knows." Cartwright giggles and says Rose was great other than the sharing. But the couple told guests not to share or post, which aggravated Taylor. "It's a given," Taylor says. "People who even didn't know knew not to do that. We shouldn't have had to worry about Shep!"
Cohen adds, "I was like, 'Spoiler alert, Shep!'" Cartwright said her brother even got on a microphone, likely to remind guests to refrain from sharing on social media.
Rose had a great time at the wedding
Fans weren't sorry that Rose overshared on Instagram. He posted and shared plenty of videos and images to his story. Rose got fans pumped during the van ride over to the wedding. He later snapped as many photos as possible during the ceremony and reception.
"It's the crossover you want AND the crossover you need. Having so much fun with these fellow @bravotv Maniacs," Rose posted along with a photo with the Vanderpump Rules cast. Rose also managed to grab a photo with Lisa Vanderpump and husband Ken Todd. "With the West coast queen @lisavanderpump 👑 at Table 6. Safe to say this the most prolific and exemplary table. (Except for Jax and Brittany's 😊)," he shared.
Rose also shared a number of photos of the happy couple and guests in another post. "Scroll through. @mrjaxtaylor and @brittany are the best people. And it's been a joy seeing how happy they've been all weekend."
Leading up to the wedding, Rose tried to land actress Charlize Theron as his date too. Needless to say, he wasn't successful. However, always the optimist, Rose tried on a number of occasions to get Theron's attention on Twitter. She previously hinted about possibly dating Rose if pressed on WWHL. So he tweeted, "So i got a lovely invitation to @mrjaxtaylor and @BNCartwright 's wedding in a month," he tweeted shortly after her WWHL appearance. "Who should my plus one be? @CharlizeAfrica seems like a fun date. Just watch the Oscar humblebrag. #nopressure#butseriously."