'Vanderpump Rules': Why Does Jax Taylor Think He Was 'Bullied' Into Having Tom Sandoval in His Wedding?
Jax Taylor from Vanderpump Rules reluctantly included Tom Sandoval in his wedding party. Sandoval was originally a "co-best man" with Tom Schwartz but was "demoted" after being nearly thrown out completely of the event.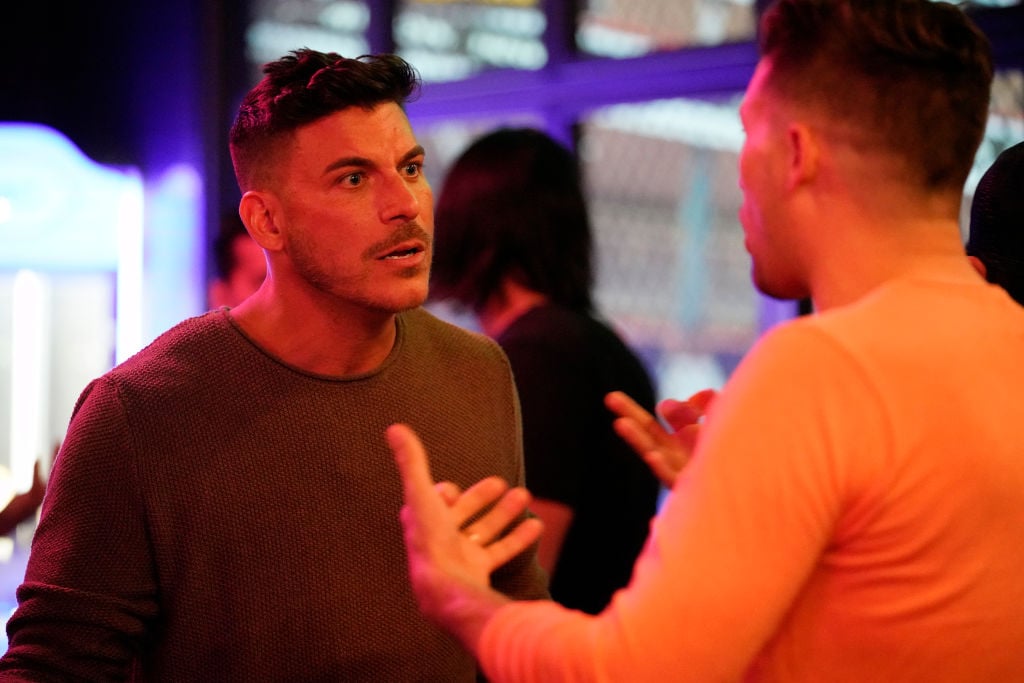 Leading up to the wedding, Taylor became aggravated with Sandoval when he said Sandoval wasn't answering many pre-wedding text messages. He grew even more annoyed and angry when Sandoval pushed him about taking action against the homophobic pastor originally hired to officiate the wedding. Taylor's anger mainly stemmed from Sandoval being persistent about the pastor days before the wedding was going to take place. He insisted that not only was Sandoval not in his wedding, but he also disinvited him from attending the event.
However, Sandoval apologized and Taylor gave in, even telling Sandoval he still wanted him to be part of the wedding party. He grumped during rehearsals when Sandoval took his place next to Taylor and had him moved back in the line. But now Taylor shares he never wanted Sandoval in his wedding and insisted he felt pressured to include him.
Taylor regrets having Sandoval in his wedding
Taylor sits next to boss Lisa Vanderpump in a Vanderpump Rules After Show clip. "I'm gonna be honest with you and you might not like this, but I regret that decision," he says to Vanderpump. Vanderpump seems floored at Taylor's remark.
"Absolutely," he continues. "I got bullied into having him. I had Brittany on me, I had everybody going on me. 'You're gonna regret this.' I should have had him at the wedding, absolutely. But he shouldn't have been standing next to me."
Vanderpump appears to be disappointed to hear Taylor's assertion. "That's really sad," she says.
Brittany Cartwright thought Sandoval did a good job
Taylor's wife, Brittany Cartwright was asked how Sandoval did as a member of the wedding party. "I thought during the wedding and like at the bachelorette, and stuff like that, he did a great job!" She thinks the events leading up to the wedding and sometimes being absent were troublesome.
However, Sandoval insists he kept in touch with Taylor. Cartwright agrees that she saw Sandoval's responses too. But she said the entire debate became confusing because the guys kept going round and round.
But Taylor thinks Sandoval should have called and asked to work it all out. "I can get over a lot of things," he insists. "But putting me on the spot as your best friend? Maybe the spotlight wasn't on him for five minutes?"
The entire thing was a 'rollercoaster'
Sandoval tracked his wedding trajectory. "I was demoted," he said. Tom Schwartz piped in, "Then you were promoted or re-promoted." But Sandoval adds that he was re-instated and then fired. The guys actually seem confused about the timeline as Sandoval's wedding position was moved around multiple times.
"You know when you get hired somewhere and you're on a trial basis," Sandoval asked. "It felt like that. It felt like a competition show and the winner gets to be in Jax's wedding party or like his best man or something." Schwartz agrees and added the entire encounter was a "rollercoaster."
Sandoval thinks Taylor was being too dramatic
Sandoval also explains Taylor's assertion that he wasn't readily available leading up to the nuptials. "I wasn't MIA at all," Sandoval insists. But Schwartz shares that Sandoval was not very responsive either. "I responded to every single one of his text messages." Sandoval even showed Taylor his responses during an episode.
Sandoval added that Taylor even created drama within the wedding party by telling other groomsmen that Sandoval wasn't being responsive. Also, the drama surrounding the "pre-bachelor party" was a last-minute party weekend too, he added. In fact, Taylor seemed fine that Sandoval had already booked a weekend to be with his family too. But then people asked where Sandoval was and Taylor got dramatic.
The bottom line, 'It didn't have to turn into what it did," Sandoval said. "It could have been a conversation between just me and Jax.