Why Vanessa Bryant Refused to Comment in Daughter Natalia Bryant's First Cover Story
The late Kobe Bryant's oldest daughter with wife Vanessa Bryant, Natalia Bryant, is making her own way into the spotlight. Starting her freshman year at the University of Southern California, the 18-year-old has a significant social media presence with an impressive 2.7 million followers on Instagram. At the top of her game, the young go-getter also just landed a contract with IMG Models to pursue a modeling career while studying film.
Standing at nearly six feet tall, Bryant's prominence cannot be denied. She recently sat down with Teen Vogue for her first cover story. Curiously, her mother, Vanessa Bryant, who was with her for the high-end photoshoot, refused to comment about her daughter's newfound success.
The family Kobe Bryant left behind
In the early days of 2020, the former Los Angeles Lakers basketball player died in a helicopter crash with his 13-year-old daughter Gianna Bryant. The NBA Hall of Famer left behind his wife of 20 years and his three other daughters, Natalia, Bianka Bella, and Capri Kobe. The matriarch of the Bryant family, Vanessa, met her husband when she was only 17. Despite obstacles, they remained together until his death.
According to Republic World, the five-time NBA champion had a strained relationship with his parents. Following his untimely death, "his parents grieved in private and provided no statement to the media."
Why Vanessa Bryant took a step back
Natalia Bryant is very loyal to her family, evidenced by her behavior in her first photoshoot with Teen Vogue. Her younger sisters remained nearby as she frequently checked in on them. Her mom was also on hand to offer moral support. The writer noted Vanessa Bryant subtly making eye contact that exuded an indestructible bond between the two women.
Everyone on the set noticed the intense family relationship, saying the "energy emanating from Natalia and Vanessa is that they will not lose another."
As the daughter of a sports legend, Natalia grew up in a privileged environment in Southern California. She attended the prestigious Sage Hill High School and frequently traveled the world with her family. In the interview, she admitted to liking her parents, saying, "They're fun."
Vanessa Bryant stayed on set, but didn't want to speak when asked. during the photoshoot speaks volumes. Teen Vogue described the interaction, saying, "Vanessa declined formal comment for this story saying, as she watches Natalia's adventure, that this moment is about, and she nods toward her eldest, 'her.'"
Vanessa and Natalia Bryant's relationship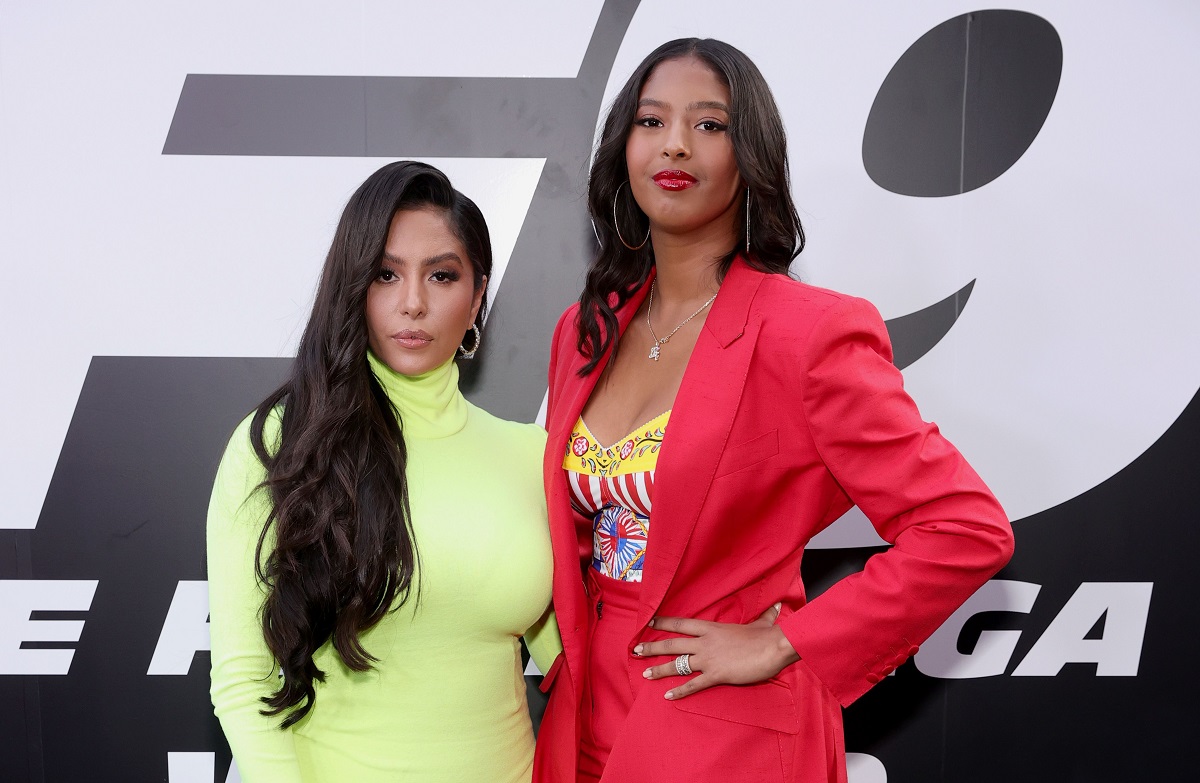 Natalia Bryant and her mother are only 20 years apart in age. The rising star recalls how her parents tried very hard while she was growing up to make it "as normal as possible." She says they just saw her as "Nani," which translates to beautiful in Hawaiian.
The USC freshman admits to being on a healing journey following her father's death. She says, "I love talking about my dad. It's bittersweet, but I enjoy talking about him more than it's sad for me."
Losing her father and sister was undoubtedly trying for the entire family. But Natalia exhibits her resilience with strength and grace. In a recent Mother's Day Campaign, The Source reported Natalia said she was "forever grateful" for what her mother taught her. She said to Vanessa, "You're the strongest person I've ever known. We connect on a whole different level, and I feel like that's rare in mother-daughter relationships."
Vanessa replied, "You are not only just an amazing daughter but an amazing friend. You're like the constant North Star to all your friends." She continued, "No matter what, you're always there, and they can always rely on you and count on you."
RELATED: Natalia Bryant's High School Graduation Featured a Special Message From Kobe Bryant
Related post url: