Is 'Venom 2' Rated R, or Is It Family-Friendly Like Other MCU Movies?
Venom: Let There Be Carnage is finally here. And fans who enjoy watching Marvel superhero films with their kids may be wondering if Venom 2 is family-friendly or rated R.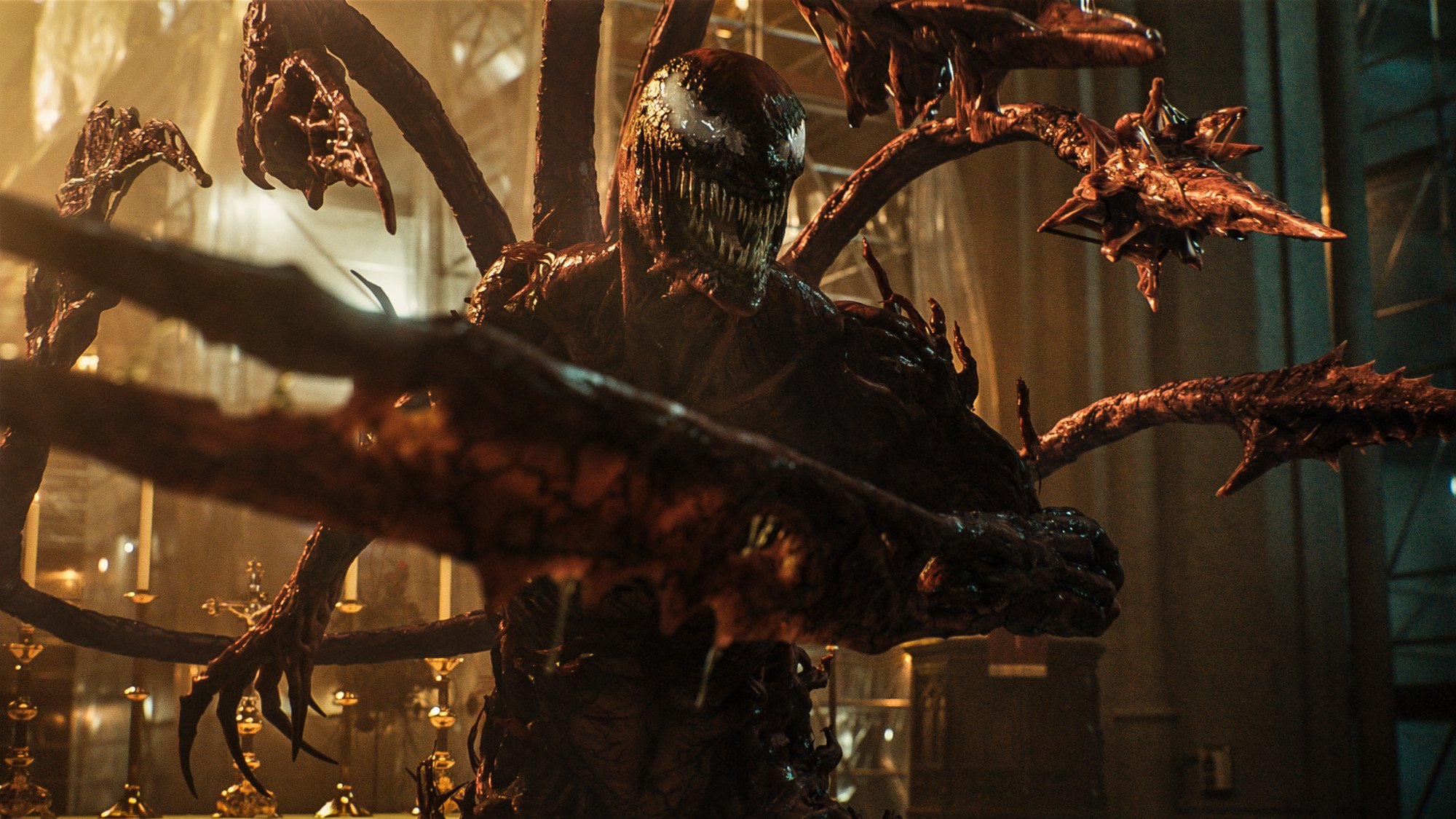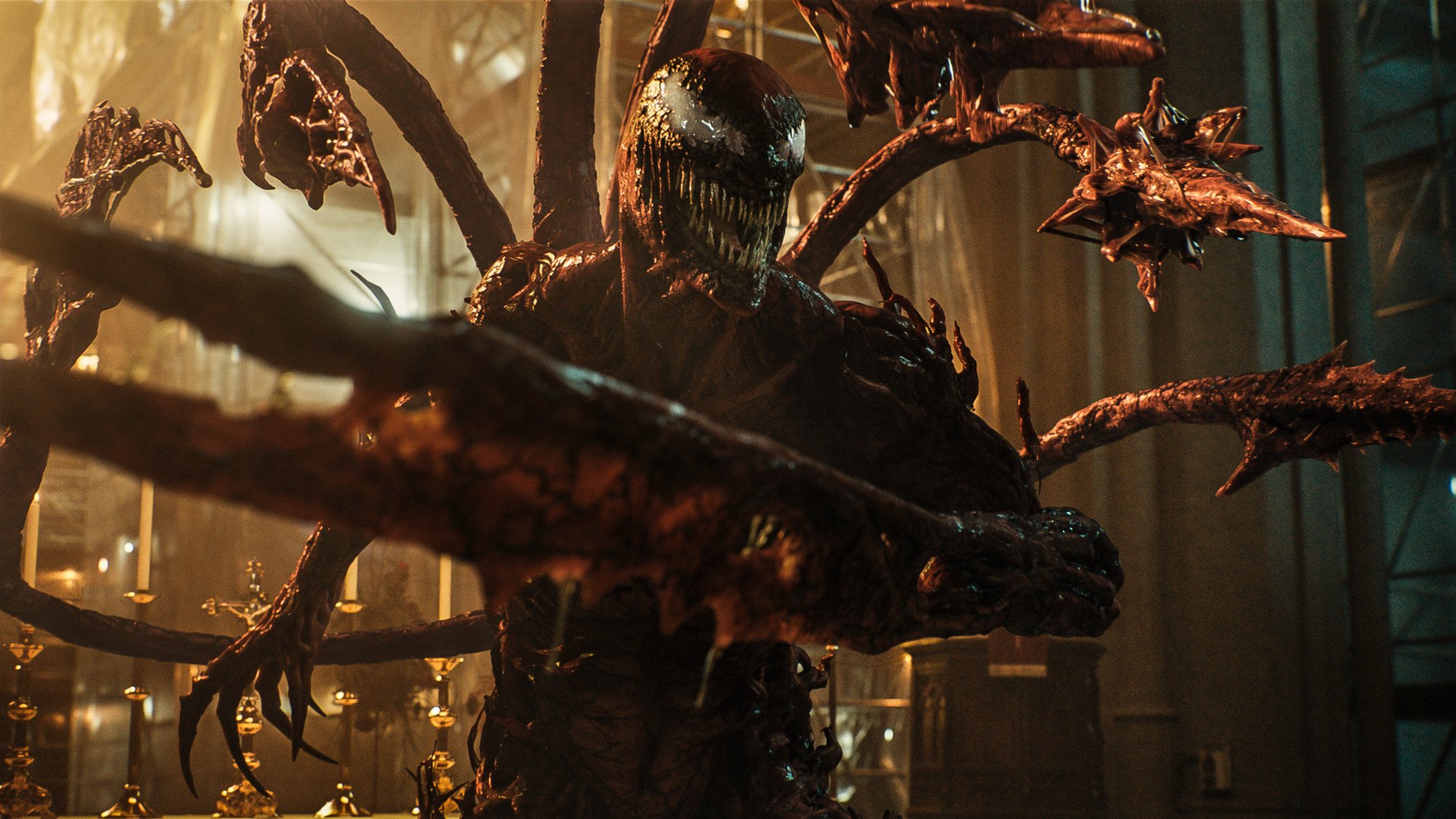 What is 'Venom 2' about?
A sequel to the 2018 film, Venom: Let There Be Carnage, aka Venom 2, picks up with Eddie Brock, aka Venom, as he attempts to restart his journalism career as he adjusts to his new life with his fearsome alien symbiote. Brock interviews Cletus Kasady, a serial killer on Death Row who provokes the reporter into a fight. Kasady bites Eddie and ingests part of Venom. He later emerges with his own new symbiote called Carnage.
The film sees the return of Tom Hardy and Michelle Williams as Eddie Brock and Anne Weying. Woody Harrelson joins the cast as Cletus Kasady / Carnage. Naomie Harris plays Kasady's love interest, Frances Barrison / Shriek. The cast includes Reid Scott as Anne's fiance, Dan Lewis, and Stephen Graham as Detective Mulligan.
Is 'Venom 2' Rated R?
No, Venom: Let There Be Carnage is not rated R. The film has a PG-13 rating, which means it may contain some material unsuitable for children under the age of 13. According to director Andy Serkis, with Venom and Carnage face off, the movie could have easily garnered an R-rating. But he purposely toned it down to accommodate a larger audience.
RELATED: 'Venom: Let There Be Carnage' Movie Review — Tom Hardy Foolery
"We wanted to reach a big audience with this and… there are several rules you have to abide by," Serkis told IGN. "However, having said that, I think we have pushed to the very limits [with] the danger and darkness and the threat and the menace of Carnage."
"Just because you don't see so much gore — perhaps there's not so much blood or… seeing heads being bitten off — you can still suggest that," he continued. "The suggestion, leaving it to the audience's imagination, can be just as powerful. I think that's just what we managed to do."
Andy Serkis and Tom Hardy suggest 'Venom: Let There Be Carnage' still reflects the comics
In the Marvel comic books Venom: Let There Be Carnage is based on, Carnage is a brutal villain who literally bites off people's heads. When talking to Comic Book, Hardy revealed that he and Serkis initially thought about reflecting Carnage's violence and gore from the comics into the movie. But they eventually decided to scale it down just a tad to get that PG-13 rating.
"With all of these symbiotes, you know, you consider it," Hardy said. "You read the comic books and it is extreme, but that's not what we're here to do. We came here to make a movie which, and correct me if I'm wrong, I mean, there's a law and a rule into creating a movie that's accessible to a lot of people, as well as that caters for everybody, including the hardcore fans."
But Serkis suggested he pushed the movie as far as he could within the ratings' parameters. And he insisted the film will still cater to fans of the comics.
"We pushed it as far as we could possibly go, but with some room to go in people's heads," Serkis told Comic Book. "That character is pretty scary and the kind of the truth of where that character emanates from and Cletus Kasady is a character that is amplified through Carnage, does a lot of the work. So I think we certainly fulfill a lot of the essence of Carnage."
Venom: Let There Be Carnage hits theaters on Friday, Oct. 1, 2021.