'Veronica Mars' Season 4: Are Logan And Veronica Still Together?
Now that 'Veronica Mars' is back, many fans are wondering: How will Logan and Veronica make it work? Here's a look back at their relationship.
Yes, audiences watch the formerly UPN/CW noir drama Veronica Mars for the mystery, of course. But, as with any series, many stick around for the characters — specifically, the romance. Stars Kristen Bell (Veronica) and Jason Dohring (Logan Echolls) have undeniable chemistry, which led to the show's most beloved couple. Let's see how they've fared over the years. 
Logan and Veronica had a tumultuous relationship on the series
When the original series began, Logan is the ex-boyfriend of Veronica's deceased best friend, Lilly Kane — and the best friend of her own ex, Duncan Kane. He resents her because he believes that she's partially responsible for Lilly's death, and she hates him for being a spoiled '09er (the name given to the wealthy residents of the 90909 zip code).
But things soon changed. As Bell and Dohring said at San Diego Comic-Con, showrunner Rob Thomas came to them shortly after Veronica Mars Season 1 filming began and said their characters were going to get together. This was surprising to the actors, but nevertheless, the LoVe ship set off near the end of Season 1. They broke up multiple throughout the series, but fans never gave up.
The film brought them together many years later
At the end of Season 3, Veronica and her college beau, Piz, have recently started up a relationship, though Logan clearly still has strong feelings for her. It's hard to say how this would have played out had the series not been canceled then. But fortunately for LoVe fans, things worked out after all.
The Kickstarter-funded movie Veronica Mars, released in 2014, was a love letter to the fans who paid for it. In it, Veronica and Piz are dating (though not still — they'd recently rekindled their college fling). That is, until she goes back to Neptune. When Piz realizes that she's more committed to helping Logan than actively participating in their relationship, he breaks up with her. Less than 10 movie minutes later, she and Logan sleep together. 
Where does 'Veronica Mars' Season 4 pick up?
Though it takes place years later, Veronica Mars Season 4 begins as though barely any time has passed. Veronica is working with her dad at Mars Investigations, Logan is, once again, away on leave, and they're still happily together, living by the beach. But a few things have changed.
The major difference is that while Logan has matured, regularly goes to therapy, and is ready to settle down, Veronica still, to some degree, wants him to be the bad boy she fell in love with. This causes tension in their relationship, especially when she turns down his marriage proposal.
LoVe shippers (almost) got a happy ending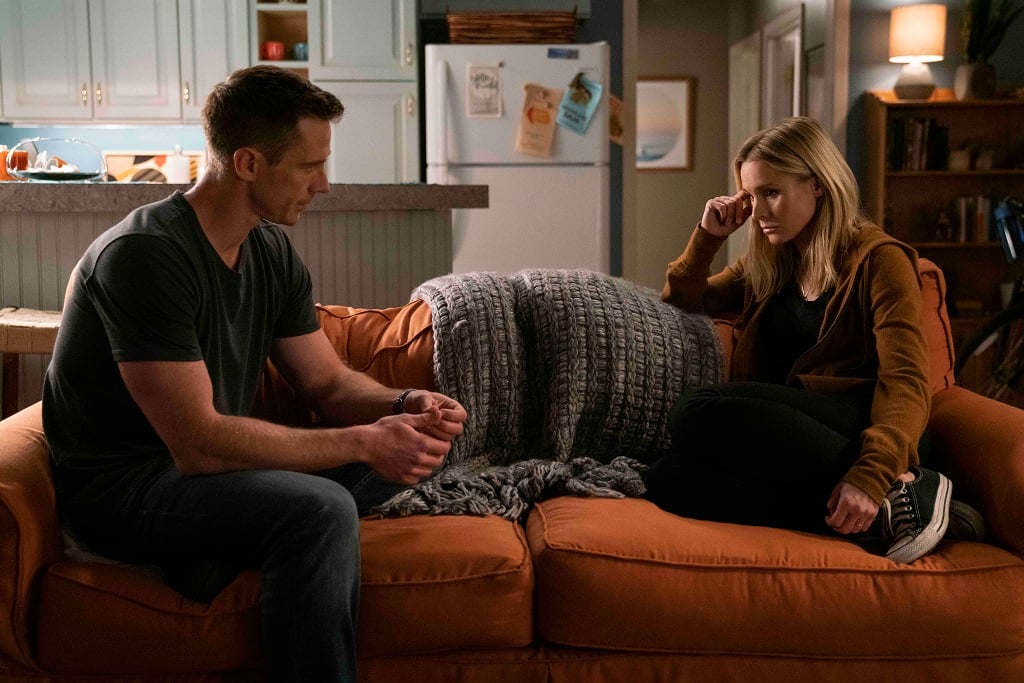 Throughout the eight-episode fourth season, Veronica and Logan don't get to spend much time together. He's (obviously) hurt that she doesn't want to marry him, but more so he's worried that she won't take his advice and come to therapy with him. It takes her the whole season, but eventually, Veronica has a change of heart.
Fans finally got the small, courthouse LoVe wedding they'd been wishing for. But because this is Veronica Mars, it wasn't without an asterisk. After the wedding, Logan innocently goes out to move the car for street cleaning. At that moment, Veronica realizes that the recently apprehended Mad Bomber of Neptune planted one last explosive in her car — and it goes off just as Logan reaches it, killing him.
Here's what that finale means for Season 5
Yes, fans were promised a more adult Veronica Mars this time around, but it's hard to find anyone who was pleased with the final ten minutes of Season 4. In fact, some are so unhappy that they say they won't be tuning in if Hulu picks the show up for another season.
This doesn't seem to bother creator Rob Thomas, who defends his decision. He hopes to bring back Veronica Mars as a more straightforward detective series without a central romance, should he be given the chance. We'll have to wait and see if Hulu decides to take the risk.