'Verzuz': It's Bounty Killer vs. Beenie Man; Here's What to Know About the Dancehall Legends
Verzuz has evolved into a phenomenal online event that celebrates music, culture, and various eras. On May 23, the event welcomes two reggae-dancehall icons: Beenie Man and Bounty Killer.
It is the first time two artists from this musical genre are appearing on Verzuz, and not only is all of Jamaica excited, but so is the rest of dancehall-loving world.
For the uninitiated, dancehall artists—called deejays—essentially rap over riddims (beats) in patois about any topic they choose. Much like hip-hop, some songs are socially conscious, and some are about sex, faith, the streets, or taking out one's enemies.
Back in the day, Bounty Killer and Beenie Man had a rivalry that makes the energy of Verzuz all the more worthwhile. If you don't know who they are or are unfamiliar with their track records of hits, here's a little about their backgrounds.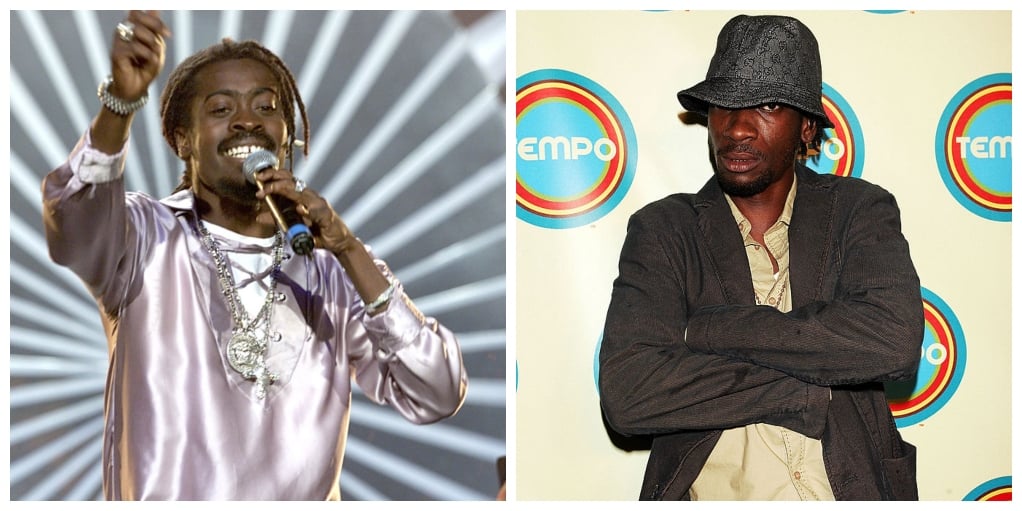 Bounty Killer is a dancehall king
As an up-and-coming deejay in his youth, Rodney "Bounty Killer" Price worked under the name "Bounty Hunter" and did some of his first songs with Jamaican sound systems such as Metromedia and Bodyguard.
He began recording singles around 1990 and at the same time, built became popular in Jamaica for the dubplates he made with the famous sound systems.
By 1992, things really started to pop with the release of tracks "Coppershot," "New Gun," the eternally loved "Spy Fi Die," and more.
His debut album Jamaica's Most Wanted (aka Roots Reality & Culture) was hard, and featured the aforementioned classics as well as "Gun Thirsty," "Girl Say Yes," and "Dub Fi Dub." Throughout the early '90s, his albums made him hot in Jamaica, the US, and internationally.
Bounty Killer linked up with some of hip-hop's finest for his 1998 album, Next Millennium, which included songs with Mobb Deep, Smif-N-Wessun, and Killah Priest.
He's dropped more than one dozen albums and collaborated with reggae (e.g. Richie Stephens, Dawn Penn, Junior Reid), dancehall, and hip-hop artists. He and "nemesis" Beenie Man even joined forces to make music.
From '92 to 2005, he's dropped a number of classics with lyrics about street life, social issues, and of course, his competition. And he's still making music.
In 2002, he was nominated for a Grammy for Bounty Killer has a voice that's unmistakable and style that makes him one of dancehall's most recognizable stars.
Beenie Man is also a legendary deejay
Beenie Man is a self-proclaimed king of dancehall, and though he hit the studio in the '80s, his career really blew up in the '90s. Born Moses Davis, he found success working with sound systems but after releasing a few singles with his brother, 1992 turned into a hot year for him.
That is also when his beef with Bounty Killer was sparked. It all started with claims of style-jacking and who coined the phrase "People dead!"– something you'll hear on both of their records.
They've squashed the beef since then, but their music and performances often had people choosing sides.
Beenie Man's huge discography includes the albums Many Moods of Moses, The Doctor, Guns Out (with Bounty Killer), Maestro, and the Grammy-winning Art and Life.
He's collaborated with other stars in reggae and dancehall such as Dennis Brown, Wayne Wonder, and Barrington Levy. Over the years, he's also made crossover songs with artists such as Mya, Janet Jackson, the Neptunes, and Lil Kim.
"Who Am I" and "Girls Dem Sugar" are big tunes that still light up a party.
Bounty Killer and Beenie Man have shared the stage many times
While their rivalry is as famous as Batman and Joker's, both Bounty Killer and Beenie Man were not averse to rocking the same stage at the same time. One of their most epic clashes was during Jamaica's Sting in 1993.
If you weren't there in person, you had to catch the lyrical stage battle by watching the VHS tape. The energy! That same year, they made peace.
In 1995, they hit the Sting stage again and have shared the bill for multiple shows since then, with their on and off rivalry manifesting itself here and there.
The most recent hit-for-hit show between Beenie Man and Bounty Killer was at Sumfest in 2019 and was all about their unity as musical brothers.
Their Verzuz battle has the same vibes and fans can't stop talking about it. Watch it on Instagram Live or catch the replay on YouTube.