Vicki Gunvalson Denies She Is Leaving 'RHOC' Amid Retirement and Chopping Block Rumors
Vicki Gunvalson's time on the Real Housewives of Orange County might have come to an end. The OG of the OC was demoted to part-time status last season and has made it clear that she will not return unless Bravo gives her orange back. With producers considering major casting changes for season 15, there is a good chance Gunvalson will not come back. But did Gunvalson recently admit that she is retiring from RHOC ahead of the new season?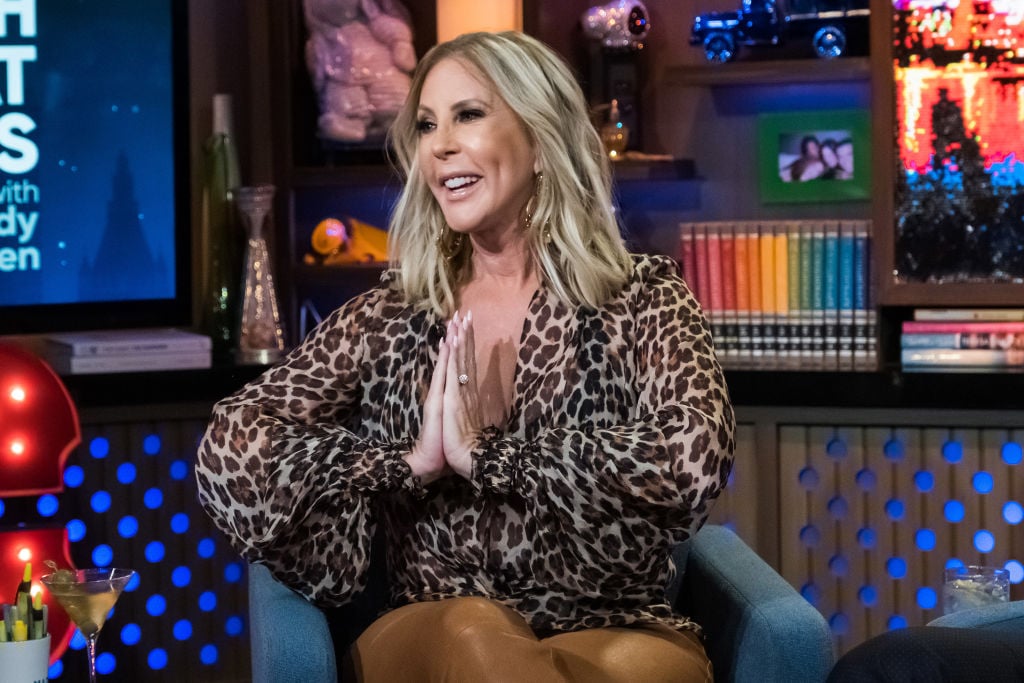 Vicki Gunvalson sparks retirement rumors
Gunvalson teased an early retirement after sharing a photo of her and Steve Lodge drinking some wine while on vacation in Puerto Vallarta.
A RHOC fan commented about how the two look like they are enjoying retirement, to which Gunvalson responded, "Pretty soon."
It is unclear if Gunvalson was talking about RHOC or her company, Coto Insurance. According to All About The Real Housewives, sources say that Bravo wants to bring Gunvalson back as a friend, which could definitely result in her exit.
Vicki Gunvalson later added that she and Lodge are still moving forward with their plans to wed. The two are expected to tie the knot at some point in 2020, though they have yet to set an official date. Until we get confirmation, only time will tell if Gunvalson returns to RHOC for one more run.
The 'OG of the OC' clears up retirement talk
While fans continue to speculate about Vicki Gunvalson's future in reality television, the RHOC star assured her followers that final decisions have not been made. Gunvalson revealed that she does not know if Bravo will invite her back in season 15, opening the door for a potential return.
"Nothing has been decided," she elaborated to Champion Daily regarding the Real Housewives of Orange County, "and any other reports being put out there to the contrary are false reporting and creating a false narrative."
Season 14 only recently wrapped up, so the network probably won't make any casting decisions for a few months. That said, sources claim that producers are worried about fans getting bored with the current cast.
Producers are reportedly thinking about some major casting changes in the upcoming season, and nobody is safe from the chopping block. Considering how Gunvalson was a part-time cast member last season, she would probably be one of the first to go.
Vicki Gunvalson has made it very clear that she will only appear in front of the cameras as a full-time cast member. She did not like appearing for part of the season last year, which definitely limits her options moving forward.
Bravo has not announced when the new season of RHOC will premiere, though the show should be back by mid-2020.
Andy Cohen teases changes are ahead for 'RHOC'
Amid rumors of major casting changes, Bravo boss Andy Cohen recently teased that fans might see some fresh faces on RHOC next season.
Cohen did not confirm any exits, but he did say that there are plenty of people who would love a chance to appear on the show. An inside source claims that the entire RHOC cast is worried about getting the boot and have not heard anything from the network.
"Andy's comments made them all nervous and they were told awhile ago a cast shake-up was coming," a source stated. "All of the ladies [of 'RHOC'] are saying they're confident they're coming back, but nobody knows for certain."
The insider added that Bravo has already been interviewing new cast members for season 15. The network has not sent out any invitations, but it definitely sounds like changes are in the works.
Unfortunately, it might be a while before we hear anything from the network, so fans will have to stay tuned to find out what happens.
Braunwyn Windham-Burke slams Vicki Gunvalson
In the meantime, Gunvalson's RHOC co-star Braunwyn Windham-Burke recently slammed her during an interview on the podcast, Watch What Crappens.
The drama heated up after Windham-Burke stated that she actually gets along great with the entire cast of RHOC. When a person in the audience pointed out that she and Gunvalson often butt heads, Windham-Burke shouted back, "Vicki is not on my f**king cast!"
Gunvalson has not responded to Windham-Burke's latest comments. Windham-Burke reportedly started filming for season 15 and confirmed the exciting news on Instagram.
Tamra Judge was also spotted doing a few scenes for the show, so we at least know those two are going to be back. Based on Windham-Burke's comments, it seems as though Vicki Gunvalson might really be on the outs this season.