What 'RHOC' Alum Vicki Gunvalson Told LeeAnne Locken After 'RHOD' Firing
Vicki Gunvalson from 'RHOC' and LeeAnne Locken from 'RHOD both left their respective 'Houswives' franchises. Following their exits they had a conversation and Gunvalson is spilling the tea.
Two Housewives franchises will go on for another season without one of their original stars. The Real Housewives of Orange County lost Vicki Gunvalson after 14 years while LeeAnne Locken exited The Real Housewives of Dallas after 4 seasons. Both Bravo stars talked earlier this year and Gunvalson recently spilled the tea on what they said to each other.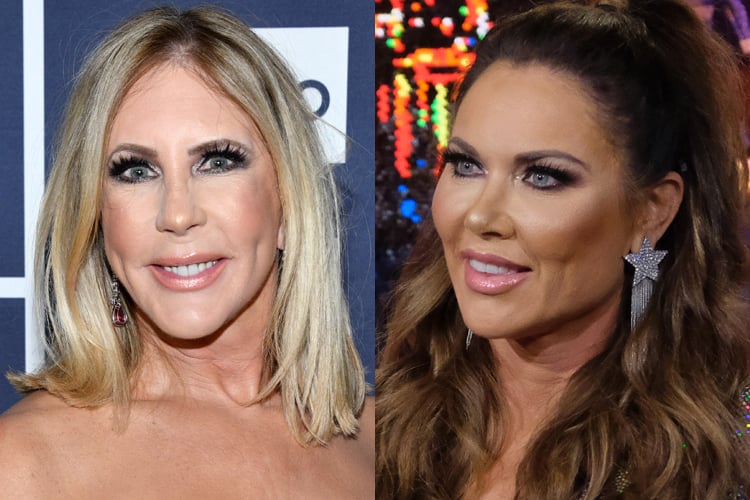 Vicki Gunvalson confirms exit
Ahead of production of season 15 of RHOC, Gunvalson confirmed she was leaving the franchise. The OG of the OC had been demoted in season 14 and was only featured as a "friend of," something she wasn't happy about. The insurance maven was hopeful that producers would ask her back as a full-time star but that didn't happen.
"I will always be the OG of the OC, but it's time to say goodbye to The Real Housewives of Orange County," Gunvalson wrote on Instagram. "It's been an incredible ride for 14 years and I want [to] thank all of you for your support, for your love and for 'whooping it up' with me along the way."
At the time, Gunvalson teased fans that she was returning with her podcast, something that she has already released.
"I've been working on new projects that will be exciting, empowering and inspirational," she continued. "My podcast with Westwood One will be launching soon and I will have much more to say about this on Whoop it up with Vicki. I hope you will join me on my new journey, so please stay tuned. I love all my fans, and I want to thank Bravo and Evolution for this incredible experience which my family and I have will never forget."
LeeAnne Locken leaves after controversy
Likewise, Locken announced her departure from RHOD following a controversial season 4. The former carnival star was at odds with Kary Brittingham throughout the season and was accused of racism, something Locken denied.
"The last four years have been a trolley-slapping good time but after much consideration, I have made the personal decision to step away from RHOD," Locken said in a statement to People.
Locken acknowledged the hardship that she lived during the fourth season of the Dallas-based Housewives.
"I am looking forward to stepping away from the cameras and spending quality time with my husband and friends, traveling, but most importantly, getting back to philanthropy, which was my main reason for joining the show," she added.
Vicki Gunvalson and LeeAnne Locken share call
Following Locken's announcement she was leaving RHOD, she talked to Gunvalson and shared a conversation.
"[LeeAnne] just said, 'How are you coping?' and I said, 'It's a day to day thing. Some days I'm really good and some days I'm not good at all because I felt like my identity, part of my identity, was [RHOC]' … I kind of helped her, ironically," Gunvalson said on her Whoop It Up with Vicki podcast.
Gunvalson drew similarities between her fiancé Steve Lodge and Locken's husband Rich Emerblin.
"Rich has the same career that Steve did. They are very protective. They look at it differently and Rich didn't like some of the stuff that was being said about her," Gunvalson added.
Gunvalson has teased she will be back on TV with her own reality show alongside Tamra Judge, but for the time being the details are scarced.