Vicki Gunvalson Supporting Nene Leakes Is the 'RHOA' and 'RHOC' Crossover We Were Waiting For
Nene Leakes took to Twitter to air her grievances and Vicki Gunvalson replied. The two OG's made the perfect 'RHOC' and 'RHOA' crossover we need right now.
Nene Leakes from The Real Housewives of Atlanta is the last OG on show. However, her future on the Bravo reality series is up in the air and she has still not secured her peach for season 13. When the Fashion Police alum went on a tirade on Twitter, another Housewives OG came in the scene to give her all of the support.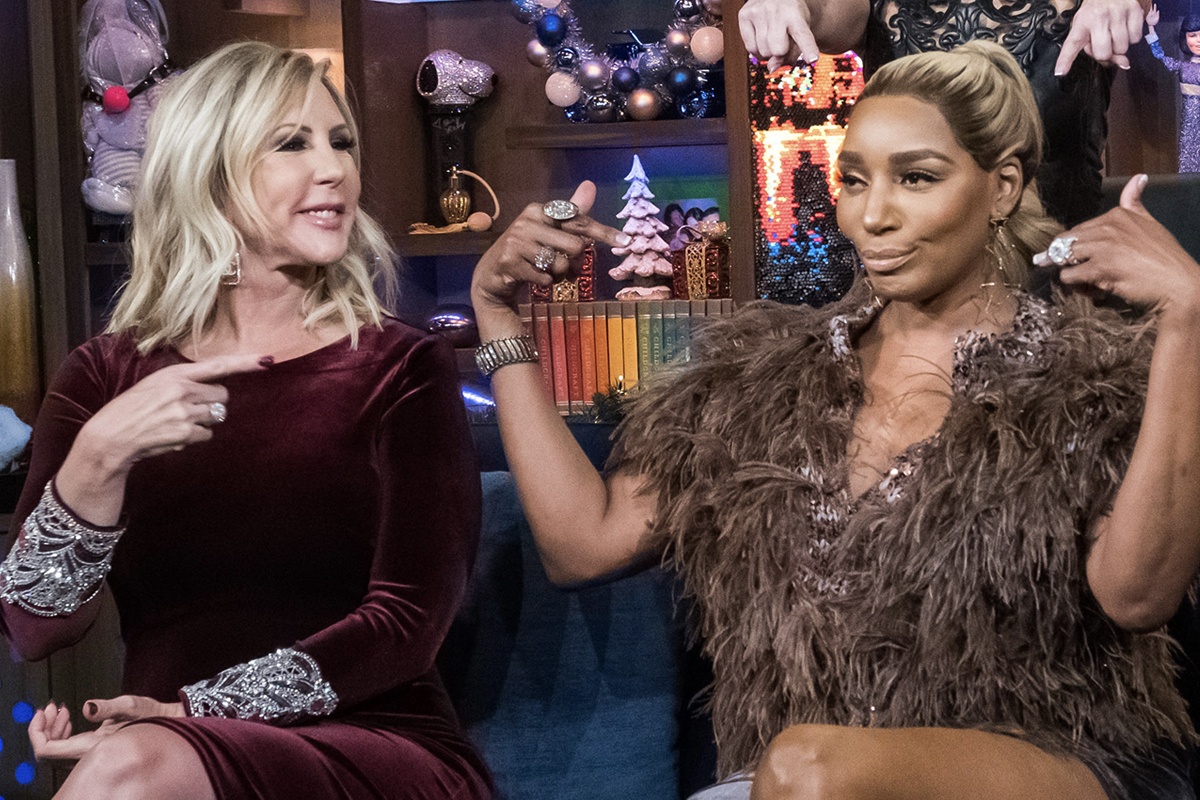 Vicki Gunvalson shows support for Nene Leakes
Housewives OG's are becoming scarce now as their contracts become more expensive every year and Bravo looks to revamp the casts. Although Leakes left RHOA for two seasons, she returned to claim back her peach. Her future on the show is uncertain and recently posted cryptic messages that led fans to believe there's some sort of struggle.
"Have you ever worked with a sociopath who used you for their personal gain to achieve what they want for themselves?" Leakes asked on Twitter.
This is where RHOC OG Vicki Gunvalson came in to second Leakes's thought and add, "Yep! You know it girl."
We didn't know we needed this RHOC and RHOA crossover, but now that it has been established on social media, it is what we want. OG's are sticking together and supporting each other.
Is Nene Leakes returning to 'RHOA'?
Kandi Burruss confirmed she had already started filming RHOA Season 13, but doesn't know much about Leakes.
"I don't know what Nene's doing," Burruss told Entertainment Tonight. "I just started taping, so I'm not sure who's in and who's out. They don't let us know, normally. Typically the way it works is, in the beginning of taping we just see more [of] my own personal life and story and eventually you start trickling in scenes with other people."
According to Page Six, Leakes is still having conversations about her inclusion on the show. Perhaps that is why Leakes has remained silent about her status on RHOA. However, she recently addressed fan queries and mentioned she would have an update soon.
"So it's my time to speak out and speak my truth, so I'm going to do that," Leakes told fans on Instagram Live. "I'm going to do that with the support of a lot of people behind me that's going to help with me speaking out. A lot of people have been asking me a lot of stuff, asking me about The Real Housewives of Atlanta every day on my social media."
The Glee alum shut down all the rumors about her firing from RHOA and promised to give more details in the coming weeks.
"There are so many false reports out there," Leakes continued. "I have remained quiet, I haven't said anything about it as of yet. It's coming, I will be speaking soon."
Vicki Gunvalson quit 'RHOC' after 14 years
Earlier this year, Gunvalson confirmed she was leaving her orange behind after 14 seasons. The RHOC star had been with the show since its origin but was demoted to a "friend" in season 14. She was ultimately not asked back for season 15 and confirmed the news in a sweet post on Instagram.
"I will always be the OG of the OC, but it's time to say goodbye to The Real Housewives of Orange County," Gunvalson wrote on Instagram back in January. "It's been an incredible ride for 14 years and I want [to] thank all of you for your support, for your love and for 'whooping it up' with me along the way."
Both RHOA and RHOC are filming amidst the coronavirus pandemic. There is no word by Bravo when these shows will air on the cable network. They have all had to adjust to the new normal and taking extra precaution to keep everyone's health safe.