Victoria Justice and Ariana Grande Feud Rumors Cleared Up by 'Victorious' Star
Rumors of a Victoria Justice and Ariana Grande feud swirled back when the two co-starred on the Nickelodeon series Victorious. Each went on from the hit show to do their own thing and, while the rumors subsided, the topic of drama between the women pops up now and again. Justice took the opportunity to clear up any confusion about the matter.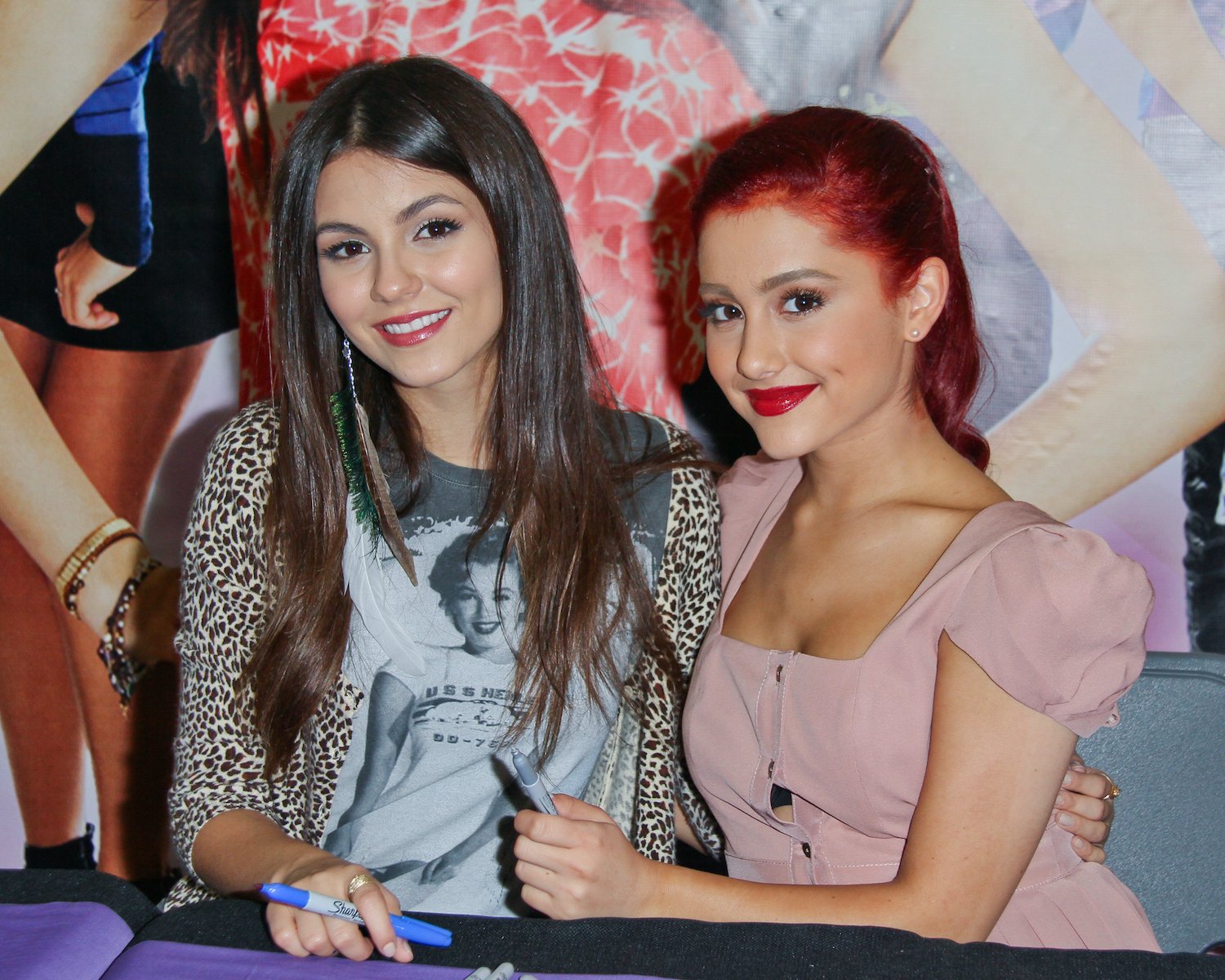 Were Ariana Grande and Victoria Justice feuding?
Ariana Grande and Victoria Justice's alleged feud appeared to be confirmed by a 2010 interview that had many believing she was jealous of her talented co-star.
Their Victorious co-star Liz Gillies told Popstar! at the time that Grande "literally sings everything."
"And it's a good thing because she has a beautiful voice, but it's awesome," she added. "She sings absolutely everything, she never stops."
Victorious co-star Daniella Monet commented that Gillies also sings a lot, to which Justice said, "I think we ALL sing."
The video resurfaced years later, in 2017, and became a meme. Justice tweeted at the time, "I think we ALL have better things 2 do than dredging up 7 yr old non-existent drama. That said, I'm kind of excited to finally be a meme."
Ariana Grande on 'Victorious' ending
In 2013, Grande and Justice appeared to be squabbling when Grande responded to fans about why Victorious ended. Some thought it was because Grande went on to do Sam & Cat.
"Sweetheart the only reason Victorious ended is because 1 girl didn't want to do it," she explained on ask.fm. "She chose to do a solo tour instead of a cast tour. If we had done a cast tour Nickelodeon would have ordered another season of Victorious while Sam & Cat filmed simultaneously but she chose otherwise. I'm sick of this bs."
Justice wrote on Twitter at the time, "Some people would throw some1 that they consider a friend under the bus just 2 make themselves look good. #StopBeingAPhony #IfTheyOnlyKnew."
Victoria Justice set the record straight about the Ariana Grande feud rumors
During a March 12 interview with Chicks in the Office, Justice was asked about the rumored feud with Grande and she was more than happy to settle things — hopefully for good.
"All of that drama, whatever, all of that stuff, it's so silly," Justice explained. "A lot of it really came from, like, the media, like fanning those flames and then just people online, like, fanning those flames and making it this huge crazy thing."
She continued, "We're all super supportive of each other and it's amazing."
Justice confirmed that things are "all good" between the former co-stars. "I love Ariana and she's killing it right now," she explained. "And she's been so supportive of me and my music. And you know, we text. It's really cool. So, everything's all good."
"It is a little frustrating to see how people do love to pit women against each other," Justice added. "I think at the end of the day, it's all about us supporting each other and building each other up."