Are Ariana Grande and Victoria Justice Friends? The Former 'Victorious' Star Seemingly Reveals Where Her Relationship With The Singer Currently Stands
For years, it's been rumored that early 2010s teen stars Ariana Grande and Victoria Justice had a long-standing feud that began while both were starring on Nickelodeon's Victorious. While different headlines and social media posts have pitted the two against each other for some time now, Grande seemingly slammed rumors of a reported feud with Justice in 2020.
Now, Justice is setting the record straight on her dynamic with the pop superstar as she seemingly revealed where their relationship currently stands.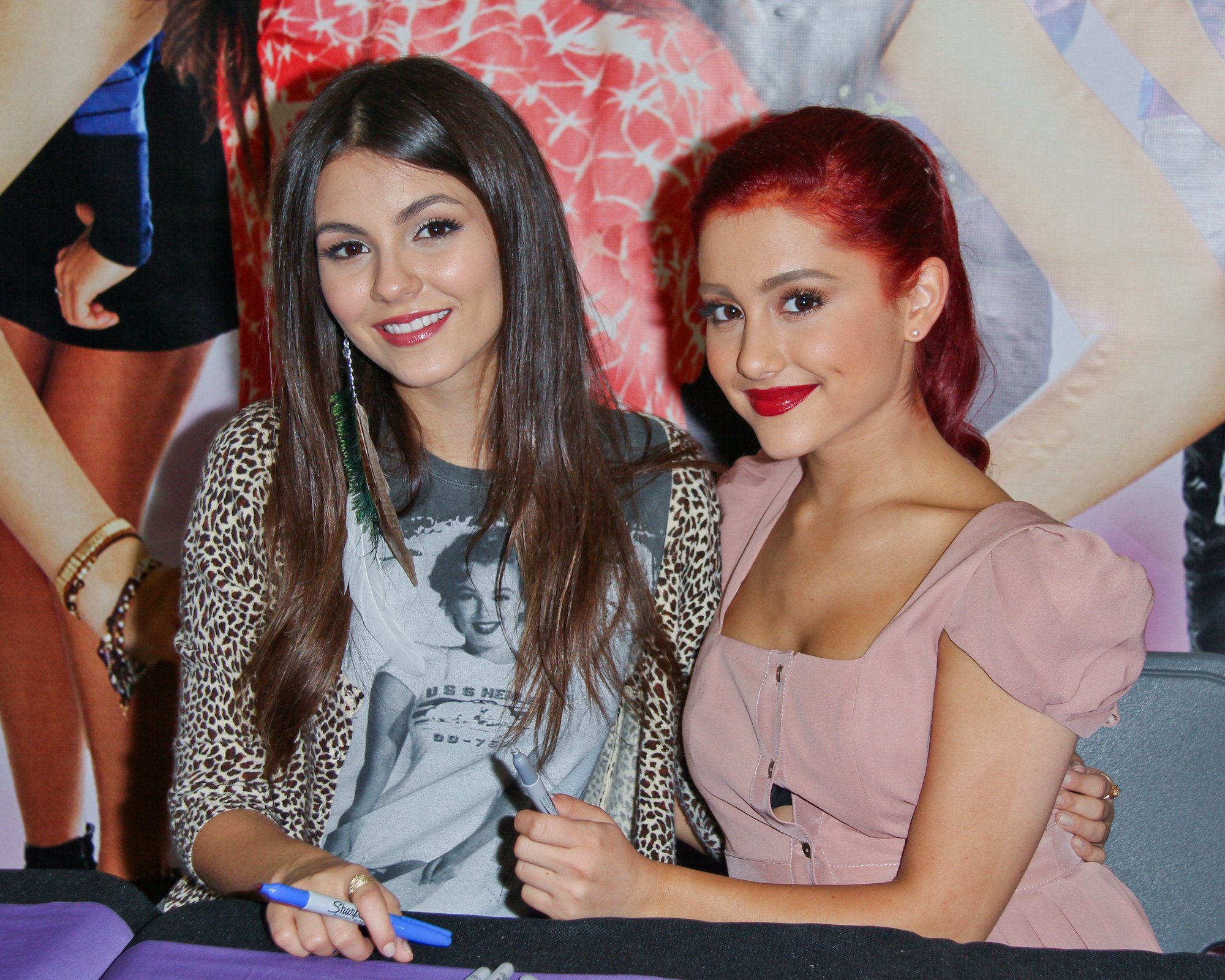 It was long rumored that Victoria Justice and Ariana Grande didn't get along
Since the early 2010s, fans have been convinced that Justice and Grande are rivals.
Rumors of Grande and Justice's supposed feud began during their early Victorious days when a video of them doing an interview with co-stars Liz Gillies and Daniella Monet for Popstar! magazine was released.
During the interview, Gilles gushed about Grande's singing voice, telling the publication, "She sings everything…and it's a good thing because she has a beautiful voice, but it's awesome. She sings absolutely everything, she never stops."
As Gillies said this, Justice looked seemingly annoyed.
Monet then chimed in to talk about Grande's vocal talents but was interrupted by Justice, who said, "I think we ALL sing," while appearing to roll her eyes.
From then on, rumors of a rift between Grande and Justice circulated through the media.
Ariana Grande and Victoria Justice never appeared to be particularly close
Though it's hard to tell whether or not there's any legitimacy to Grande and Justice's alleged feud, it seemed to fans that there was bad blood between the two.
Following the premiere of Nickelodeon's Sam & Cat in 2013, the "7 Rings" singer appeared to blame her former co-star for ending Victorious.
Justice seemingly hit back at Grande by posting a tweet that read, "Some people would throw some1 they consider a friend under the bus just 2 make themselves look good. #StopBeingAPhony #IfTheyOnlyKnew."
Over the next few years, rumors of a supposed feud between the two remained persistent as Grande would hang out with other Victorious cast members that weren't Justice.
There was also the time that Justice missed Grande's 2018 Coachella set and wasn't included in the singer's "thank u, next" music video even though several of their former Victorious co-stars made cameos.
Though many thought that the two just didn't get along, Grande seemingly slammed these feud rumors in March 2020 when she commented "shut the f**k up" on a social media post with the caption "i think we're ALL the best," referencing the Popstar! interview from years ago.
Victoria Justice reveals she's still in contact with Ariana Grande
A few years before Grande slammed feud rumors, Justice shut down ongoing speculations of bad blood between the two while speaking with TMZ in 2015.
"We're not best friends, but at the end of the day I wish her well and she's doing great, and I'm happy for her," Victoria said.
Though it's unclear if Grande and Justice consider each other friends today, the Naomi and Ely's No Kiss List actor just revealed to Entertainment Tonight that she and the "Positions" hitmaker text from time to time.
"She texted me about [Justice's song "Treat Myself,"] when it first came out this whole long, amazing sweet text," the actor shared. "She's killing it right now. She's been killing it. I'm so happy for her."
Though they might not be the best of friends, it's safe to say that Grande and Justice are civil with each other. Hopefully, now, people will stop pitting them against each other once and for all.