Video of Camilla Parker Bowles' 2-Word Reaction to Meghan Markle and Prince Harry's Exit Said It All
Camilla Parker Bowles, and much of the British royal family, remained tight-lipped after Prince Harry and Meghan Markle announced they were stepping back from their royal duties in 2020. But that doesn't mean they didn't comment on it all. Queen Elizabeth II responded with a statement. And, on another occasion, the Duchess of Cornwall said a few words. Despite her extremely short reply — Camilla's response totaled two words — the 74-year-old conveyed a lot. 
Harry and Meghan stepped down as senior royals in 2020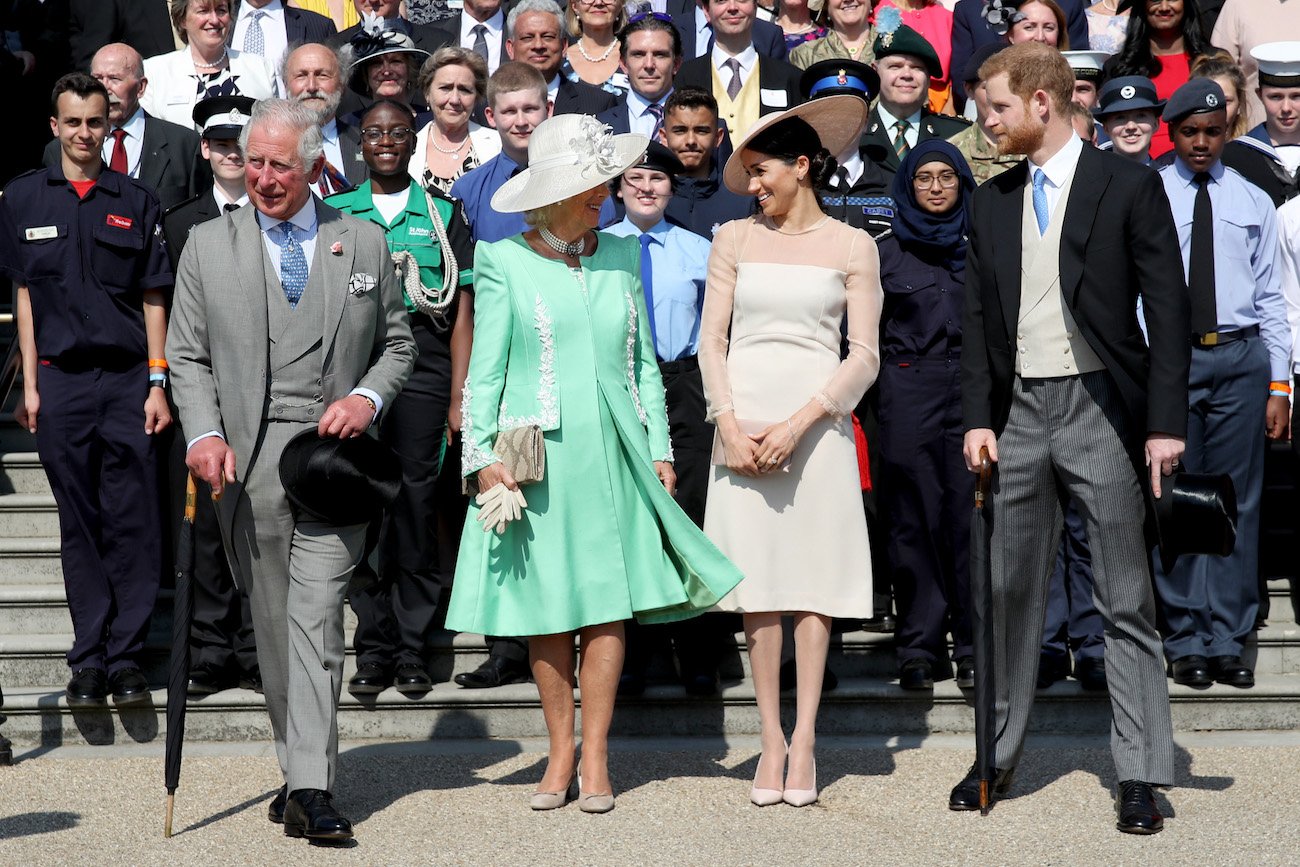 The start of 2020 marked a major shift for the royal family. Meghan and Harry, two senior working royals who were once dubbed the "Fab Four" alongside Prince William and Kate Middleton, announced their decision to step back from official duties. In an Instagram post on Jan. 8, 2020, the couple shared they hoped to "carve out a progressive new role" on their way to becoming "financially independent." ​​
After a series of conversations to work out the details Meghan and Harry stepped back from their duties as senior royals at the end of March 2020. From there they embarked on a trial period after which their situation would be evaluated. Eventually, they made a new home for themselves at a sprawling mansion in Montecito, Calif. Then they signed lucrative deals with Netflix and Spotify. Finally, in February 2021, the Duke and Duchess of Sussex confirmed they wouldn't be returning to royal life. 
A reported asked Camilla if she'd miss Meghan and Harry and she had a 2-word answer
Royal engagements didn't come to a screeching halt after Meghan and Harry's bombshell announcement. For that reason, Camilla was visiting England's Prospect Hospice in January 2020 not even two weeks after they went public with the news. So that's how she found herself fielding a question about the Duke and Duchess of Sussex's exit. More specifically, how she felt about seeing the possibility of seeing her stepson and stepdaughter-in-law much less.
"Hello, will you miss Harry and Meghan?" ITV journalist Chris Ship asked the Duchess of Cornwall. There to celebrate the charity's 40-year anniversary, Camilla's face said it all. She looked on for the briefest of moments — possibly working out a response in her head — before putting a smile on her face. Following a short pause she replied, "Hmm, course," before continuing on her way.
Many royals 'quietly welcomed' Harry and Meghan's exit
Camilla and her husband, Prince Charles, are still carrying out their royal duties. Meanwhile, the Duke and Duchess of Sussex continue with their post-senior royal lives in Montecito. While Harry and Meghan's exit may have shocked or upset certain royals, some were, according to a royal biographer, happy with the move. 
In an updated version of Meghan: A Hollywood Princess, author Andrew Morton wrote that some in the Windsor family "quietly welcomed" the exit. Whether or not Camilla was among the aforementioned group remains to be seen.