Video Emerges of Megan Thee Stallion Dissing G-Eazy at Club
Earlier in 2020, it seemed like Megan Thee Stallion and G-Eazy were on the verge of a romance. The rappers sparked romance rumors in February when they were seen partying together and getting close later in the evening. But in a subsequent interview, Megan Thee Stallion downplayed things and suggested that it wasn't as serious as people were making it out to be.
A lot of us figured she was just being coy but as it turns out, she wasn't. Newly surfaced footage from that evening appears to show her curving G-Eazy when he tried to make a move on her.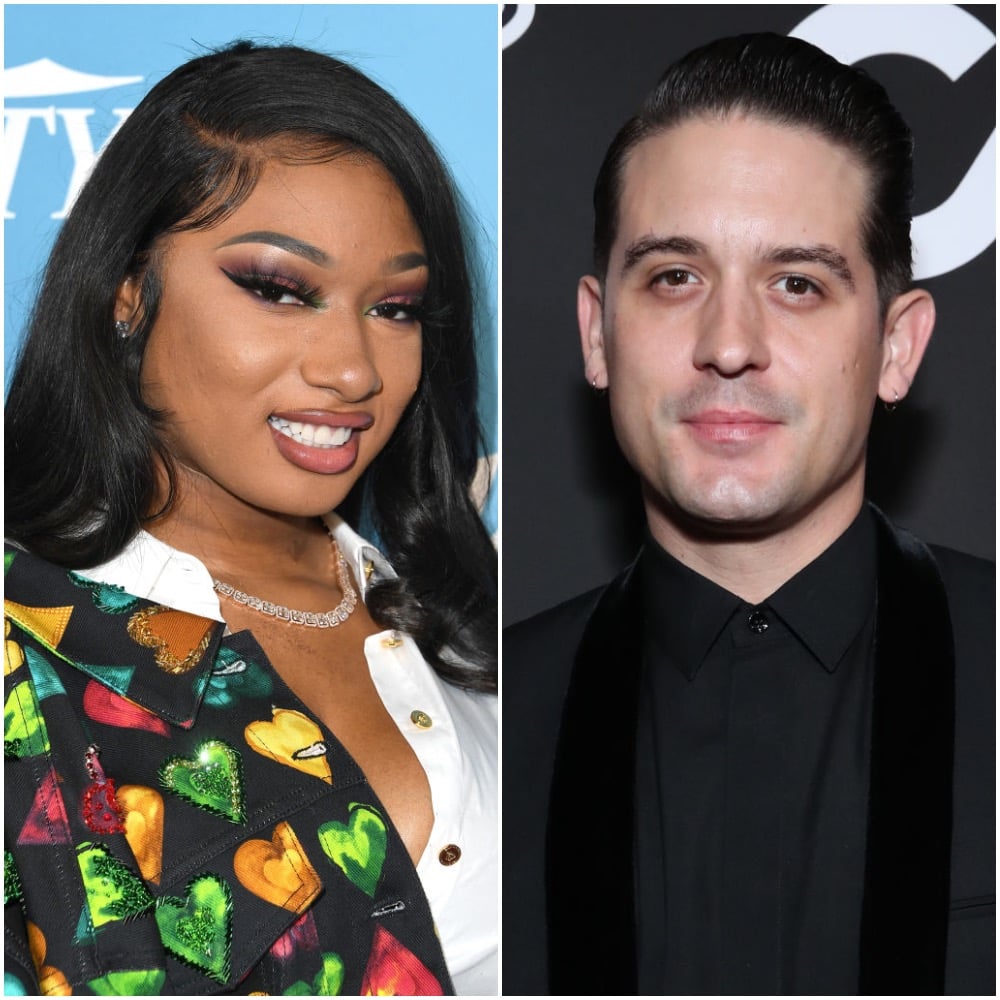 The latest video of Megan Thee Stallion and G-Eazy
The video was taken on Feb. 2 when the rappers attended the same party in Miami in celebration of Super Bowl LIV.
Uploaded by the entertainment blog The Neighborhood Talk on May 14, the clip shows G-Eazy standing behind Megan Thee Stallion and whispering in her ear as one of her songs plays. She's seen turning towards him and leaning into the "No Limit" rapper. But when he pulls her in and tries to kiss her, she draws back and turns the other way.
In the comment section, fans said they felt so, so embarrassed for G-Eazy. But others noted that things did seem to change in his favor later in the evening.
A second video from that night shows the rappers cuddling together
In a video uploaded to The Shade Room, G-Eazy and Megan Thee Stallion are seen lying together and cuddling while listening to music. As she wraps her arms and legs around him, G-Eazy pulls her in close and plants kisses all over her face. The clip sent the Internet into a frenzy and had fans convinced that something had happened between them.
G-Eazy only fueled the rumors when he posted an Instagram photo of Megan Thee Stallion along with a string of heart emojis. But she shut them down on Twitter, telling fans that nothing was going on.
"Lol alright nowww y'all got all y'all jokes out," she wrote. "But I am not f*cking G Eazy."
Megan Thee Stallion later clarified what happened and shared her real thoughts on G-Eazy
Amid the dating rumors, Megan Thee Stallion interviewed HOT 97's Ebro in the Morning, where she faced questions about the nature of her relationship with G-Eazy.
"It wasn't a fling. It wasn't a club jumpoff. You know, people be turned up in the moment … G-Eazy is cute, but I just want to be single right now," she said in a March appearance on the show.
But when she is ready to date, G-Eazy could be an "option."
"Gerald is a great guy," Megan Thee Stallion added.
To us, she really did seem genuine in her remarks. So maybe she just curved him because she was uncomfortable and didn't want to be put on blast. Sounds reasonable, right?