'Vikings': Who Is Bjorn Ironside's Father and Does It Really Matter?
The final season of 'Vikings' is almost here and fans still have a lot of unanswered questions. Who is Bjorn Ironside's father?
The final season of Vikings is almost here and fans still have a lot of unanswered questions. At the end of season 5B, viewers saw Bjorn Ironside (Alexander Ludwig) do the unthinkable. Spoilers are ahead.
Who is Bjorn Ironside's father?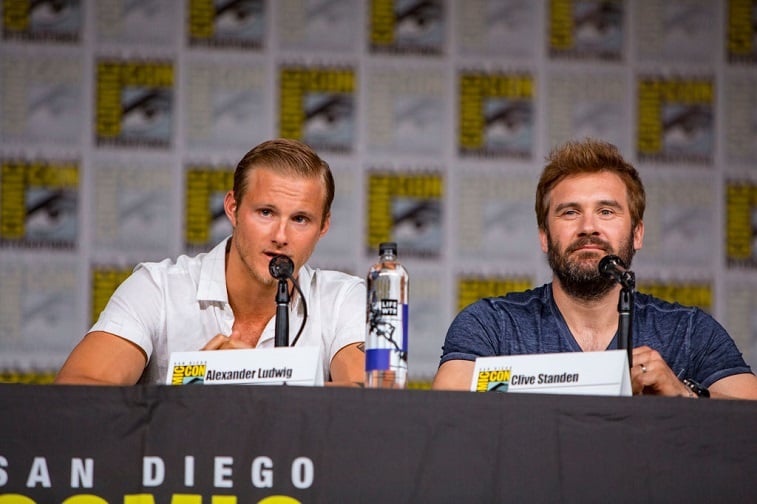 Bjorn decided to retake Kattegat and became the king. He defeated his brother Ivar the Boneless (Alex Høgh Andersen) and has taken his rightful place.
So, who exactly is Bjorn's father? It's been suggested that it might be his uncle, Duke Rollo (Clive Standen), who is pretty insistent on the subject. His mother Lagertha (Katheryn Winnick), however, is adamant it's Ragnar Lothbrok (Travis Fimmel), the man that helped raise him. But does it really even matter?
In the last season, Rollo finds Lagertha and Bjorn while they are hiding from Ivar's forces. He's traveled from Francia to take them with him. "Why have you come here Rollo?" Lagertha asks him. "To try and save your life and Bjorn's life," Rollo says.
"How can you do that?" Lagertha asks him. "Give you safe passage back to Francia," Rollo answers. He's pleading with her to leave with him to safety. "You know perfectly well why I am here offering you this. You know I have always loved you Lagertha, and that Bjorn is my son," Rollo declares. "He is not your son," Lagertha insists.
Rollo tells Bjorn he's his father
Rollo finally gets a chance to talk with Bjorn about his questionable paternity. "You're my son," Rollo finally reveals to Bjorn. "I have heard something to that effect," Bjorn finally answers. "But rumors are a doubtful truth."
Rollo says they have a special bond and always have. "We had a very special relationship together when you were a child," Rollo says. "It was if you knew."
"You may be my father, but then again you may not," Bjorn figures. "At the time of my conception, you may have been laying with my mother, but then again, so was Ragnar. So, who do I look most like? Who do I resemble most in spirit and principle? Now that is of most importance. And for that, undoubtedly, Ragnar."
Does it really matter who Bjorn's father is?
Bjorn Ironside is a formidable force, sailing to distant shores and making his own name for himself. When it comes down to it, it really doesn't matter who his father is. Whether it's Rollo or Ragnar doesn't make a difference. Bjorn is still the new King of Kattegat and a Viking warrior.
No matter what, he's going to carry on the legacy of Ragnar, who he truly believes to be his father. As he said, he's the most like Ragnar and looks more like him than Rollo. Not to mention, Ragnar helped raise him, at least in his earlier years before he left with his mother. He's known far and wide as the first son of Ragnar, and he's going to use that to his advantage. And who wouldn't in his position? Bjorn is clearly smart and intuitive, just like Ragnar was.
Bjorn Ironside is his own person. His paternity shouldn't matter. When it comes down to it, Bjorn is a strong Viking ruler who was groomed for his new position throughout his entire life. Hopefully, he will get to reunite with Rollo again before the series ends. Bjorn's story isn't over.