'Vikings' Season 6, Episode 5: Fans React to [SPOILER'S] Doppelganger
Vikings just released its most recent episode and fans can't stop talking about it. A major point involves what's going on with Ivar the Boneless (Alex Høgh Andersen). Read on to learn what viewers are saying about a doppelganger involved with Ivar that left people shocked.
*Spoilers Ahead*
Ivar the Boneless is dealing with a lot
Ivar is playing the field and trying to make allies where he can. It seems he's gotten Prince Igor (Oran Glynn O'Donovan) on his team for now, and he manages to get Prince Dir (Lenn Kudrjawizki) out of his grotesque cage and to safety. Prince Oleg (Danila Kozlovsky) kills the guards who let it happen right under their noses.
But the trouble really gets started when Oleg tells everyone that he is marrying Princess Katya (Alicia Agneson), who looks exactly like Ivar's dead wife, Freydis. Obviously, this shakes Ivar and he is pretty sure that she is Freydis herself.
Is Freydis back?
Fans can't stop talking about Ivar and everything he's dealing with. Is Freydis back? Is it all part of Oleg's sick and twisted plan to torture Ivar? Viewers are weighing in and they've got questions.
"I think the audience is supposed to take it as one of those mysterious, magical things that happen," a Reddit user said about the Freydis doppelganger. "This look-alike shows up to remind Ivar of his sins."
Some viewers thought it was all part of Ivar's imagination when they first saw her. "Yeah, thought Ivar was hallucinating at first," another Reddit user explained. "How the hell could Oleg find a woman that looked just like Freydis…or even know what she looked like in the first place?"
Could Freydis be a god?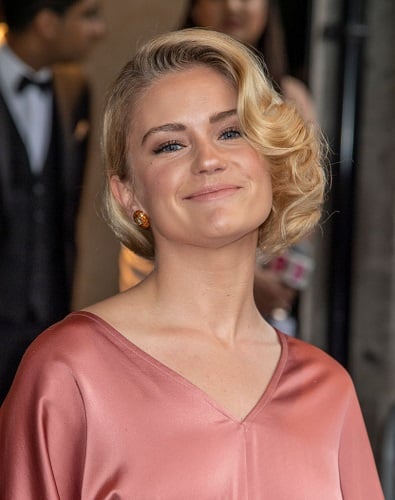 The situation with Freydis' possible return leaves a lot of questions up in the air. Could she be a god with a specific purpose in mind for Ivar? She could very well just be a look-alike in some sick twist of fate. Does she have any idea about what's really going on? Some fans think she could be directing him towards his greater destiny.
"I'm split on Katya. On one hand, Freydis was the one who convinced Ivar he was a god, then betrayed him and died for it," another user wrote. "Could she be a goddess who steered events so Ivar would go into exile and into the world of the Rus then reappear to direct him further toward his fate? Or is she just some lookalike that doesn't exactly know what's going on but is smart enough to play dumb?"
Prince Oleg could be behind the doppelganger
Others think Oleg is behind everything. He could have been planning and manipulating Ivar for a while and he wasn't aware of it. "I personally think Oleg is using her to mess with Ivar, as he is on to his plans to overthrow him," another Reddit user chimed in.
Some fans seem to agree that it's part of Oleg's overall plan. "I think that with the doppelganger of Freydis, Oleg is trying to manipulate Ivar psychologically," another Reddit user clearly agrees.
Hopefully fans will get some much-needed answers when it comes to the look-alike in the next episode of Vikings.