'Vikings' Season 6: Fans React to Bjorn's Shocking Decisions
Bjorn Ironside (Alexander Ludwig) is certainly going through a lot. This week, he made a decision that was both shocking and understandable. Read on to learn more about what happened in the latest episode of Vikings. There are major spoilers ahead.
Bjorn is having a hard time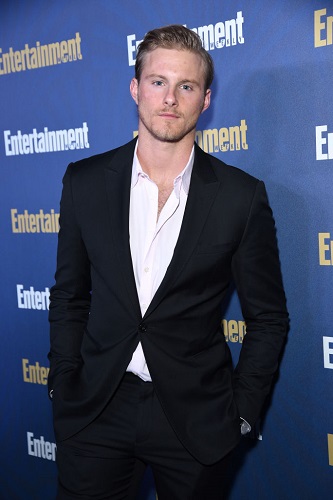 Episode 8 is called "Valhalla Can Wait." King Bjorn has said goodbye to his mother, Lagertha (Katheryn Winnick), who was killed by Hvitserk (Marco Ilsø) while he was hallucinating. Bjorn now knows the truth and he decides to pass judgment on his brother in the worst way.
Bjorn makes the harsh decision to burn his brother Hvisterk alive at the stake. Everyone is there to witness what seems like an inevitable event. The archers light the pyre and it engulfs in flames around Hvitserk, who looks up to the sky, waiting to die.
Bjorn makes a choice
Suddenly, Bjorn motions to Ubbe (Jordan Patrick Smith) and he throws an ax cutting Hvitserk free from his fiery prison. Hvisterk is free, and everything leading up to it seems like a waste of time at this point. Bjorn decides that killing Hvitserk would be too easy and not enough suffering for him for what he's done. He banishes Hvitserk instead, echoing what he did with the bandits at the beginning of season 6.
Fans react to Bjorn's decisions
Fans can't stop talking about how things played out in episode 8. A lot of people expected Hvitserk to die in this episode.
"Great episode. Kind of sad Hvitserk didn't get burned alive though not gonna lie," a Reddit user expressed.
More than a few people mentioned Bjorn's choice to banish people before and how that all turned out.
"So, please let me get that clear, Bjorn banished White Hair from Kattegat and had his son and mother killed because of this, and now he banishes Hvitserk and just literally making the same mistake?" a Reddit user questioned.
What will happen to Hvitserk now?
Some viewers say they saw this outcome coming. There's no way Hvitserk would have been burned alive like that. "I knew it that Ubbe would save Hvits ..now Hvitty is going to meet Ivar in Russia," another user speculated.
Now that Hvitserk is left to fend for himself, he could encounter the Rus who are sending raiding parties over. "I think he will be captured in a raid," another user theorized.
Banishing people doesn't always work for Bjorn Ironside
Bjorn banished the bandits at the beginning of the season, and they came back with a real vengeance on innocent people. Lagertha herself almost died fighting them.
"When you banish people, it doesn't always work out and you now banish Hvitserk? You are indeed a pretty hopeless King," a Reddit user wrote.
Maybe if Hvitserk had looked less happy at the thought of finally dying, he would have been able to pass away as he wanted.
"If only Hvitserk didn't look so happy at the prospect of dying. Bjorn would've let him burn," another said.
Bjorn Ironside made decisions this week that could change his future. Hvitserk will probably never forgive him for trying to kill him and may come back for revenge, just like the bandits did. What will happen next for the sons of Ragnar? Fans will hopefully get answers soon.