'Vikings' Season 6: What's Going to Happen to Hvitserk in Episode 8?
Vikings fans are a little concerned for Hvitserk (Marco Ilsø) after seeing the newest trailer for episode 8 of season 6. Read on to find out what might happen. There are major spoilers ahead for the latest season of Vikings.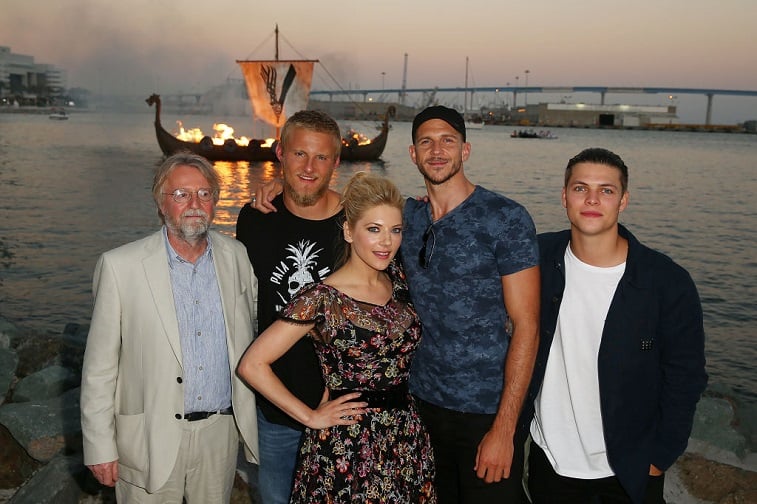 Hvitserk has been spiraling all season
As fans that are already caught up know, Hvitserk has been dealing with quite a bit, including addiction and trauma. He can't get over the loss of Thora at the hands of his own brother Ivar the Boneless (Alex Høgh Andersen). He's a shell of who he once was and he looks to other things to feel better, including mushrooms and alcohol.
Hvitserk's family has tried to help him
Everyone seems to be worried about Hvitserk's deteriorating behavior. Ubbe (Patrick Jordan Smith) even offers him a chance to redeem himself by traveling along the Silk Road. But Hvitserk gives into his addictions again and the offer is no longer on the table for him.
Hvitserk certainly has PTSD after everything he's suffered from Ivar. He can't seem to find himself again after losing Thora and not being able to get his revenge on Ivar for what happened. He couldn't do anything about it and he feels helpless.
Hvitserk follows his destiny
After Lagertha (Katheryn Winnick) fought off the bandit leader, she rode back to Kattegat. Hvitserk mistakes her for Ivar and a snake and he stabs her. With Lagertha's death, Hvitserk fulfills his destiny since the Seer (John Kavanagh) said long ago that a son of Ragnar would kill Lagertha. The prophecy is now fulfilled.
Could episode 8 hold Hvitserk's fate?
However, it doesn't look like Hvitserk will go unpunished. In the latest promo video for the next episode, Hvitserk faces death. The trailer opens with Bjorn (Alexander Ludwig) saying, "We will burn Hvitserk tomorrow."
The trailer then cuts to Hvitserk being tied up to stakes to be burned alive. We hear Bjorn tell others to, "Light the fire." The flames engulf the surrounding area as Hvitserk looks up to the sky for help. Things don't look good for Hvitserk if this new trailer is anything to go on.
This could very well be the end for Hvitserk, unless some divine intervention happens just in time. Bjorn wants revenge for Lagertha's death and he won't rest until he gets it. Hvitserk's fate seems confirmed unless somehow Bjorn changes his mind at the last minute or Kattegat is attacked at the same time.
Hvitserk clearly feels remorse for his actions and he never meant to kill Lagertha. It's a truly sad set of circumstances surrounding the death of the greatest shield-maiden to ever live. Bjorn wants to punish Hvitserk, but it won't bring back his mother.
Fans react to the trailer for the upcoming episode
Fans have a lot of feeling about what episode 8 might hold. Some people aren't happy with Bjorn trying to kill Hvitserk for the death of Lagertha.
"Bjorn seems to be the biggest hypocrite walking around," a Reddit user explained about the situation with Hvitserk. "He wanted Ivar to forgive Lagertha for killing Aslaug yet Bjorn seems to go nuts and being very unforgiving while Bjorn's mistake of setting White Hair free is the reason Lagertha had to come back and die. She would have died from that wound nonetheless and Hvitserk just finished it."
Others think Bjorn is hypocritical for trying to kill Hvitserk at all. "Bjorn is such a ******* hypocrite for trying to kill Hvitserk for 'killing' Lagertha," a Reddit user wrote. "Where was that energy when Ivar wanted to kill her when Aslaug died?"
Hopefully viewers will get some definitive answers when it comes to Hvitserk's fate in the next episode of Vikings.