'Vikings': Why Hvitserk Had to Jump Ship to Fulfill His Destiny
Hvitserk (Marco Ilsø) is a son of Ragnar Lothbrok (Travis Fimmel) that got caught up in destiny. He makes a move by jumping ship that changes his life forever. Read on to learn how. There are spoilers ahead for Vikings.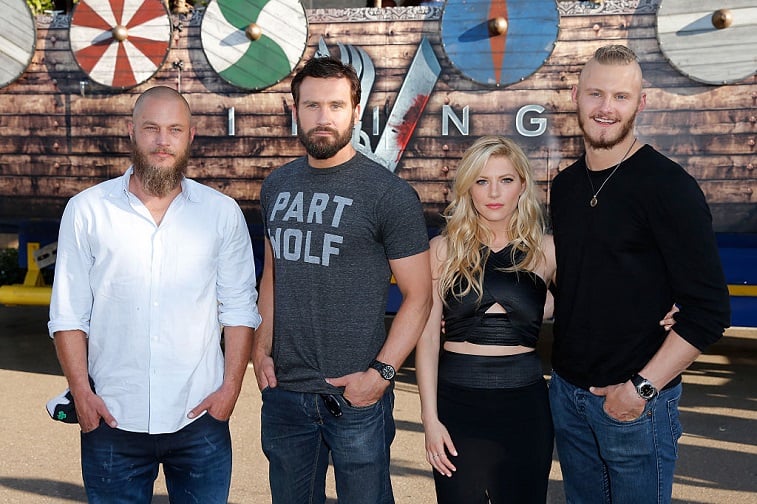 Hvitserk joins Ivar over Ubbe
After the Great Heathen Army rolls through England, the sons of Ragnar break apart. Ivar (Alex Høgh Andersen) kills Sigurd (David Lindström) and Bjorn (Alexander Ludwig) leaves to travel to new lands. Ubbe (Jordan Patrick Smith) goes back to Kattegat, and at the last minute as their ship is sailing away, Hvitserk jumps ship to stay with Ivar in England. The choice will haunt him for the rest of his life.
Hvitserk's destiny
Hvitserk had to stay with Ivar because his destiny is linked to him. He's on his side when they all attack Kattegat combined with Harald's (Peter Franzén) forces. Later, he falls for a woman named Thora who Ivar has killed while Hvitserk is away doing his bidding. The loss devastates Hvitserk and sends him spiraling into a depression.
In season 6, Hvitserk turns to alcohol and drugs to deal with the loss of Thora. By this time, Ivar has been defeated by Bjorn who has taken back Kattegat. Hvitserk is a shell of the man he once was, but he has no idea what's about to happen.
The Seer said a son of Ragnar would kill Lagertha
Hvitserk's destiny it seems was to kill Lagertha (Katheryn Winnick). The Seer (John Kavanagh) told Lagertha that a son of Ragnar would kill her and when she arrives back in Kattegat badly wounded, Hvitserk mistakes her for Ivar while intoxicated. He stabs her to death and fulfills his destiny instantly.
Jumping ship led to Hvitserk's destiny
If Hvitserk had never jumped ship and emotionally tied himself to Ivar, he would arguably never have killed Lagertha, which was coming for a long time. Hvitserk's entire world changed the minute he jumped off that ship and left Ubbe's side for Ivar's. It tied him to Ivar who went on to kill Hvitserk's girlfriend and break him down mentally, which led to his desire to use drugs and alcohol to numb the pain, which led to the death of Lagertha. It was the beginning of Hvitserk's ultimate destiny.
What's next for Hvitserk?
Hvitserk is still with Ivar after he rejoined him after some time apart. Bjorn let him go even though he killed his mother, Lagertha. He led Hvitserk right into Ivar's waiting arms with the Rus army. Hvitserk will probably stay with Ivar no matter what happens next. They are clearly linked and can't seem to escape each other.
Ivar isn't exactly happy that he wasn't the one to kill Lagertha like he wanted after she killed their mother. He's glad she's dead, but he's probably still in disbelief that it was Hvitserk and not himself that killed her.
Hvitserk fulfilled his destiny and it all started when he jumped ship to join Ivar over Ubbe.