Vin Diesel Invites The Rock Back For 'Fast & Furious' Finales: 'Fulfill Your Destiny'
The years-long Fast and Furious feud between Vin Diesel and Dwayne "The Rock" Johnson may soon come to an end. At first, their tiff shocked fans, and then it turned entertaining. The pair have traded barbs and beefed over the Fast movie franchise, Hobbs & Shaw, and their behavior. But Diesel seemingly wants to make amends with Johnson so he can return for the film series' curtain call.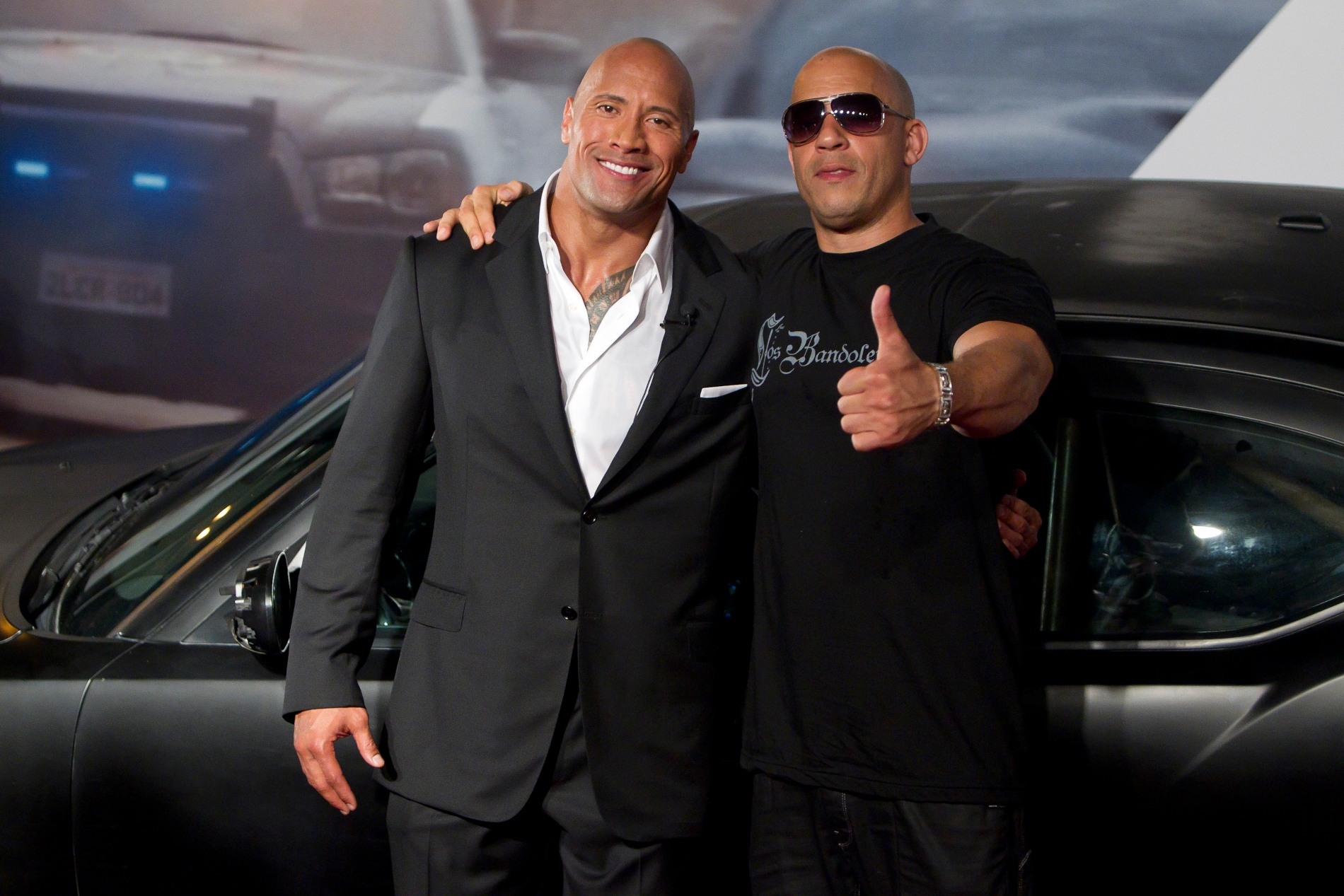 Vin Diesel calls for Dwayne Johnson to come back to 'Fast 10'
The Rock famously stepped back from the Fast movies after Fast 8 (The Fate of the Furious) and went on to star in Hobbs & Shaw with Jason Statham. He and Diesel have exchanged subtle and not-so-subtle jabs at each other ever since, with Diesel recently stating that he was only trying to goad the best performance out of The Rock.
However, with the show coming to an end with two final movies, he's changing his tune. Diesel hit Instagram with a note to The Rock that includes a photo of the two on set.
"My little brother Dwayne… the time has come. The world awaits the finale of Fast 10. As you know, my children refer to you as Uncle Dwayne in my house," he wrote.
"There is not a holiday that goes by that they and you don't send well wishes… but the time has come. Legacy awaits. I told you years ago that I was going to fulfill my promise to Pablo. I swore that we would reach and manifest the best Fast in the finale that is 10! I say this out of love… but you must show up, do not leave the franchise idle you have a very important role to play. Hobbs can't be played by no other. I hope that you rise to the occasion and fulfill your destiny."
At the time of this writing, Johnson has yet to respond.
The Rock addressed the Diesel feud in recent interviews
While making his promo media rounds for Red Notice, The Rock admitted there's a Vin Diesel joke or two in the film courtesy of co-star Ryan Reynolds. He told SiriusXM most of the time, these go over well with audiences.
But during his chat with Vanity Fair in October, the actor reiterated that he and Diesel simply don't see eye to eye. He preferred to leave it in the dust, but acknowledged that he meant what he said when he called him a "candy a*s" back in 2011.
Further, he didn't care for Diesel's recent comments to Men's Health. He referred to himself as Johnson's big brother and said he used "tough love" with him on set.
"One part of me feels like there's no way I would dignify any of that bullsh*t with an answer. But here's the truth," said The Rock. He went on to say that the pair come from two different backgrounds, but he always gives 100% to anything he does. So, he laughed off Diesel's digs.
Johnson's team previously stated he would not return to 'Fast 10'
Back in August, Hiram Garcia of Seven Bucks Productions (Rock's company) spoke about Johnson's place in the Fast franchise. During an interview with Collider, he explained that Hobbs & Shaw would move forward with a sequel, but Fast 10 and Fast 11 are not options.
"After filming Fast 8 DJ made the clear decision to close the Fast & Furious chapter for all the evident reasons. He wished them all well and shifted our focus on to other story telling avenues. So while he will not be in F10 or F11, that won't in any way interfere with our Hobbs plans. Obviously, all these characters exist in the Fast universe and we love to see all aspects of that universe thrive and succeed," he said.
But now that Diesel has extended an olive branch, perhaps there's a small chance Johnson will change his mind. Perhaps.