Vince Gilligan's Mom Doesn't Like the 'Breaking Bad' Finale
'Breaking Bad' creator Vince Gilligan says his own mother dislikes the show finale because of what happened to Walter White, to his own surprise.
Breaking Bad is an incredible show, packed with drama and gravitas as well as comedy at all the right moments — but despite all that, Vince Gilligan's own mother dislikes the ending. During a chat with Conan O'Brien, Gilligan went into further detail about why his mom just can't get behind the Breaking Bad finale. What's more, Aaron Paul had to shield a family member from one particularly memorable scene. 
Vince Gilligan says his mother hates the 'Breaking Bad' finale
Breaking Bad has any number of iconic scenes — the pizza toss, Gus Fring's death, and of course, the finale. However, Vince Gilligan's own mother wasn't satisfied with how the Breaking Bad finale went down. 
"This is really exciting, to see the power that this show still has over us ten years afer it started. It's absolutely incredible," Conan O'Brien told Vince Gilligan. 
"I have to say a lot of shows that get the acclaim that Breaking Bad had, when it comes to the finale they take a lot of hits … Breaking Bad [was] universally acclaimed for the finale by everybody except your mom."
"Yeah, yeah my mom. That's true. Gail Gilligan, who's watching this, is gonna be giving me all kinds of [crap] about it," replied Vince Gilligan. 
"Now she, I'm not sure she would ever watch Breaking Badin the first place if I hadn't been involved, because she's — y'know she's just a sweet nice lady who is, y'know, doesn't wanna see the bad guy prevail in a TV show. At the end of Breaking Bad she said, 'I really wanted Walt to get away with it,'" Gilligan revealed.
Gilligan's castmates as well as Conan were amused by this fact. When Conan asked what she usually watches, Gilligan explained she's typically the type to watch Hallmark channel content. 
"That's what she watches and then her son makes Breaking Bad," joked Conan. 
Aaron Paul's grandmother closed her eyes during this scene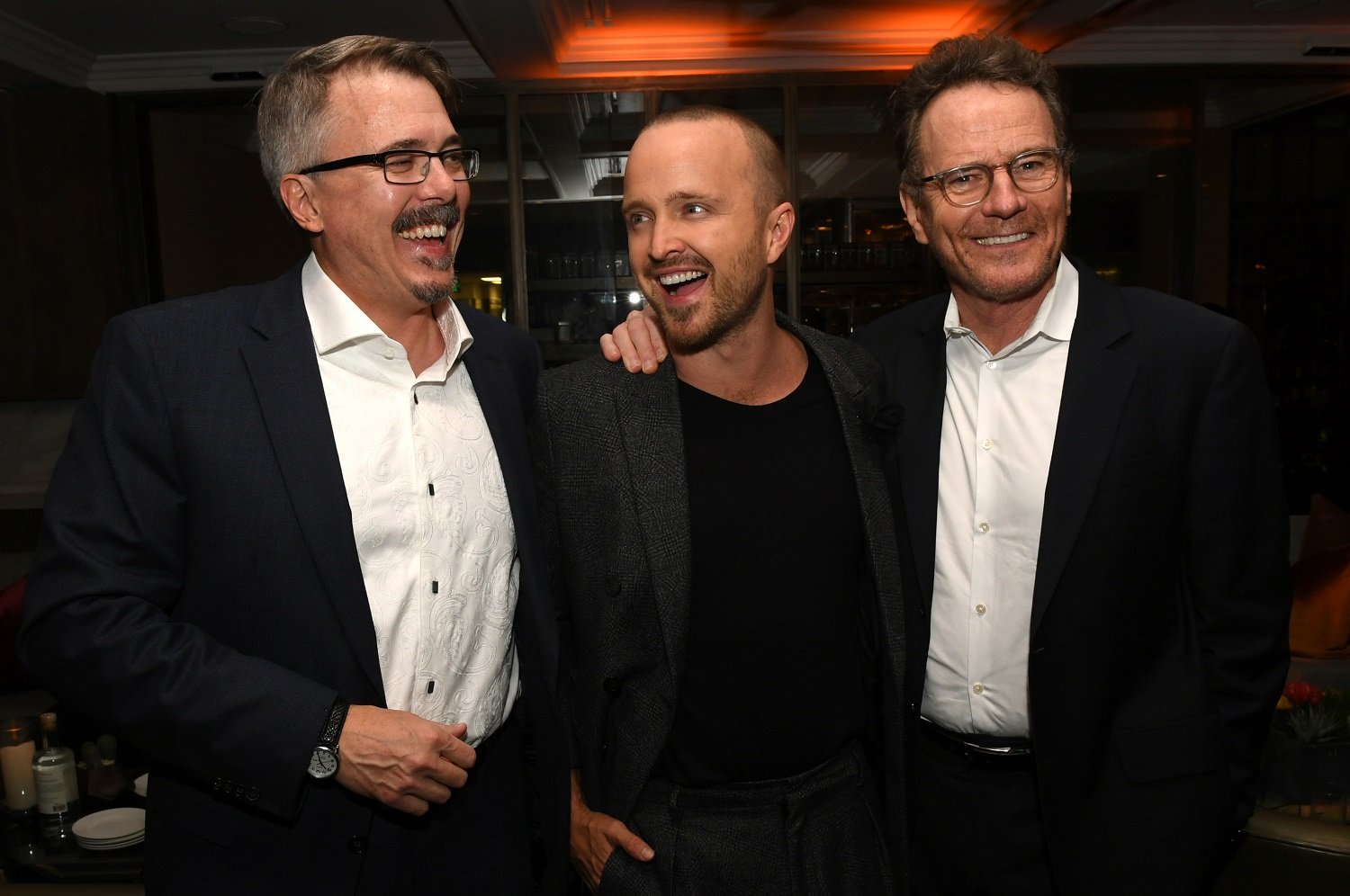 Aaron Paul, the actor behind Breaking Bad's Jesse Pinkman, has a very close relationship with his grandmother. As a result, he felt the need to shelter her from one of the more intense scenes in the film. 
Specifically, Aaron Paul felt the need to tell his grandma to close her eyes during the scene when Jane overdoses and dies. 
"One of the most intense things that I had to go through as an actor with this character, was watching Andrea [Emily Rios] die, or waking up next to Jane [Krysten Ritter] and trying to revive her. I remember watching that episode with my whole family in Idaho — my grandmother was there," he told Entertainment Tonight. 
"It opens up, and you just hear the sounds of the bedsprings going off and you hear some grunting. And there's laughter in the room, and they're like 'Oh no, Grandma, close your eyes,' because they thought, 'Oh, there's going to be a sex scene'. And then it cuts to one of the most tragic things you could see," he added.