Vincent Herbert Was Not Tamar Braxton's First Husband
Tamar Braxton may be the baby sister of The Braxtons, but she's proven herself as a standout of the bunch. The reality star, singer and actress made headlines as the first black winner of Celebrity Big Brother. Her grand life garnered her fans that she calls "Tamartians." Just as she's known for her wins, she is known for the ups and downs fans watched her experience during her marriage to her ex, Vincent "Vince" Herbert.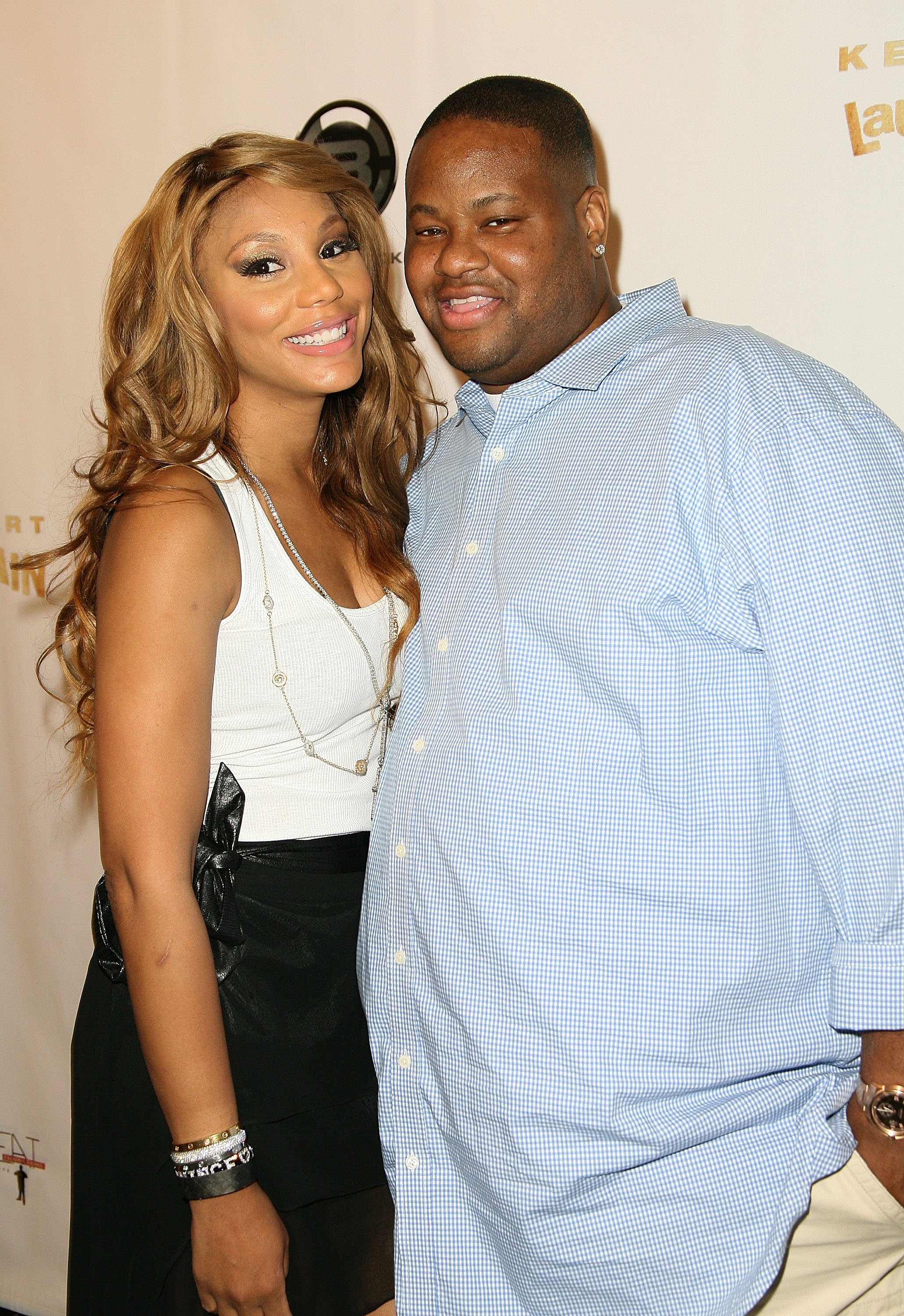 Fans were sad when Tamar and Vince split in 2017. Viewers watched as they built Tamar's mega career but could not handle what came with it within their marriage. What many did not know was that Vince was not Tamar's first husband.
Tamar Braxton and Vincent Herbert marriage
Tamar Braxton and Vincent Herbert were introduced to the world as a couple on the first season of Tamar's family reality show, Braxton Family Values. The couple met while Vince was managing Tamar's older sister, superstar singer Toni Braxton, and began dating in 2003. They married in November 2008. Though opposite personalities with Tamar being flamboyant in character and Vince more relaxed, they appeared inseparable.
Viewers watched Tamar fight for a singing career to establish herself outside of her sister's shadow. Vince was a popular record executive, known for working with Lady Gaga and Mindless Behavior. When Vince finally agreed to manage his wife, her career took off. Their spinoff show, Tamar & Vince, documented their lavish lifestyle while the couple tried to balance marriage and work. They welcomed a son, Logan Vincent Herbert, in 2013, and supported each other through serious health crises.
With success came trouble for the couple. Tamar admitted in an interview that working together caused too much stress on their relationship. Tamar & Vince showed the two constantly bickering and how their professional lives transferred into their personal lives. The once-close couple who referred to themselves as "velcro" began to deteriorate. Rumors spread of domestic violence, cheating, bad business deals, and Vince's mounting financial troubles. Tamar begged to end their working relationship to save their marriage but it would prove to fail. Tamar filed for divorce just shy of their ninth wedding anniversary in 2017. Their divorce was finalized earlier this year.
Who was Tamar Braxton's first husband, Darrell "Delite" Allamby?
While married to Vince, Tamar compared Vince to a saving grace. She credited him with accepting her loud personality as she was and loving her through thick and thin. Vince doted on his wife as much. Through their love, fans were shocked when tabloids revealed that Vince was not Tamar's first husband.
According to Heavy.com, Tamar was married to record producer, Darrell "Delite" Allam, from 2001-2003. Not much is known about their marriage as Tamar has never spoken about it being married prior to Vince. What is known is that Darrell met Tamar while working on her debut album. He had also recorded with other artists, such as Busta Rhymes. The marriage was annulled after two years.
Braxton Family Values fans did get a hint that Tamar was once married before Vince in an episode of the show. When speaking to sister Towanda on the recent dissolution of her marriage, Tamar said that she understood because she'd "been through that before." At the time, she and Vince were still married.
Why did Tamar Braxton and Darrell "Delite" Allamby divorce?
Tamar has been vocal about past relationships with her fans. She claimed that physical violence was a part of all of her relationships prior to Vince. Tamar mentioned in one interview that her relationship before Vince was abusive.
While she was a co-host of The Real, she explained through tears that the relationship left a damper on her self-esteem. "God really saved me from myself, because I was with the wrong person, and when I was with the wrong person, it made me feel bad about who I was," she said. "And because of that, he used to beat me down, mentally and physically. It was just a really hard time for me." She also explained in an on-camera interview with BET Centric's Being that in that same relationship, she was "dragged down a hallway" for defending herself.
While Tamar never confirmed whether or not Darrell was the culprit, fans assumed he was. Darrell has never spoken out about Tamar's claims. Thankfully, she's found new love in financial guru, David Adefeso.