'Virgin River': The Paternity of Mel's Baby Is Super Obvious According to This Fan Theory
Virgin River Season 3 ended with a shocking revelation on the part of Mel Monroe (Alexandra Breckenridge). The nurse and midwife return to Virgin River following a breakup with Jack Sheridan (Martin Henderson). Though their breakup was short-lived, the choices that Mel made during their time apart have changed things forever.
Just as he was asking for her hand in marriage, Mel revealed to Jack that she was pregnant, but that she wasn't sure if he was the father. Now, Virgin River fans are pointing to this theory that makes the paternity of the unborn baby extremely obvious.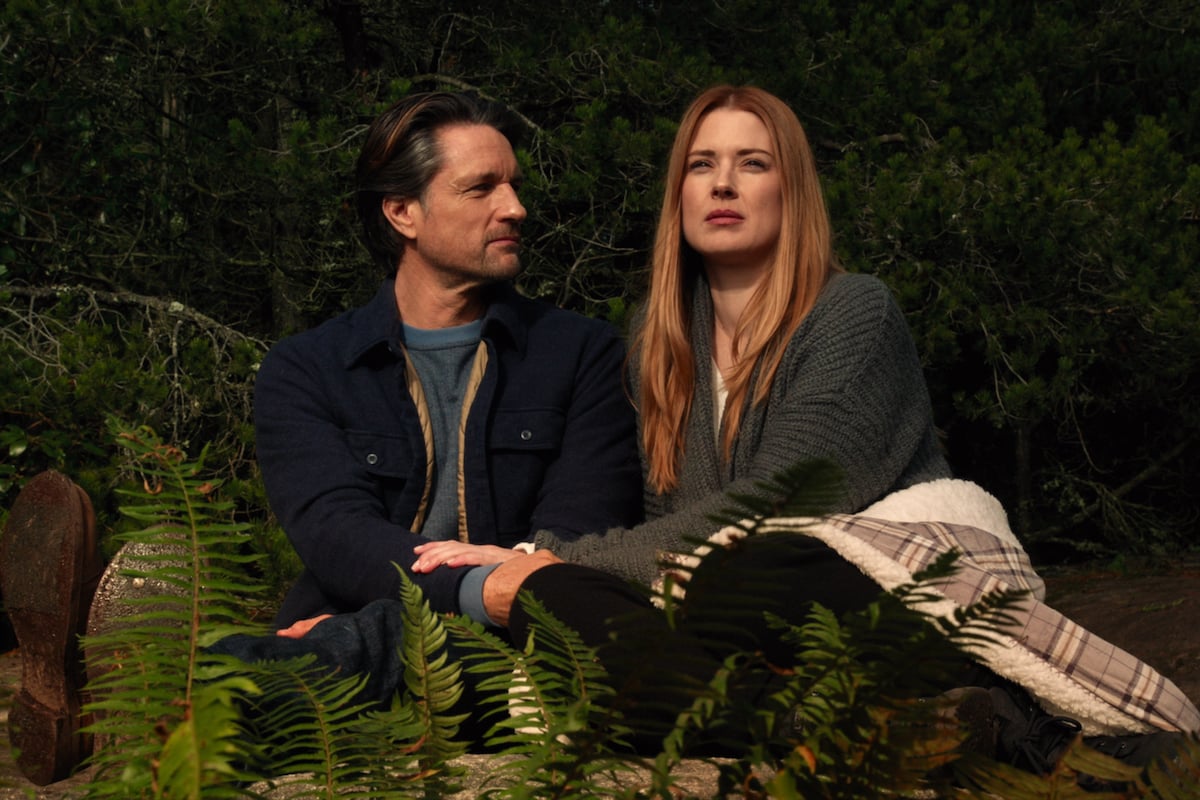 RELATED: 'Virgin River': Fans Might Not Find out Who Shot Jack for a Long Time
Who is the father of Mel's baby on 'Virgin River'?
Following an intense breakup after expressing to Jack her desire to become a mother and his apprehension amid the impending birth of his twin babies with his ex-girlfriend, Charmaine (Lauren Hammersley), Mel decides to pursue motherhood on her own.
During a visit to Los Angeles, she went through a round of IVF with an embryo she'd created with her late husband Mark (Daniel Gillies). Since she had also been intimate with Jack before their breakup, the paternity of her baby is in question.
Still, Breckenridge says she understands Mel's choices. "It kind of makes sense to me that she decides to go through with it, because she doesn't believe that Jack's gonna ever come back to her," the actor told E! News via Hello!"
RELATED: 'Virgin River': Is Charmaine Actually Pregnant in Season 3?
This 'Virgin River' fan theory makes the paternity of Mel's baby super obvious
Though Mel is thrilled about her chance to become a mother after her first baby was born tragically stillborn, not knowing her child's paternity is clearly going to cause some friction between her and Jack. However, some Virgin River fans believe that the father of the baby is actually very obvious.
On Reddit, Virgin River, fans are talking about how challenging IVF is and how Mel and Mark went through several rounds that were unsuccessful. Knowing the intense time and preparation, mentally and physically that IVF takes and seeing how Mel only did on round, it seems pretty obvious that Mel got pregnant with Jack.
"[Mel] was in L.A. for, like, three days and had the idea while she was there," one Redditor explained via Looper. "I think she's pregnant with Jack's baby, at least I hope so."
RELATED: 'Virgin River': Jack Might Not Be the Father of Charmaine's Babies
'Virgin River' Season 4 will reveal the paternity of Mel's baby
Though she's remaining quiet on the subject, Breckenridge already knows who the father of Mel's baby is. Still, the This Is Us actor has explained how excited she is to watch her character go on her pregnancy journey.
"With her history, her fertility issues, and having a stillborn baby at such a late stage in pregnancy, you don't know if she's going to be able to," she told US Weekly. "In the books, she does, but a lot of things are different in the series than in the books. But I would like to watch her journey of becoming a mother."
Thankfully, Breckenridge won't be holding on to her secret forever. Virgin River showrunner Sue Tenney has promised that all will be revealed in season 4. "That's something that we won't answer until we get to the end of — if we get — a season 4," she told US Weekly.