Vivica A. Fox Asks If Nene Leakes Is Using Drugs After Leakes Revealed She's In Therapy For 'RHOA' – Fox and Others Not Sympathetic
Nene Leakes has been open about how difficult the past few seasons of living her life out on Real Housewives of Atlanta has been. From coming forward with how her husband's illness affected her marriage to her ongoing battles with her castmates, it appears Leakes is ready to make a personal change for the better. After revealing that she's in therapy to combat trauma experienced on the show and in her life, many were hopeful that she was on the journey to bettering herself.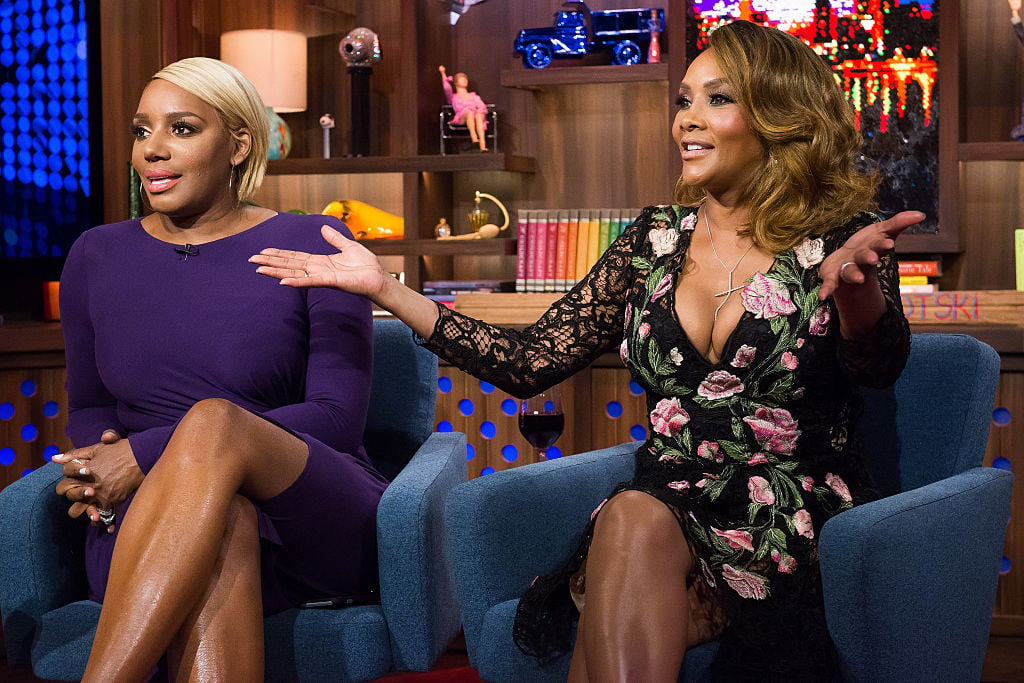 But not all are convinced. Actress Vivica A. Fox questioned if there were more serious issues with Leakes, including substance abuse during an appearance on Out Loud. The other co-hosts also called Leakes out for "playing the victim."
Nene Leakes reveals she's in therapy as a result of issues on 'RHOA'
Leakes's personal struggles over the past few years have been well documented on RHOA. Her husband of over 20 years was diagnosed with cancer and she took on the role of his primary caregiver. Unexpectedly, his illness caused a further strain in their marriage that Leakes says was already taking place. They lived in separate rooms for over a year and Leakes contemplated divorce before opting to remain married.
Leakes also dealt with the fallout of her longtime friendship with Cynthia Bailey after she felt betrayed by Bailey for not informing her of her nemesis Kenya Moore attending Bailey's event. The two eventually talked and decided to remain cordial after months of slandering one another in the press but their friendship has not been the same since. Leakes has also been battling with other co-stars, including Kandi Burruss and Eva Marcille.
She took to her Instagram live where she hosts weekly chats with fans and some of her celebrity fans and admitted that the past few years have taken a toll on her emotionally. She was filmed working with a spiritual life coach but has since enlisted the help of a licensed professional therapist after things came to a head during the RHOA virtual reunion.
Vivica A. Fox questions if Nene Leakes is in therapy for mental health or substance abuse – other hosts are not sympathetic to Leakes
On FOX Soul's daytime talk show Out Loud With Claudia Jordan, the hosts discussed Leakes's admission that she was in therapy. The panel of hosts included actress Lisa Raye McCoy, singer Syleena Johnson, and actress Vivica A. Fox. 
"The trauma that I experienced in the last few days, I felt, like, it was really time for me to see somebody." Leakes said on her Instagram video. She explained that she was bombarded with questions for the first two hours of taping and that as the reunion progressed, subject matters she felt were unrelated to the show were brought up. She claims she felt "targeted" and ended her participation in the reunion.
"I closed my computer. I went to go use the bathroom, and I thought, 'I need a break, so I'm just gon' take a break.' Whenever I felt like I wanted to take a break, I was gon' take a break- because I'm just the person you're gonna ask questions to, I'mma need a break a little bit more than everybody else, I guess," she said.
Jordan was a full-time cast member on RHOA during season 7 and opted to stay out of the conversation initiallly. But Fox said that she noticed something odd during Leakes's video.
"I just wanted to know did you see a little," as she motioned her hands rubbing across her nose to insinuate that Leakes's nose was sweaty. "I just thought it was a whole lot of adrenaline going on so it must be another level of something." Fox continued, "She's getting therapy for mental, or consumption," asking if it was for the consumption of drugs.
"Mentally something is definitely going on. You can only spit out that much venom before it comes back to you in a negative way," Fox said of Leakes.
McCoy also was confused as to why Leakes decided to seek therapy, saying, "I don't think it's anything that she hasn't gone through with all the 25 seasons that she's done. What extra has happened?" McCoy also suggested that maybe it's time for Leakes to quit the show altogether if it's compromising her mental state.
Jordan also didn't mince her words, citing Leakes's past behavior and calling her hypocritical for the pain she's caused her co-stars over time. Jordan brought up her own tense arguments with Leakes as an example, in which Leakes accused Jordan of sleeping around in Hollywood, lacking financial stability, and making jokes about Jordan being biracial.