'Walking Dead: World Beyond' Releases Five New Images of New Characters and Zombies
AMC released five new images from the Walking Dead spinoff The Walking Dead: World Beyond. This is not a spinoff like Fear the Walking Dead. World Beyond will be a limited series that tells a complete story in only two seasons. AMC says World Beyond follows a group of four young survivors, the first generation born after the zombie outbreak, learning to survive the walkers and the human factions that sprung up around them.
World Beyond premieres Sunday, April 12 at 10 p.m after the Season 10 finale of The Walking Dead and then moves to 9 p.m. Sundays on AMC. See the new images below. 
The four survivors of 'The Walking Dead: World Beyond'
The first Walking Dead: World Beyond image shows Iris (Aliyah Royale), Silas (Hal Cumpston), Hope (Alexa Monsour)  and Elton (Nicolas Cantu) in an apocalyptic wasteland. The dry cleaner and mini mart is overrun with foliage after generations of disuse. There's probably nowhere to clean their survival gear in the cleaner, but hopefully there are still a few nonperishables in the mini mart.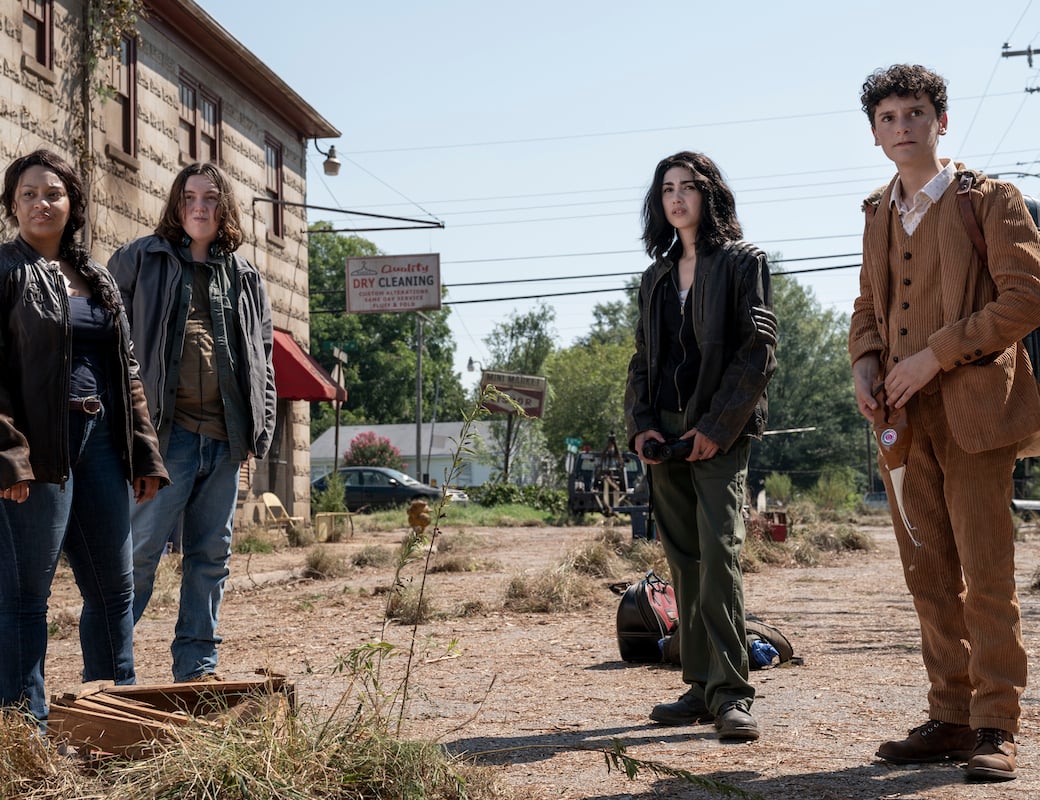 The next Walking Dead: World Beyond picture shows the gang in a very normal looking bedroom. Perhaps they kept it clean since the zombie outbreak, or found it abandoned this way. Perhaps this is Iris's room or Felix's. AMC describes the both as scientists and there is a telescope pointed out the window. The difference is Iris wants to restore the world and Felix doesn't have much hope for that.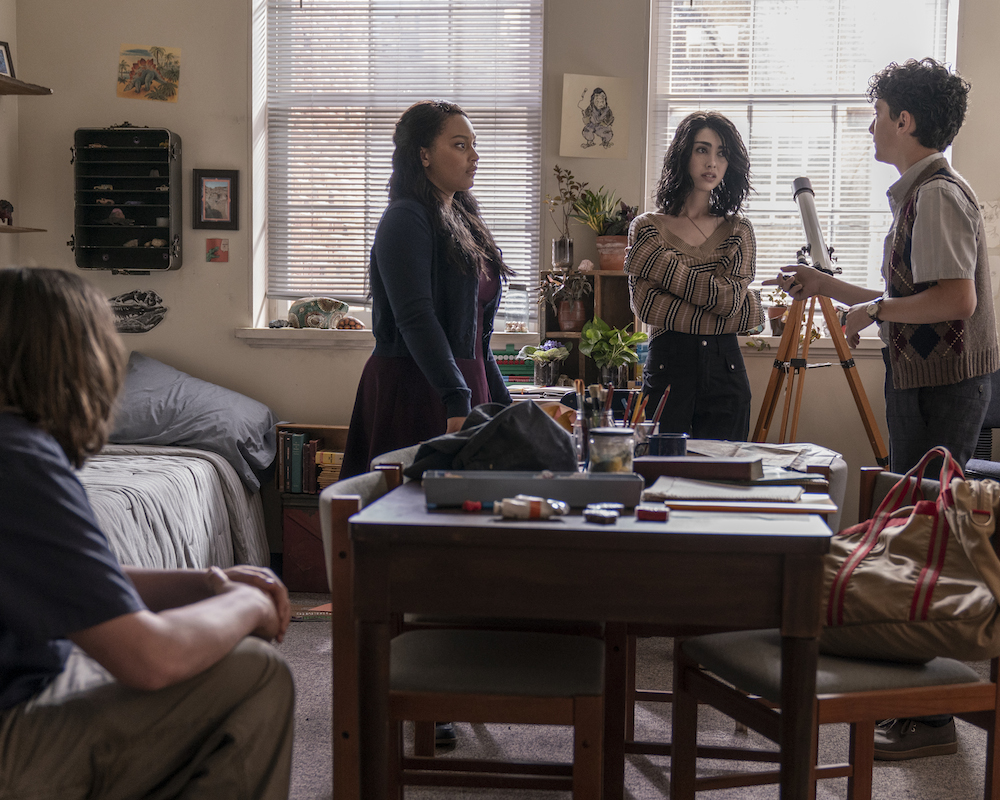 The boys in those photos are 17-year-old Silas and 15-year-old Elton. Silas is new to the community of The Walking Dead: World Beyond and works as a janitor. He wants to join Hope and Iris on a cross-country voyage to escape his troubled past. Elton lost his parents in the outbreak but wants to continue their work. 
Training for a fight in the 'World Beyond'
Fighting is a fact of life with walkers on the loose on The Walking Dead: World Beyond. This photo shows Hope training with Huck (Annet Mahendru) using a sidearm. Good thing the pad doesn't bite back. AMC describes Hope as a troublemaker with a pessimistic outlook for the world. Clearly they named her ironically.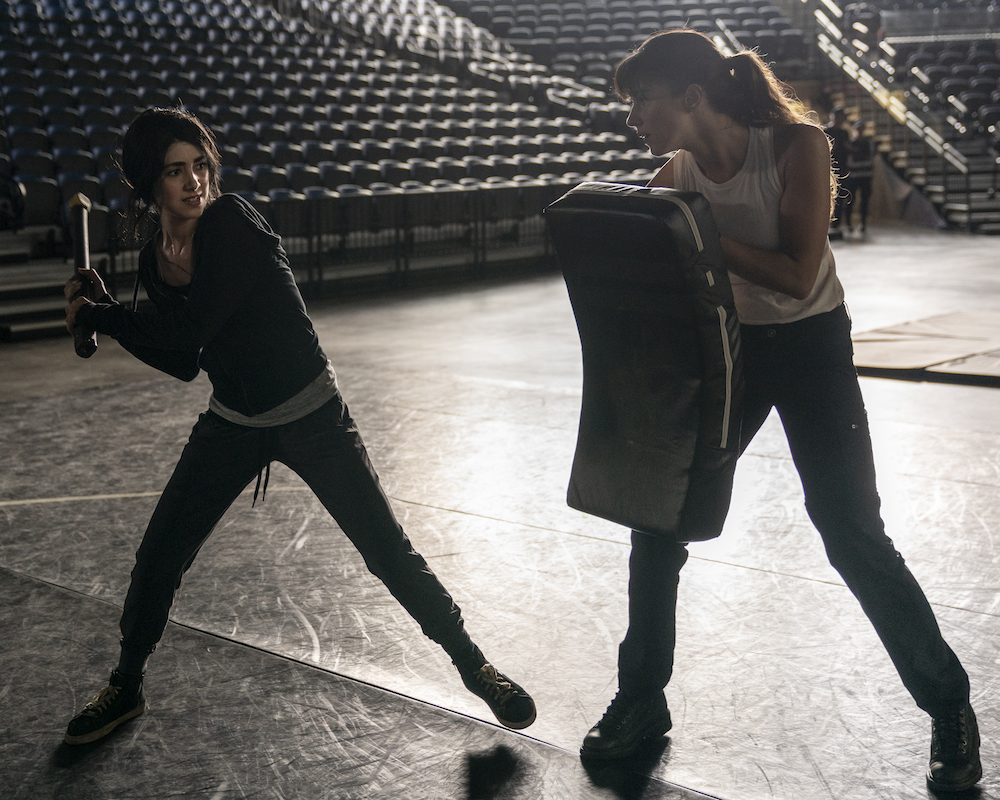 Then Felix (Nico Tortorella) shows up, an adult in this world. He looks like he's already ready to fight zombies in his leather jacket with weapons slung over his shoulder. AMC describes Felix as a security officer. Hope and Iris's parents rescued him from the streets even before the outbreak, so now feels responsible for the girls.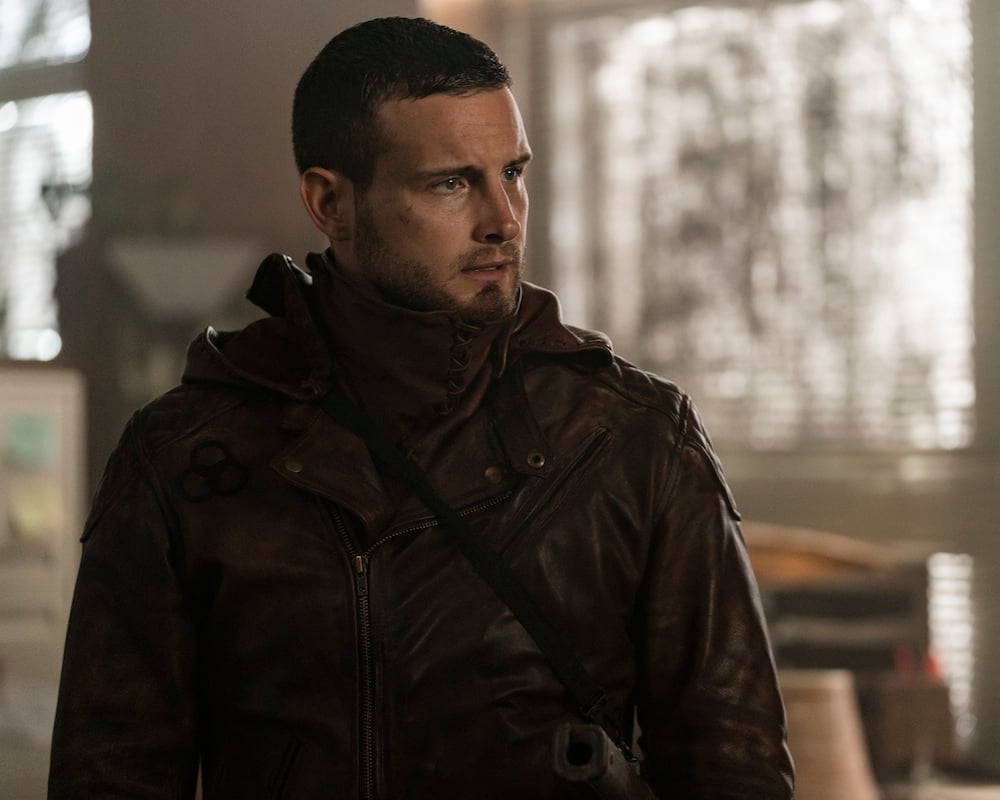 Huck is Felix's friend and a mentor to Hope. Huck still believes in people working together. Will she rub off on Hope? Will they find trustworthy allies to prove her right? Find out on The Walking Dead: World Beyond.
The new 'Walking Dead'
The Walking Dead: World Beyond won't scrimp on the zombies. One of the newly released images shows two gruesome walkers. They look burned, and the smoking junkyard might hint at what did them in. Of course, they're still coming for our heroes.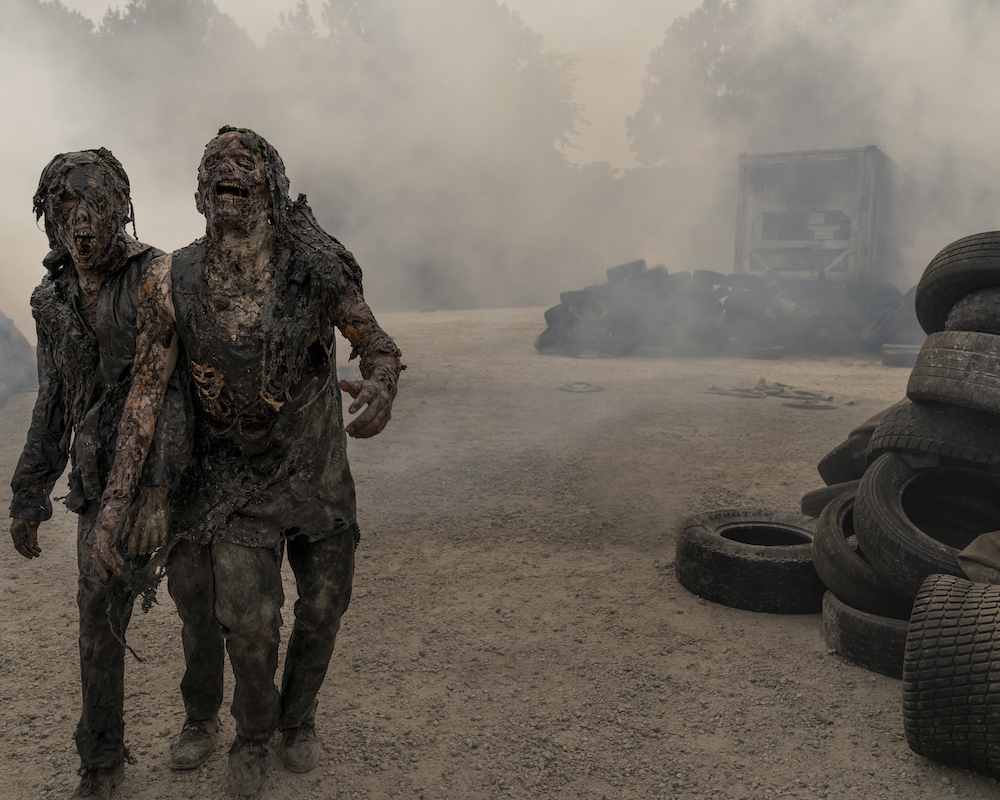 Even with three Walking Dead shows full of zombies, the makeup effects artists haven't run out of gory permutations of undead walkers.