'WandaVision': Kathryn Hahn Portrayed a Famous Marvel Villain Before Her Latest MCU Role
Actor Kathryn Hahn joined the Marvel Cinematic Universe with WandaVision, Marvel's first MCU series released via Disney+. There's been much speculation surrounding her character, who may have evil intentions. But interestingly, this wouldn't be Hahn's first time playing a nefarious Marvel comic book villain.
Kathryn Hahn stars in 'WandaVision'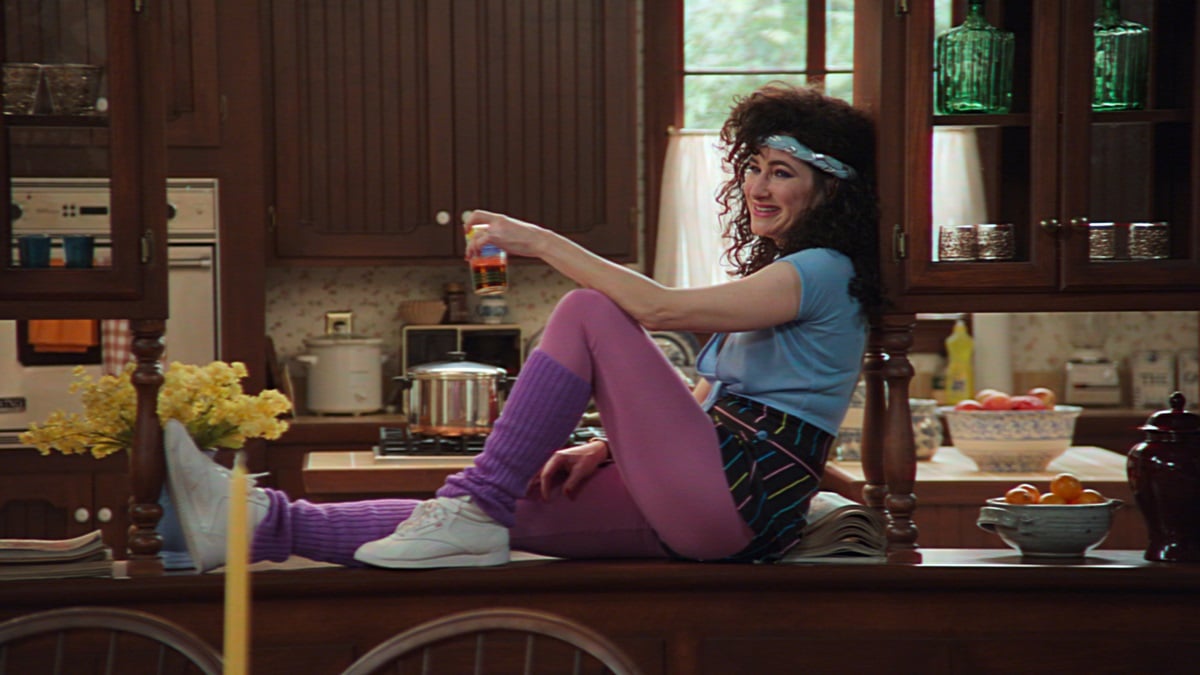 WandaVision was first announced at San Diego Comic-Con in July 2019. The series stars Wanda Maximoff (also known as Scarlet Witch, played by Elizabeth Olsen) and Paul Bettany's Vision. Further cast announcements as D23 in August 2019 revealed Kathryn Hahn as Agnes, "a nosy neighbor that's stirring up chaos and causing trouble."
In the first two episodes of WandaVision, which premiered on January 15, 2021, on Disney+, Hahn's Agnes is a fixture. She welcomes Wanda to the neighborhood, helping her make a last-minute meal and encouraging her to participate in the talent show. In fact, she's a bit too interested in making Wanda feel at home in Westview.
Her extensive comedy background
Unlike co-stars Kat Dennings, Randall Park, and Teyonah Parris, Hahn portrays a new character in the MCU. However, chances are high that fans recognize her from other projects, as she's had an extensive career. And, appropriately for the sitcom setting of WandaVision, much of it has been in comedy.
Early in her career, Hahn appeared in supporting roles in romantic comedies such as Anchorman, The Holiday, and Step Brothers. More recent films include the Bad Moms franchise. She's also done a lot of TV work, including recurring roles on Parks and Rec and Transparent, the latter of which earned her an Emmy nomination.
Is Agnes actually Agatha Harkness?
When it comes to the MCU, nearly every role can be traced back to a comic book origin. WandaVision is loosely based on two comics: House of M and Vision and the Scarlet Witch. In the latter, Wanda magically becomes pregnant, as she did in WandaVision episode 2. In the comics, these events are linked to the villainous witch Agatha Harkness.
WandaVision fans were quick to see that the name Agnes is easily derived from Agatha Harkness. And as it appears to be Agnes' mission to keep Wanda tethered to this fantastical world, many believe she's responsible for Wanda's delusion. Comicbook.com's Brandon Davis asked Hahn about this, but naturally, didn't get a response.
Hahn was in 'Spider-Man: Into the Spider-Verse'
RELATED: When Is the 'Spider-Man: Into The Spider-Verse' Sequel Coming?
Related post url: 
Though WandaVision is Hahn's first time in the MCU, it's not her first superhero role. Or even her first Marvel film. She portrayed Olivia Octavius, also known as Doctor Octopus (nickname Doc Ock) in Spider-Man: Into the Spider-Verse, Sony's 2018 Oscar-winning animated film that launched a franchise to come.
"Like all great villains, everything isn't always as it seems," Hahn said in a special features segment. Director Peter Ramsey noted there were "concerns" about making Doc Ock "a formidable enough presence." "When Kathryn Hahn got on the mic, man, all that [fear] went away," he said of her ability to play a convincing villain.