'WandaVision': Monica Rambeau Was Being Rewritten up Until the Last Minute, According to Elizabeth Olsen
Though it's been months since WandaVision finished its run on Disney+, many still can't stop talking about the acclaimed Marvel Cinematic Universe-affiliated series. Among the most popular characters is Monica Rambeau, who undergoes a lot of changes during the show. Star Elizabeth Olsen explains why.
Monica Rambeau first appeared in 'Captain Marvel'
The character Monica Rambeau was introduced in Captain Marvel in 2019. The film takes place in 1995 when Carol Danvers returns to Earth and discovers who she really is after getting reacquainted with her best friend, Maria Rambeau, and Maria's daughter, Monica.
Monica returns in WandaVision. Now an adult played by Teyonah Parris, she is a victim of the Blip, disappearing in 2018 and reappearing in 2023. She returns to her position at SWORD only to dive right into the Westview Anomaly. Monica obtains superpowers after crossing through and returning through the barrier. In the end, she helps save Westview.
The character changed throughout 'WandaVision'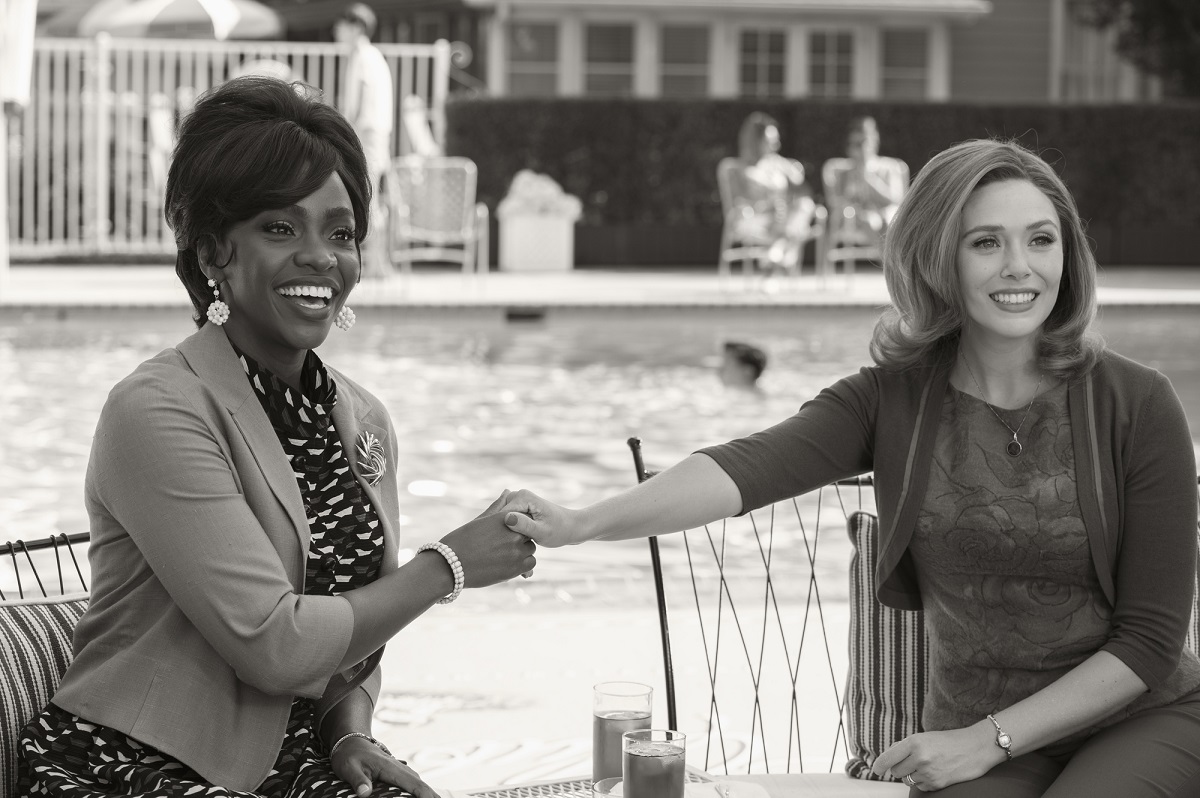 When the show first introduces Parris' character, she's Geraldine, an inhabitant of Wanda's sitcom reality. Then, audiences learn her backstory and how she came to Westview. Next, she works with Jimmy Woo and Darcy Lewis in defiance of SWORD. Finally, viewers get a glimpse at her abilities in the final episodes.
That's a lot of changes for one person throughout a series. What's more, Olsen (who played the titular Wanda Maximoff) said in a Variety Actors on Actors interview that the writers made adjustments to Monica beyond the initial pre-production stage. These rewrites led to frequent shifts for the actors.
"We launched her character on WandaVision, and so Marvel was getting more information about what they wanted to do with her character while we were filming," Olsen told Kaley Cuoco during the conversation. "It was, like, a whole thing moving. Because we were doing seven pages a day at least, we were just going full speed ahead. It was such chaos. We just couldn't really stop and ask too many questions."
Monica returns in 'The Marvels' in 2022
RELATED: Why Is the 'Captain Marvel' Sequel Titled 'The Marvels'?
Why all of the chances for Monica? Because of the upcoming Marvel projects in store for her. In 2020, MCU president Kevin Feige officially announced a Captain Marvel sequel, with Parris set to return as Monica Rambeau. The film, later retitled The Marvels, is due out in November 2022. It began filming in mid-2021.
Parris knew this going into WandaVision. "From the jump, they were very clear that the projects they're bringing to Disney+ would be seamlessly integrated into the feature world," she told the Hollywood Reporter. "They did not say that my character would necessarily be going along with it. But I knew it wasn't a stand-alone project."
And after The Marvels, the possibility of more looms on the horizon for Parris. Monica (who uses the moniker Captain Marvel at one point and others like Spectrum) appears in the Secret Wars comics. And many MCU fans believe that storyline will be explored in future films.