Was Britney Spears Secretly Working for George W. Bush? Some Conspiracy Theorists Think So
Conspiracy theories are commonplace around the world, and the entertainment industry has its fair share of seemingly-outlandish beliefs about celebrities.
One particular theory has been around for years now. It concerns Britney Spears and the 43rd U.S. president, George W. Bush. People who believe this theory claims that Spears was secretly hired by Bush to help his administration's image.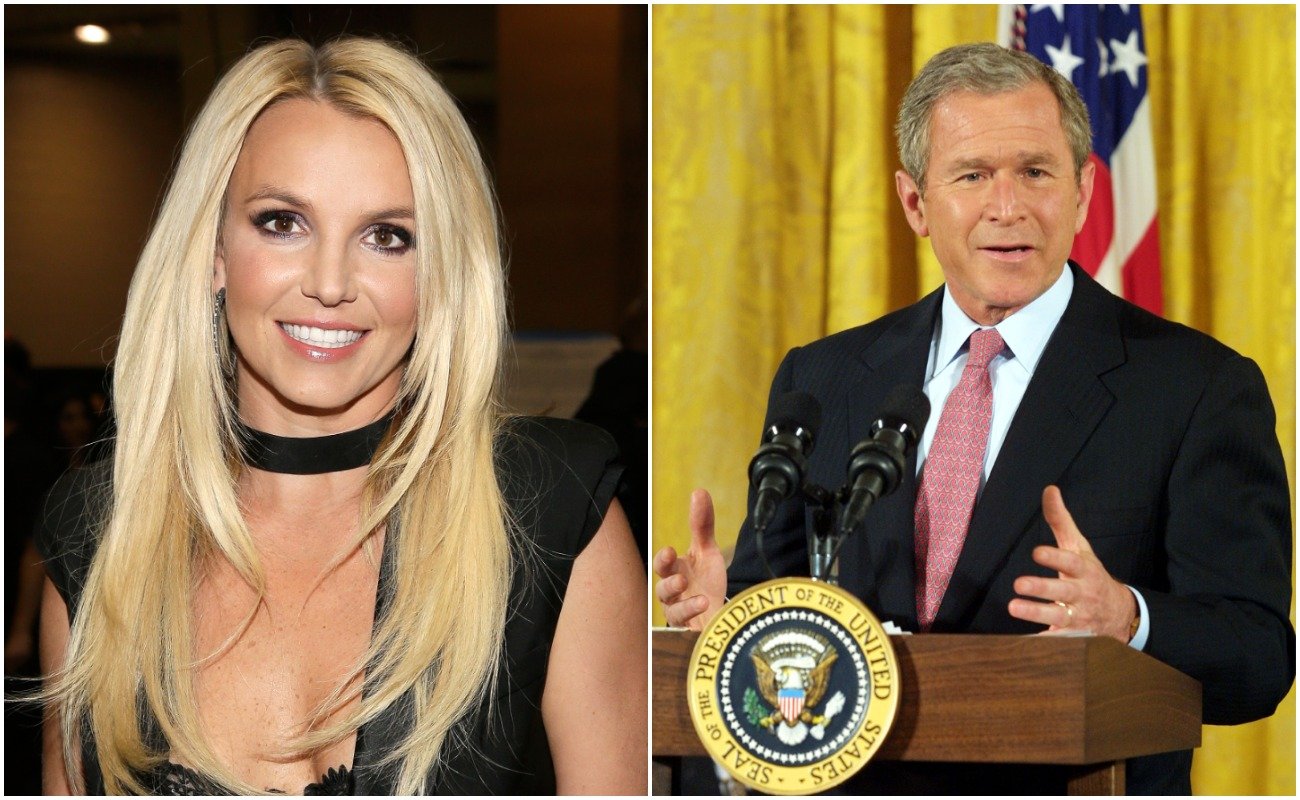 Some theorists claim Britney Spears needed PR boosts after the release of her third album
Spears rose to fame in the late 1990s as a teen pop star. She was extremely popular for a few years, but by the time her third album, Britney, dropped, she was no longer at the top of her game. Her lead single, "I'm A Slave 4 You," only charted at number 21 on the Billboard Hot 100.
According to Ranker, "I'm A Slave 4 You" came out on September 24, 2001, which was just weeks after the 9/11 attack. As such, Spears was no longer dominating headlines like before and might have needed a PR boost.
Britney Spears often made headlines when the Bush administration had negative press
RELATED: 17-Year-Old Britney Spears 'Was Totally Freaked Out' After 1 Creepy Encounter With an Older Male Fan
Spears did not disappear from showbiz, however. In the next several years, she would continue to attract a lot of attention from the press. Coincidentally, this led some people to notice that Spears was often in the tabloids right when Bush's administration was being criticized for something.
For example, Ranker noted that Spears' famous kiss with Madonna at the 2003 Video Music Awards came around the same time that Bush was facing backlash for the Iraq War.
In January 2004, Spears also famously married her childhood friend Jason Alexander in Las Vegas. The marriage lasted only 55 hours. This happened a week before Bush's former aide, Scooter Libby, was set to stand trial for leaking the name of an undercover CIA agent.
Additionally, in early 2006, Spears was caught driving with her son Sean Preston on her lap and then later criticized for not installing her son's car seat correctly. Around this time, Bush's vice president, Dick Cheney, accidentally shot a man during a hunting trip. Vice also noted that Bush was facing a low-approval rating of 38 percent.
In 2007, when Bush's War on Terror was taking a negative turn with the resurgence of the Taliban and Al-Qaeda, Spears shaved her head and attacked a paparazzi van with an umbrella.
These wild coincidences led some people to believe that Spears was hired to distract the public from some of the criticism Bush and his administration were facing. This idea was even backed up by the fact that Spears' headline-grabbing behavior slowed down after Bush left the White House in 2008.
Britney Spears once publicly praised George W. Bush
RELATED: What Happened to The Snake From Britney Spears' Iconic 'I'm a Slave 4 U' Performance?
Regardless of whether Spears was working with Bush or not, she did express her approval of him in the 2004 film Fahrenheit 9/11.
"I think we should just trust our president in every decision that he makes and we should just support that and be faithful in what happens," she said during her cameo.
For some conspiracy theorists, this was also a sure sign that Spears and Bush were working together. However, neither Spears nor Bush has ever commented on this theory.