Was Coppola's 'The Godfather' Based on Real New York Mobsters?
In The Godfather, the 1972 masterpiece by director Francis Ford Coppola, New York mobsters risk everything in wars between the dominant Five Families. Don Vito Corleone (Marlon Brando), whose political connections were the envy of all, barely survives a shooting at the hands of a rival.
Naturally, that brazen move requires an appropriate response. Soon, shooters drop bodies across the city, and Corleone's son Michael (Al Pacino) knocks off a corrupt cop, too. To escape the heat, Michael flees to Italy.
Among followers of mafia lore, these stories sounded a lot like real mob battles of the mid-1900s. Mario Puzo, who wrote the 1969 novel on which Coppola based the film, clearly made his research count.
Just as you find connections between The Sopranos and actual Jersey mobsters, you'll see elements of fact in Coppola and Puzo's Godfather saga. Here are the parts that match the real-life mafia.
The Johnny Fontane story infuriated Sinatra, who thought it was him.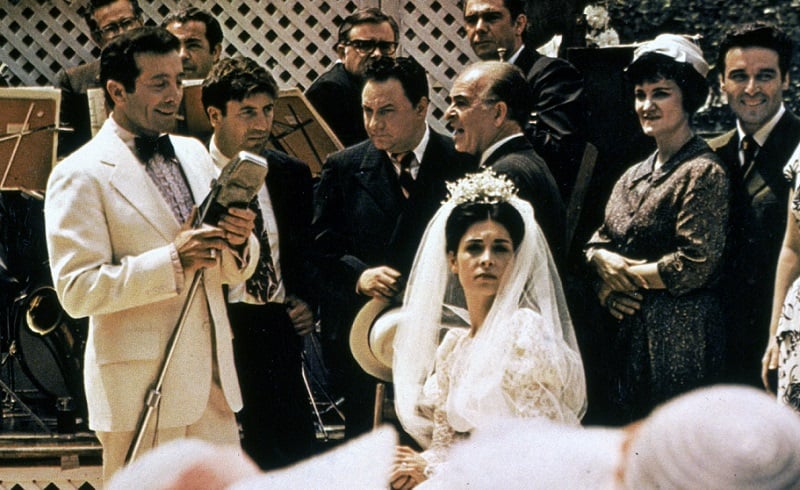 With the story of Johnny Fontane (Al Martino), Puzo and Coppola present a former star who desperately needed a big part to climb back up the ladder in Hollywood. Looking for help, Fontane asks his godfather (Brando, as Corleone) to intervene.
That story lined up with Frank Sinatra's biography. First, many believed Sinatra only escaped his contract with Tommy Dorsey via mob intervention. Combined with Sinatra's all-out push to play Maggio in From Here to Eternity (for which he won an Oscar), you can't write off the similarities.
If anyone needed more proof, you could ask Sinatra himself. When Puzo met him shortly after the book's publication, Sinatra yelled at the author and humiliated him at a party. In doing so, Sinatra basically confirmed the rumors.
Don Corleone had much in common with Frank Costello and Carlo Gambino.
While Puzo didn't base Don Corleone on one specific mob boss, he appeared to be an amalgam. Frank Costello, the low-key Prime Minister of New York's mob, definitely served as inspiration.
With both an assassination scare and political connections to his name, the raspy-voiced Costello offered up a convincing godfather prototype. According to Anthony DeStefano, who wrote a book on Costello, Carlo Gambino's family life also supplied Puzo with material.
Finally. Joseph Profaci's olive oil business fleshed out more details for the character. Interestingly, Costello was one of the mob bosses who saw a psychiatrist over the years.
In the eyes of many, that point makes him an early model for Tony Soprano, the creation of David Chase and James Gandolfini.
The Senate hearings in 'Godfather II' mirrored real-life events.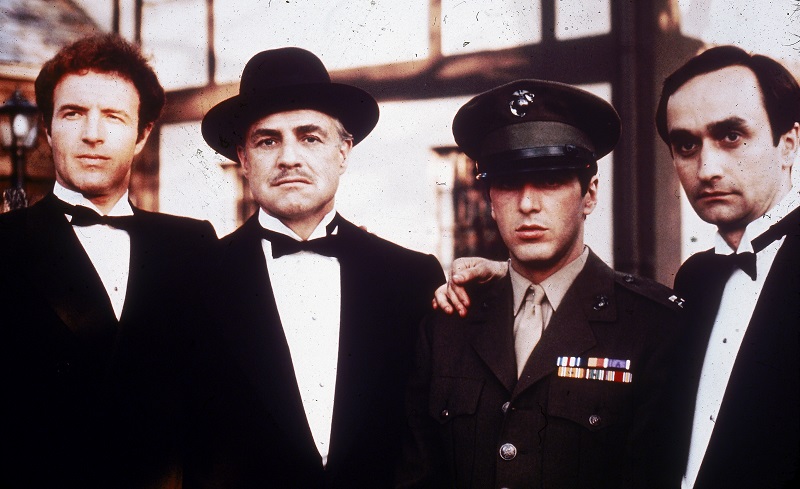 In The Godfather: Part II, U.S Senators hold hearings on organized crime and call Michael (Pacino) and others to testify. These scenes match up with Congressional probes of the mob in the '50s and '60s.
Costello himself testified at one such hearing in 1951 (though he refused to show his face on camera). In 1963, another round of hearings brought Vito Genovese's organization under scrutiny. (Earlier, Genovese had ordered the hit on Costello.)
Joe Valachi, a rival mafioso, became a government witness after fearing he'd be murdered in prison by Genovese's people. That testimony led to the beginning of the end for the mob as we knew it.
The Moe Green murder lines up with Bugsy Siegel's death.
At the close of The Godfather, the audience finds Michael Corleone in full control. His father Vito has died, he's agreed to take over the family, and he begins consolidating power.
Among the many assassinations he orders, Moe Green takes a bullet in the eye while getting a massage. Green, whom Puzo based on the real-life Bugsy Siegel, had been an architect of the Las Vegas scene.
In the sequel, an upset Hyman Roth (Lee Strasberg), chokes back tears (and anger) as he remembers his childhood friend. After running up expenses and not turning a profit his Flamingo casino, mobsters killed Siegel in 1947.
They shot him in the head, and the bullet came out his eye.
Check out The Cheat Sheet on Facebook!