Was Meghan McCain Quitting 'The View' Before Abby Huntsman's Exit?
There are rumors that Meghan McCain was close to quitting 'The View' before Abby Huntsman announced her departure. The Republican co-host is now talking about the rumors.
Meghan McCain is in the middle of drama at The View. The conservative co-host has been plagued with rumors that point to animosity between her and the rest of the cast. After the reports, Abby Huntsman announced she was quitting the morning show heightening the gossip. People believed that McCain was mad at Huntsman for resigning as she was the one on the verge of exiting.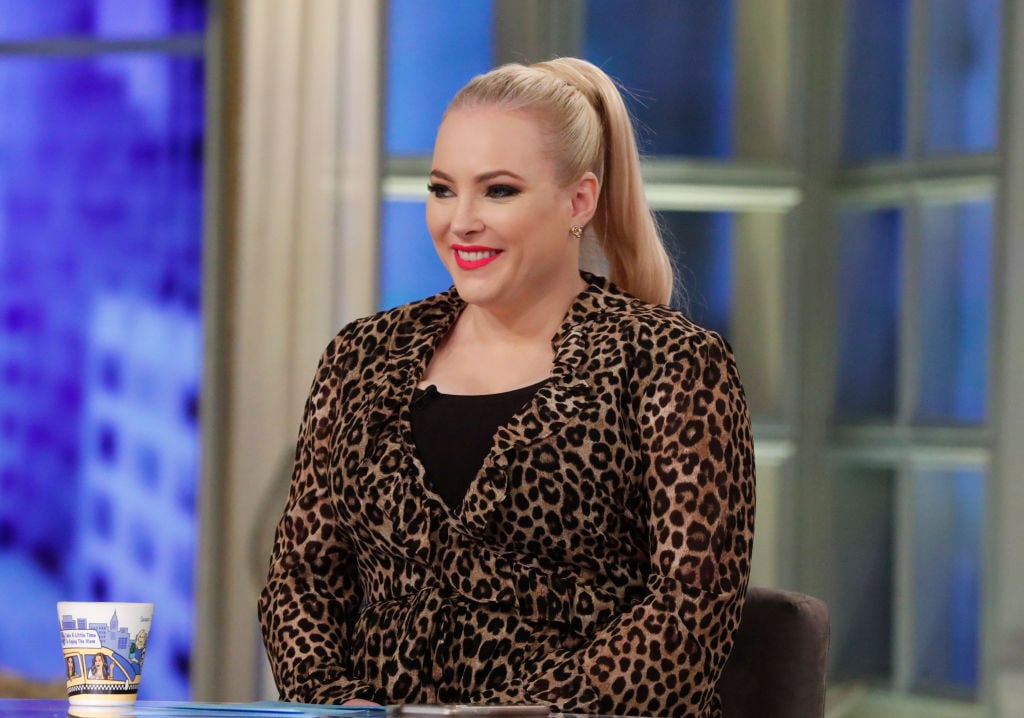 During her guest appearance on Watch What Happens Live, Andy Cohen asked if she had been thinking of quitting the ABC gabfest.
"No," she replied. "First of all, if I was going to resign there would be no crypticism about it. I would be like, 'I'm out.' There would not be a long, drawn-out thing."
Later on in the interview, she said that she would leave The View if Whoopi Goldberg left.
"Whoopi is the anchor of the show and my life there," McCain continued. "She always picks us up when we're down. If she jumps, I jump. Whoopi is… I adore her and I need her as the moderator."
Meghan McCain clears the air about Abby Huntsman
With all the rumors around Huntsman's exit from the show, one constant pointed to a feud between her and McCain. The Republican pundit confessed on WWHL that there was a fight between them.
"We did get in a fight, which is a very small fight and a friend-fight," McCain confirmed. "All friendships have ups and downs and it was bizarre for me to have the fact that we got into one fight to be put under dissection in the media."
However and despite their fight, McCain remains friends with Huntsman.
"Abby and I have been friends for over 10 years. Our parents were friends in politics, we worked at Fox together, part of the reason of why she came to The View is because we were friends. We are still very good friends. We are very close and I just talked to her yesterday morning," McCain explained.
Meghan McCain and Joy Behar
Another co-host that McCain is constantly at odds with is Joy Behar. The two political pundits are constantly sparring. Although it may seem they don't have a relationship outside of work, that's not true and McCain doesn't like the negative stories around them.
"It really hurts my feelings!" McCain said to ET of feuding rumors with Behar. "It genuinely hurts my feelings because our dressing rooms are next door to each other and you and I have the same emotional reaction to things — sometimes in different ways — but we're both upset equally, the equal amount of the same things. And I wish people would give us a break, for real."
Their friendship has evolved and they like being around each other. McCain has even influenced Behar on some issues she didn't agree with her before.
"We're both becoming a little bit more, um, not moderate, but we've sort of become… Like, we're not so adamant about our positions," Behar said in the same interview. "Like today, I was talking about how, you know, I think a moderate needs to win the election to beat [President Donald] Trump. Originally, I would say I wanted Elizabeth Warren because she was new stuff and she was exciting. But I'm not sure that she could pull it off. So, now I'm in reality again and I think you have changed your positions a little bit, moderated them, modified."
The View airs weekdays at 11 a.m. ET and 10 a.m. PT/CT.