Why Wasn't Jada Pinkett Smith in 'The Nutty Professor 2'?
Jada Pinkett Smith dominated the big screen during the 1990s and 2000s. After landing her first starring role in Menace II Society, the actor continued to align herself with other A-listers. In 1996, Pinkett Smith played Eddie Murphy's love interest in The Nutty Professor. However, she was noticeably missing from the movie's 2000 sequel, Nutty Professor II: The Klumps.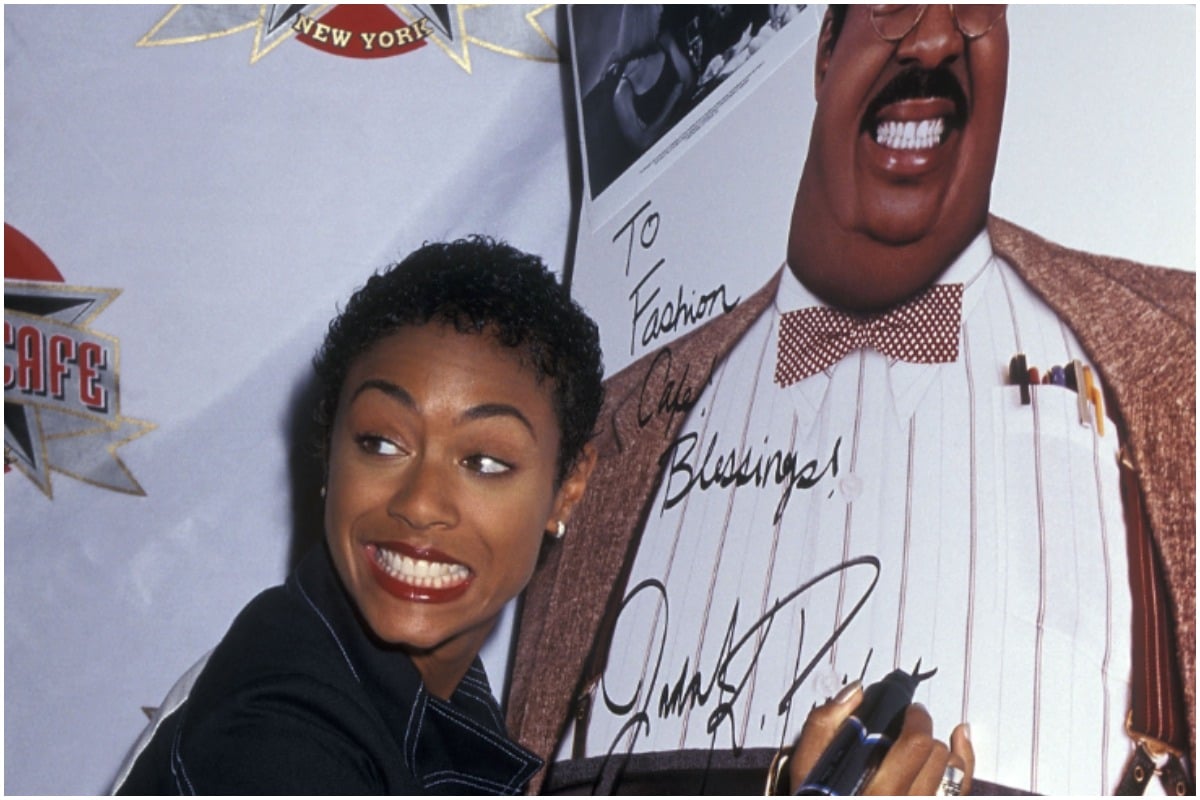 The reason Jada Pinkett Smith didn't revive her role in 'The Nutty Professor' sequel
When Pinkett Smith booked The Nutty Professor, she was already on Hollywood's radar. According to Mental Floss, she turned down a chance to play her husband, Will Smith's love interest in Independence Day. Although the studio desperately wanted her for the position, Pinkett Smith felt that playing Carla Purty in The Nutty Professor would be a better fit. The role in Independence Day ultimately went to actor Vivica A. Fox.
RELATED: Jada Pinkett Smith on the 1 Reason She and Will Smith Even Had a Wedding
On June 28, 1996, The Nutty Professor debuted in theaters. The movie was a reboot of the 1963 Jerry Lewis classic. Lewis even worked on the new version as a director. Following its release, Pinkett Smith and Smith got married in 1997. Additionally, they welcomed their first son, Jaden Smith, on July 8, 1998. 
Pinkett Smith's new family dynamic was ultimately the reason she declined to do a second Nutty Professor film. According to IMDb, she was pregnant with Willow Smith during the movie's production. Also, the actor signed on to play Niobe in The Matrix around the same time.
Janet Jackson replaced Jada Pinkett Smith in 'Nutty Professor 2'
RELATED: What Are Will Smith and Jada Pinkett Smith's Middle Names?
Even though Pinkett Smith couldn't return to The Nutty Professor franchise, the movie continued shooting in the late '90s. When the film was released in 2000, Murphy's character, Sherman Klump, briefly mentioned Carla Purty's absence. He explained that the pair decided to be friends after connecting at the end of the first film. 
During Nutty Professor II: The Klumps, Sherman met another professor, Denise Gaines, played by Janet Jackson. In addition to portraying Murphy's love interest, she lent her voice to the soundtrack. The "Control" artist's song, "Doesn't Really Matter" was the movie's breakout track.
Jada once appeared to the movie's set high on ecstasy
Since her appearance in The Nutty Professor, Pinkett Smith remains Hollywood royalty. In 2018, she decided to branch into daytime television with her Facebook Watch show, Red Table Talk. Alongside her daughter, Willow, and her mother, Adrienne Banfield-Norris, Pinkett Smith frequently opens up about her life experiences.
RELATED: Jada Pinkett Smith Once Shared Why Will Smith Is Her Only 'Monogamous Relationship'
During a July 2021 episode of Red Table Talk, the Kingdom Come actor admitted that her alcohol and substance abuse issues nearly took a toll on her career. While filming The Nutty Professor, Pinkett Smith claimed she received a "bad batch" of the drug, ecstasy.
 "I had one incident," she recalled. "That was an eye-opening incident for me as well."
"I went to work high, and it was a bad batch of ecstasy," Pinkett Smith continued. "And I passed out, and I told everybody that I must've had old medication in a vitamin bottle."
Red Table Talk airs new episodes every week on Facebook Watch.
How to get help: In the U.S., contact the Substance Abuse and Mental Health Services Administration helpline at 1-800-662-4357.