How to Watch the 2021 'Candyman' Horror Movie
There is nothing sweet about Jordan Peele's newest horror, Candyman. The movie offers a new take on the original 1992. The urban legend is recognizable—say "Candyman" five times in a mirror, and he will appear.
Candyman was slated for a 2020 release but was sidetracked due to the pandemic. Now that it's officially in theaters, horror fans want to know if they can stream it soon. Numerous films in 2021 were given day and date releases (Cruella, Black Widow), while others were scheduled to stream after a set duration in theaters (A Quiet Place Part II). So, is there a chance that Candyman is already on a streaming platform?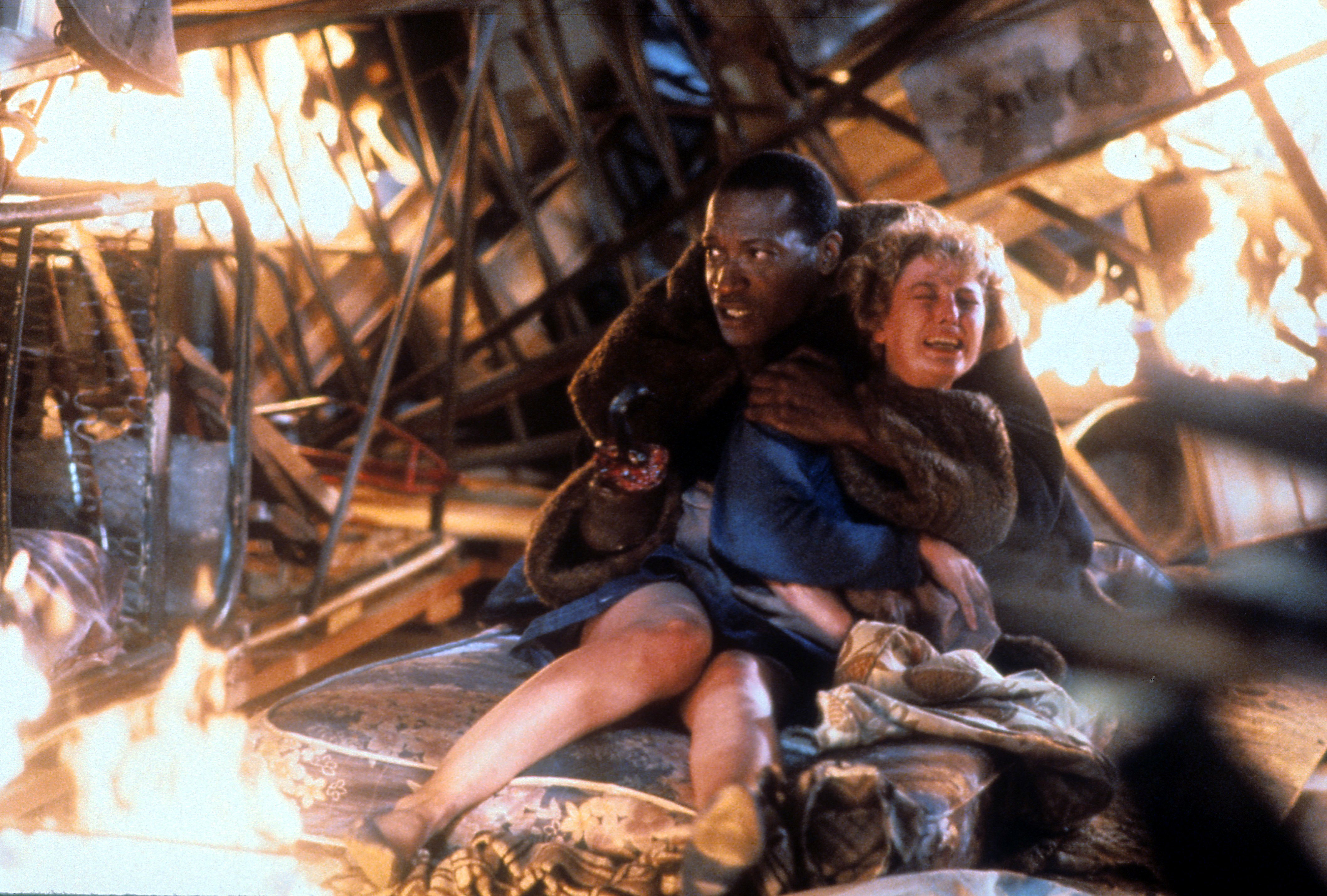 What is 'Candyman' about?
The plot focuses on Chicago's Cabrini-Green housing projects plagued by the horrifying legend of a hook-handed man, aka the Candyman; he can be summoned by any daring individual who says his name five times while looking in a mirror.
After 10 years, Cabrini tore down its towers. Anthony McCoy and his girlfriend moved into a luxurious place in the newly rebuilt Cabrini, mainly inhabited by millennials.
Anthony has a setback in his art career and meets someone from the old Cabrini-Green neighborhood. He learns about the town's traumatic past and explores the urban legend's details through his artwork. The story goes that Sherman Fields was accused of placing razor blades in candy. So police killed him, and later discovered he was innocent when they saw more razor-bladed candy after his death. Because of his violent demise, locals assume that he is Candyman.
As Anthony opens the door for Candyman's return, he uncovers the truth throughout the flick.
What are the 'Candyman' watch options?
Candyman was scheduled for its Aug. 27, 2021, exclusive theatrical release, meaning it does not have a hybrid streaming release. Horror fans can experience the film's terror at the theater.
Candyman is distributed by Universal Pictures, which indicates the film could appear on either HBO Max or Peacock. Many Universal productions have hit either of these two platforms.
According to the Wall Street Journal, theatrical releases of Universal's films will stream on Peacock. The new lineup includes the upcoming horror Halloween Kills. So, Candyman could be part of Peacock's collection soon.
However, Candyman 2021 is currently streaming on HBO Max in the U.S.
When can 'Candyman' 2021 be streamed?
Now that horror fans can view it on HBO Max, there is a definitive timeline from Candyman's initial debut to its eventual streaming release.
A Quiet Place Part II was released onto Paramount+ only a month after its theatrical premiere. This was because Universal Pictures judges its streaming decisions based on box office success. Depending on the financial success of Candyman, the flick could hit Peacock after a certain amount of days in theaters. The 30-45-day timeline is popular among other streaming giants and distribution companies. However, it may not be the case with Candyman.
Horror movie fans have about one month to watch Candyman on HBO Max from its Aug. 27, 2021, theatrical release.
Amid concerns over the coronavirus (COVID-19) Delta variant, film companies want to weigh their options based on box office numbers. If audience numbers don't meet Universal's standards for Candyman, it could explore a Peacock streaming release.
Candyman would join a variety of other horror movies by 2022 if Universal officiates the Peacock streaming option.