Can You Still Watch 'Burn Notice' Online?
Burn Notice is an action-drama TV show that attracted a large number of viewers from its debut in 2007. The hit series circled around a burned spy, Michael Westen (Jeffrey Donovan). He, his trigger-happy ex, and his old Navy Seal buddy, track down the person who burned Michael in an attempt to figure out why. While the spy-drama ended back in 2013, fans of Burn Notice can still watch all seven seasons online.
What is 'Burn Notice' about?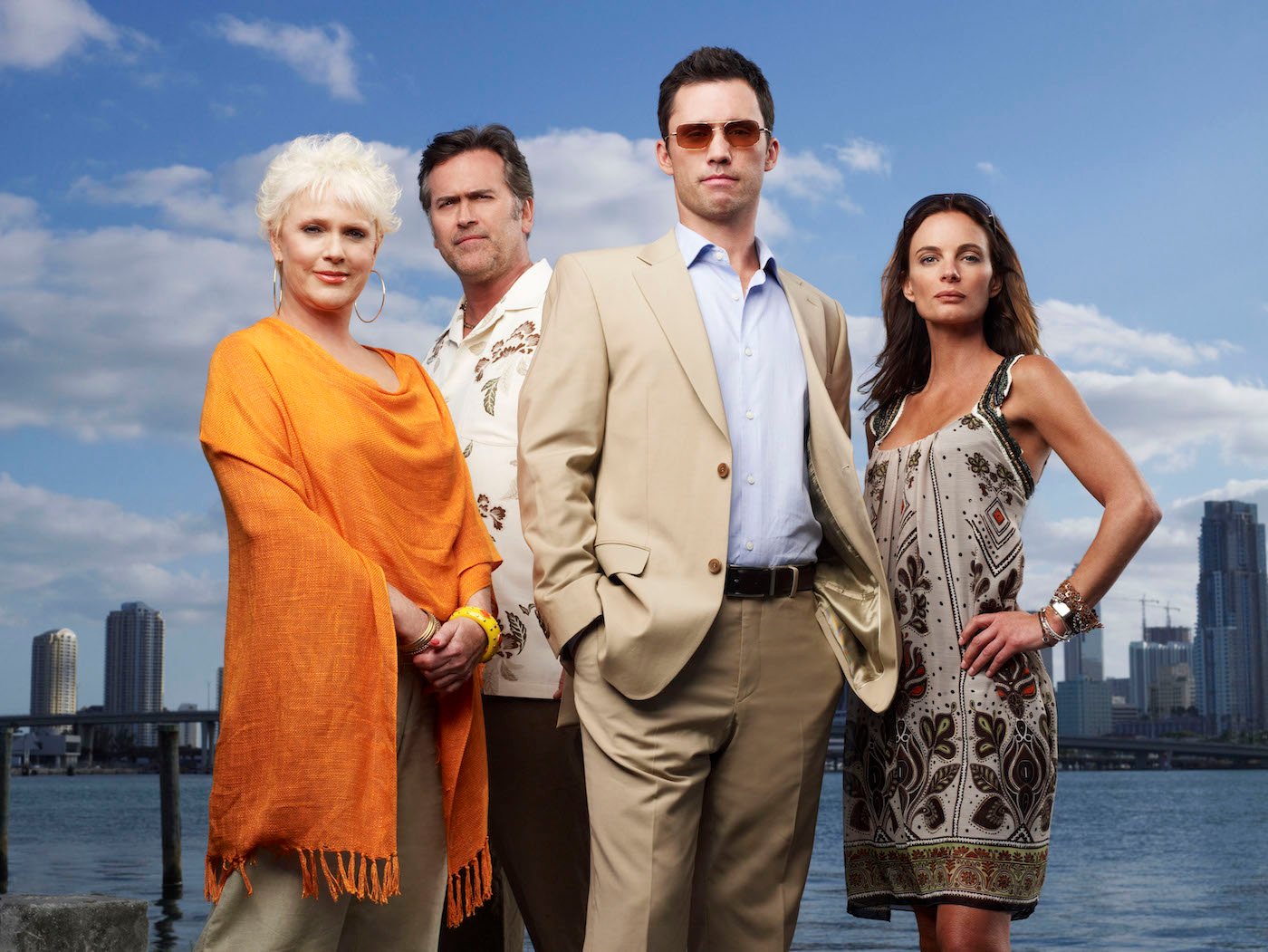 To understand the premise of the show, you must first understand the term "burn notice." When an intelligence agency determines agents or sources have become unreliable, they issue burn notices to announce the dismissal of those undependable assets. The agent or spy then loses all connections to the organization, leaving them without access to money, power, or having influence. As a blacklisted spy, Westen takes whatever jobs he can as a private investigator for Miami locals who don't trust the cops but are seeking justice. Getting relegated to staying in his hometown of Miami ensures Westen's family and friends never have a dull moment.
Fiona Glenanne (former lover and weapon extraordinaire), Sam Axe (senior spy and old friend), and Westen form a trio to solve crimes involving mobsters, con artists, drug traffickers, and more while also tracking down the people responsible for Westen's burn notice. In later episodes, Westen's mother Madeline even becomes a critical part of some of their operations. Each episode focuses on the crew's cases for clients while uncovering the reason behind Westen's sudden burn notice.
Here's where you can watch 'Burn Notice' online
Burn Notice ran on USA Network from 2007 to 2013 — but luckily die-hard fans and those interested in learning more about the popular spy-drama series can still watch it online. For those with an Amazon Prime or Hulu+ subscription, you can stream all seven seasons of Burn Notice with your favorite streaming service. According to TV Guide, you can also rent or purchase the binge-worthy series on Amazon Instant Video, iTunes, Vudu, and Google Play.
Since each episode begins with a recap of what happened previously, you can watch all 111 episodes at a leisurely pace. However, once you become hooked, it's hard not to binge-watch the entire TV series, as each episode leaves you wondering what will happen next. For those who followed along when Burn Notice was airing on USA Network, you'll be thankful that rewatching the show online allows you to not stay on the edge of your seat until the next air date. So, clear out your weekend and find out why this popular action-drama TV show is still at the top of people's watch list eight years after its cancelation.
If you loved 'Burn Notice,' then you might like these shows, too
Once you get through the intense action-drama TV series mixed with dry humor, you may wonder what your next binge series should be. If you're a fan of Burn Notice, three other shows to add to your watch list include Psych, White Collar, and Blind Spot. These TV shows are action-packed so you can continue your crime-drama fix.
As another popular USA Network series, Psych gained a cult following that continued after the show's finale in 2014. The show follows Shawn Spencer and lifelong friend Burton "Gus" Guster helping the Santa Barbara Police Department solve cases. Be prepared for more comedic relief as the duo rides around in The Blueberry solving crimes.
White Collar also ran on the USA Network during the same time as Burn Notice. The storylines are similar. However, the main character Neal Caffrey is a con artist arrested by the FBI and proposes to become a consultant to help them track down white-collar criminals in exchange for his freedom.
During its five-season run, Blindspot follows a mysterious tattooed woman dropped in Times Square as she searches for her real identity and past. She works with the FBI as they solve the crimes her tattoos lead them to.
RELATED: 'Burn Notice': Jeffrey Donovan Said Being On the Series 'Seemed Like a Prison Sentence'