How to Watch 'The Neverending Story' Online Since 'Stranger Things' Made You Remember It
We know it's been less than two weeks since Stranger Things 3 made its grand, spectacular entrance on Netflix, therefore it's still fresh on everyone's minds. If you've already watched every episode, then you're aware that there was one particular scene that conjured up memories of a certain little boy riding on a certain furry dragon.
A bright spot for children of the '80s everywhere, 1984's The Neverending Story made us laugh, cry, cheer, and sing when we watched the cult classic over and over again. You did. Some of you have grown up and watched it again with your own children, belting out the theme song like Pavarotti does "Ave Maria." Then Dustin and Suzie made you sit up, stand up, and raise your arms up as you sang along during that critical, life-or-death moment in Stranger Things.
Since you now have a craving for The Neverending Story (part one) and all its heartbreak, silliness, music, and triumph, we're sharing some ways to relive its awesomeness by watching online—because your VHS tape has probably decayed and turned into dry rot. Here's how to see Bastian, Falkor, and Atreyu again.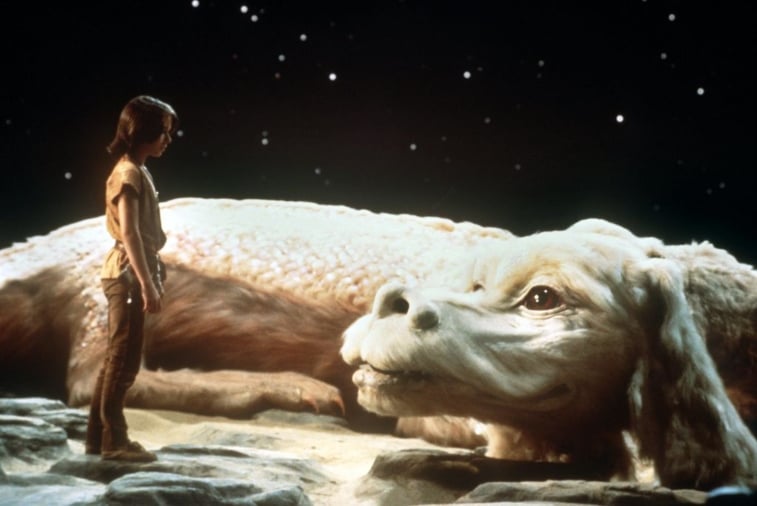 YouTube Movies
In case you missed it, YouTube offers the ability to stream movies for a fee. The Neverending Story is currently priced at $3.99 to rent and $14.99 to buy. You have up to 30 days to watch if renting. You will need to log in with either a YouTube or Google Gmail account to complete the transaction, which requires billing information.
Once you've chosen to rent or buy the movie, you can stream it on a smart TV, phone, or other device, as long as you have access to the YouTube app. Note that if you prefer, you can download YouTube on your Amazon Fire stick and watch the movie that way too.
IMDb TV via Amazon Prime
If you have an Amazon Prime account, you can stream The Neverending Story through the free IMDb app. The app comes with your subscription and you can view the movie on an Amazon Fire device or a different device, such as a laptop or tablet.
Rent or Buy from Amazon
If you do not have an Amazon Fire TV device or you're not an Amazon Prime member, no worries! Create or log in to your Amazon account and you'll be given the option to stream The Neverending Story directly from Amazon by renting or purchasing it.
To rent, the cost is $3.99 and to purchase, it's 14.99. The price is the same for both the SD and HD versions.
Although many viewers choose to watch the fantasy film via their Amazon Prime account for free with the IMDb app, you can still rent or purchase the movie on Fire TV for the same prices listed above. Click on the movie's icon and instead of choosing "Watch Now with IMDb TV," click on "More Ways to Watch" and select rent or purchase.
Rent or Buy Via Vudu, iTunes, or Google Play
The prices are the same for all three of these mediums, which is $3.99 to rent, and $14.99 to purchase. With Google Play, you can watch on an Android or Apple device. iTunes users can access the film on Apple devices.
Vudu account holders can stream the movie on a supported device such as a smart TV or game console, but note that Amazon Fire devices are not included. Click here to find out how to use Vudu with your smartphone, Apple TV, Roku, and other options.
Friends, feel free to indulge in this classic tale and share with your kiddies. No doubt they are wondering how and why you knew all the words to that old song in Stranger Things. Show them. Teach them. Sing with them.