Watching Jeff Mauro Cook With His Son on 'The Kitchen' is Helping Fans Through Hard Times
These are difficult days for everyone. Pandemic depression is real, and it's touching most Americans. Even Michelle Obama admitted to being depressed due to the current global situation. Some things are making people feel a little better, however.
Actors, comedians, and artists are working harder than ever to keep peoples' spirits up during this difficult time. Many shows are still being filmed, but actors can't go to studios.
That means they're opening up their homes, and recording themselves in their own houses so that fans can get the content they crave. Jeff Mauro, Food Network star, is one such celeb. Fans are forever grateful that he stepped up to film from his own kitchen. 
Jeff Mauro is the perfect person to lift spirits during quarantine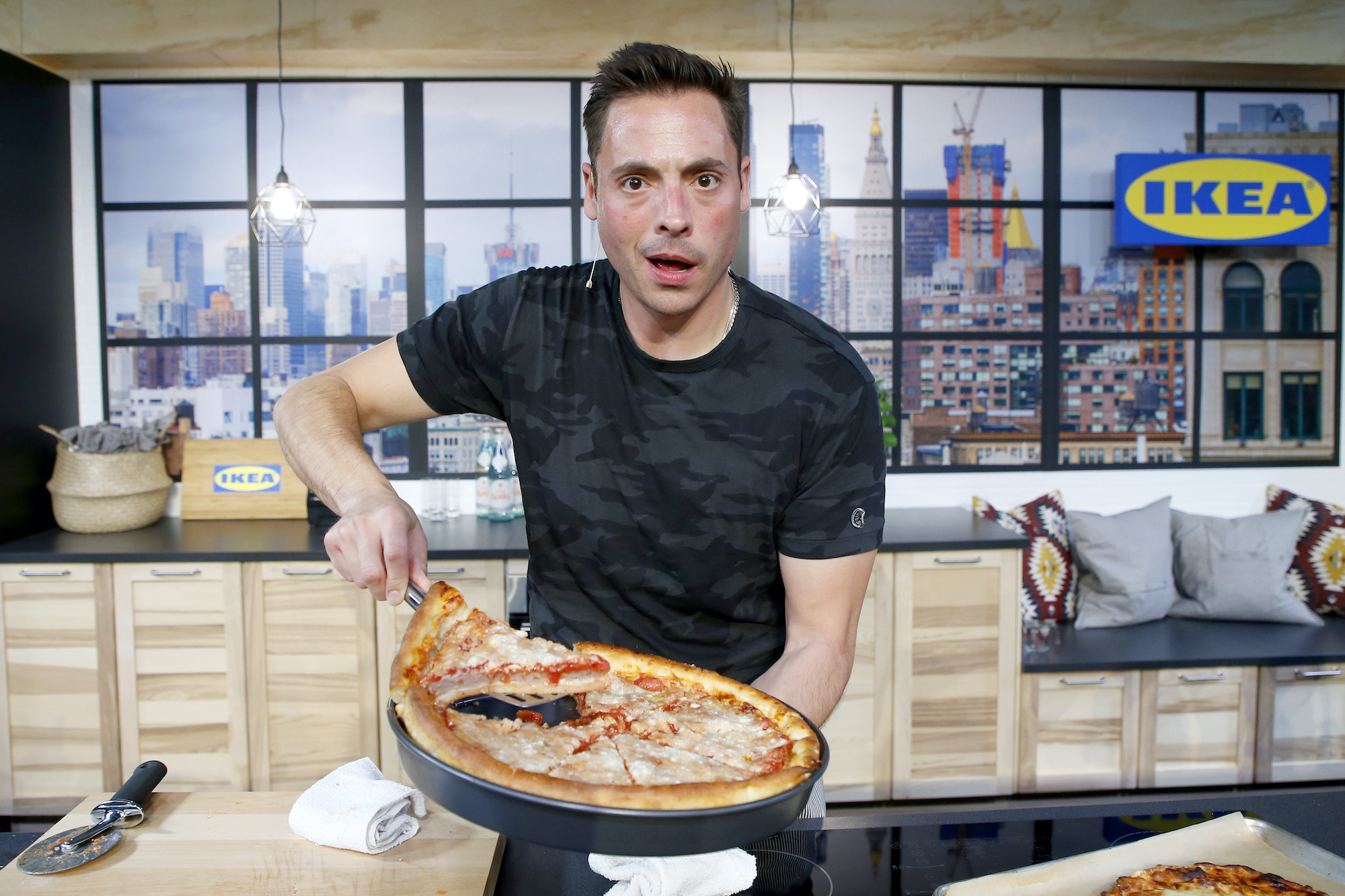 When Mauro announced he would be doing episodes of The Kitchen from his own kitchen during lockdown, it seemed like a perfect fit. Mauro has two passions: comedy, and food.
On the Food Network, he's able to combine them. Now, if it's one thing people need, it's comedy. A lockdown cooking show seems perfect for Mauro's particular skill set. 
But setting up his New Jersey home wasn't easy for this Chicago native. He went from a 70 person crew to himself, his son, and his wife. They surrounded the kitchen with multiple iPhones and iPads, as well as a laptop for Zoom conferencing with hi co hosts, Sunny Anderson, Alex Guarnaschelli, Katie Lee and Geoffrey Zakarian.
He didn't even have all the food and spices he would normally have on set. Mauro and his family resorted to frozen salmon for their first lock down episode.
According to Mauro via Chicago Tribune: "Luckily we had enough salmon frozen that we could do this recipe. We do not have the resources that we normally do for 'The Kitchen.' We have the same stuff that everybody else has. It made it that much more special."
Fans loved Jeff Mauro's son Lorenzo 
Something else made Jeff Mauro cooking at home during quarantine special for fans. Not only was he in his normal kitchen, using things he had at home like "everybody else," but he was with his family.
Like most Americans, Mauro had his son Lorenzo with him full time during lockdown, and he didn't shut him out of the kitchen to film for the Food Network. Instead, Lorenzo was right there with him, and fans loved it. 
One fan on Reddit wrote: "Any scene with Jeff and Lorenzo always brightens my day. I melted when Lorenzo said he makes grilled cheese very expertly (pun not intended)."
Other fans agreed, and say that the channel has done a good job adapting to the 'new normal' of coronavirus lock down. 
Geoffrey Zakarian is a 'sous chef' at home, and fans are here for it 
Fans are seeing new sides of their favorite celebrity chefs, and they're loving it. Mauro was always a funny, likable personality, so it's not surprising that seeing him cook with his family warms fans' hearts. But there was one celebrity chef who is surprisingly docile at home. 
Geoffrey Zakarian is one of the more disliked chefs on the network. His rough personality and tough criticism of other chefs hasn't made him many fans, but quarantine may have changed that.
According to Today, it turns out at home, he's a sous chef to his two little girls, Anna and Madeline. One fan called Zakarian and Mauro's shows "good uplifting stuff to watch during this seemingly unending lockdown."
Another fan feels for the chefs who don't have kids to cook with. "I am really enjoying watching the Chefs from the Kitchen cooking at home during the Pandemic. I just wish that Sunny had someone with her – I worry about her being lonely."