'Wayne's World': The 2 Biggest Laughs In the Movie Almost Got Cut Out
Wayne's World was one of the biggest comedies of the '90s. Its success led to a lot of other movies based on Saturday Night Live sketches, but none were as big as Wayne's World. Many of the film's jokes recurred throughout the '90s in spoofs or fan quotes.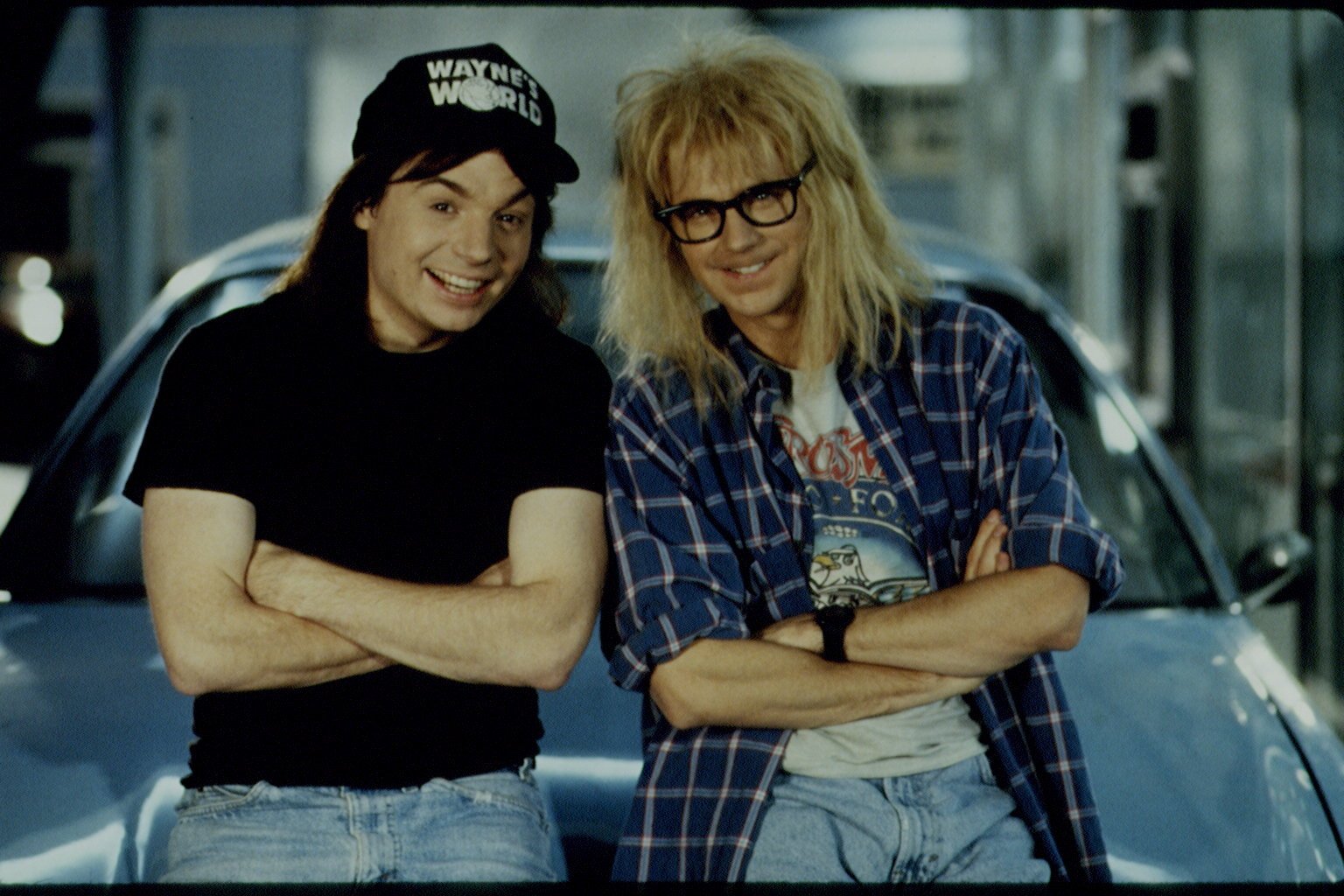 Reunited Apart is back for a second season. For the season premiere, Josh Gad got Mike Myers, Dana Carvey, Rob Lowe, director Penelope Spheris and many notable Wayne's World guest stars and musicians for the reunion to raise money for Children of First Responders. They revealed two iconic jokes that almost didn't make the cut.
This joke was almost too naughty for 'Wayne's World'
Wayne (Myers) asks for cream of sumyunguy soup when ordering takeout. Cassandra (Tia Carrera) knows he's saying cream of some young guy.
"I do remember people saying it may be dirty and we won't get a laugh," Myers said. "I go, 'Well, you know, I grew up in government housing in Toronto. I'm pretty sure that's going to get a laugh.'"
RELATED: 'Austin Powers': Mike Myers Originally Wanted Jim Carrey to Star Opposite Him
Myers offered an even naughtier joke so that sumyunguy wouldn't seem so bad. 
"The alternate I said is cream of oneguyhunglo," Myers said. "I offered the worst one in the hopes that they would go for the first one."
The 'Wayne's World' audience proved Mike Myers right
All was solved when they showed Wayne's World to an audience. Lowe said the test screening reacted so strongly to cream of sumyunguy that they still had to recut the movie.
"I remember a lot of things about the first time I saw Wayne's World cut together," Lowe said. "It was a test screening and I've never ever ever been a part of anything that ever had the kind of reaction that movie had in two places in particular: Bohemian Rhapsody but the other was cream of sumyunguy. I remember they actually had to go back and recut the movie to leave room for the laugh."
The studio resisted 'Bohemian Rhapsody'
The most iconic moment in Wayne's World was when the gang sand Queen's Bohemian Rhapsody in the car. Myers recalls producer Lorne Michaels and the studio suggesting other songs.
"The suggestion was Guns n Roses who I also liked," Myers said. "That just didn't happen to be the song we sang in Scarborough, Ontario when I was a kid."
RELATED: From 'Iron Man 2' to 'Wayne's World': 7 Amazing Movie Moments Featuring Queen Songs
Spheeris added that Myers wrote the Queen song into the script. Associate Producer Barnaby Thompson had to pressure Paramount to secure the rights. 
"There was a complication with the rights at the time," Thompson said. "Paramount kept saying they couldn't get the rights. We as a collective kept saying well, just [get them]. The head of music at Paramount flew somewhere like Japan to get the rights which he got two days before we did the scene."