'WeCrashed' Season 1 Episode 3 Recap: 'Summer Camp'
In 'WeCrashed' Season 1 Episode 3, Rebekah Neumann (Anne Hathaway) comes under fire for comments made at WeWork's summer camp while Adam Neumann (Jared Leto) and the company's employees party.
AppleTV+'s original series is back with a WeCrashed episode 3 recap. WeCrashed Season 1 Episode 3: "Summer Camp" centers around Anne Hathaway's Rebekah Neumann. She, husband Adam Neumann (Jared Leto), and WeWork employees head upstate for a weekend getaway but things don't go as planned.
[Spoiler alert: This article contains spoilers from WeCrashed Season 1 Episode 3: "Summer Camp"]
'WeCrashed' Season 1 Episode 3 recap: Rebekah Neumann makes a comment about a woman's role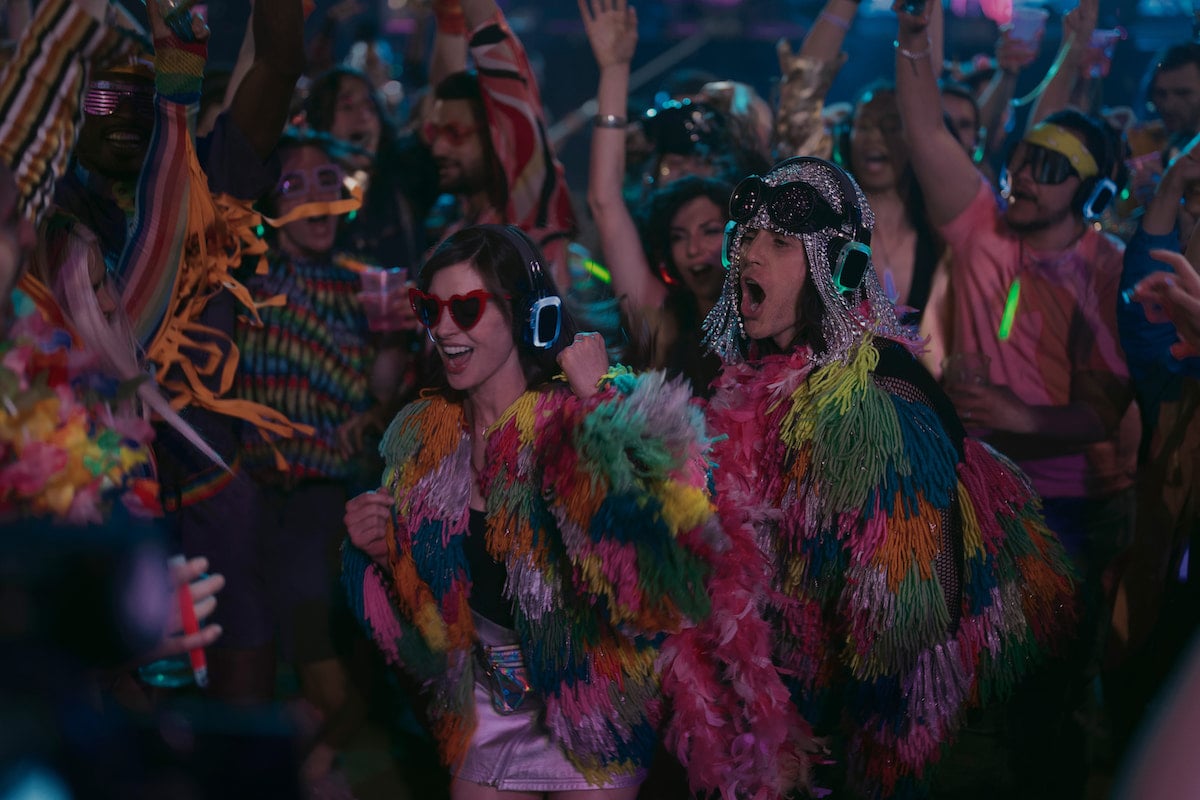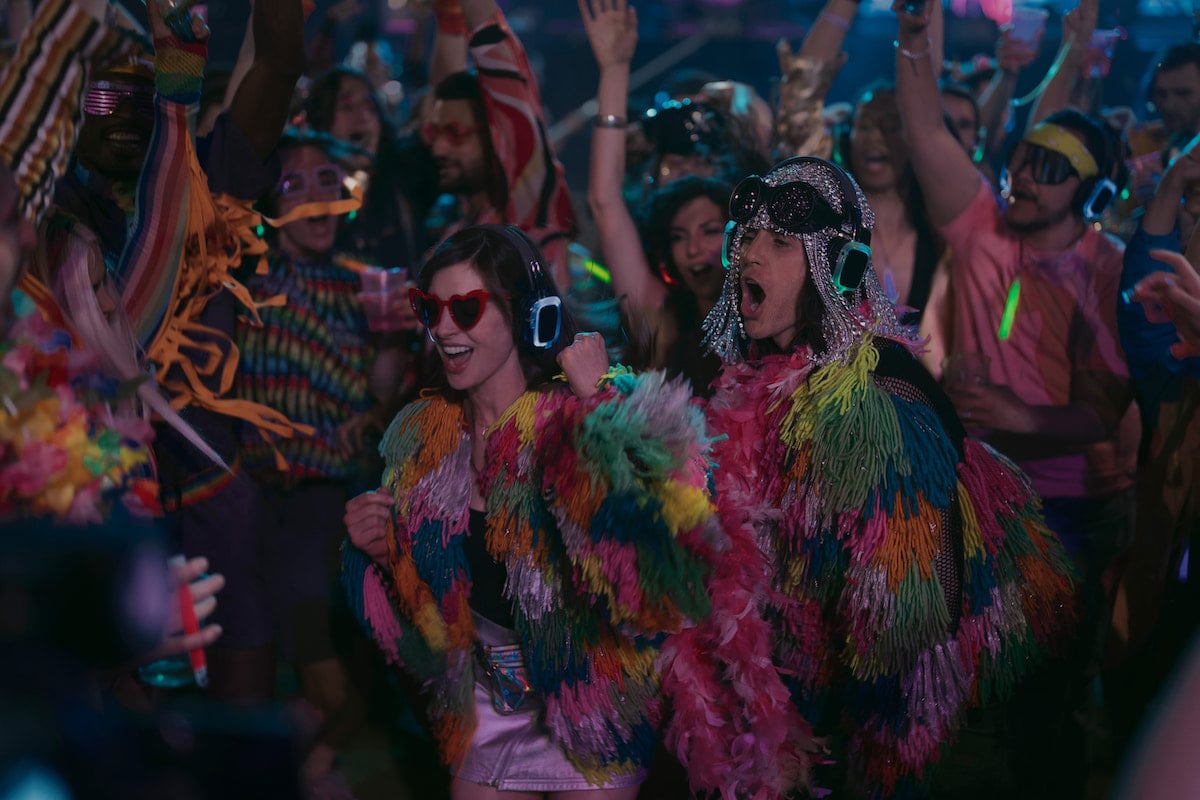 In WeCrashed Season 1 Episode 3: "Summer Camp," which, according to Apple TV+  began streaming on March 18, 2022, WeWork has grown significantly. There are now hundreds, maybe even thousands, of employees. Monday meetings resemble concerts and staff members have sex in closets.
The company's summer camp more closely resembles a music festival than a work retreat. Rebekah, Adam, and their baby arrive by helicopter. Adam takes the stage to a cheering crowd. 
However, the atmosphere changes when Adam ushers her on stage. Unsure what to say, she spots Adam's sister in the front row and thanks her for her support. Then she moves on to talking about the role of a woman, saying a "woman's role is to help a man manifest his own destiny."
The crowd boos Rebekah while a New York Times reporter takes notes backstage. Rebekah's whisked away on a golf cart to a home overlooking the lake. She's told by WeWork's head of communications she needs to set the record straight. 
Rebekah Neumann revisits her past writing a character reference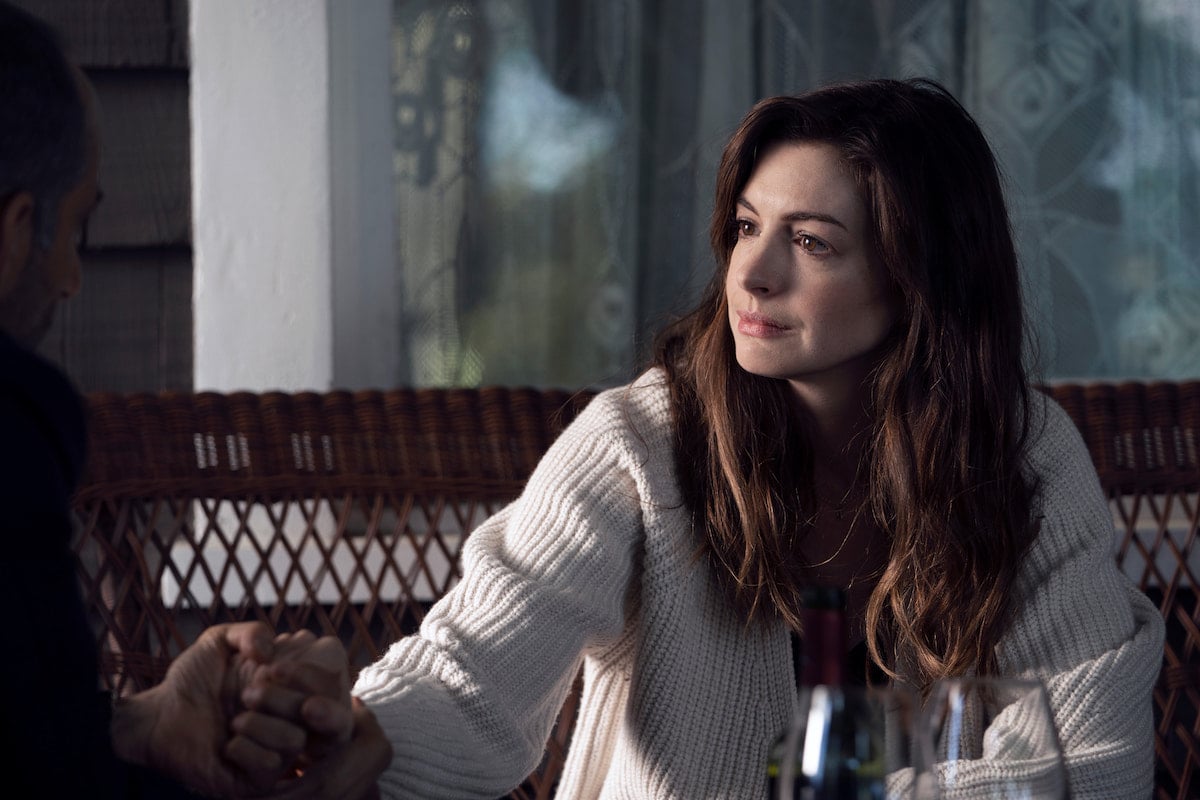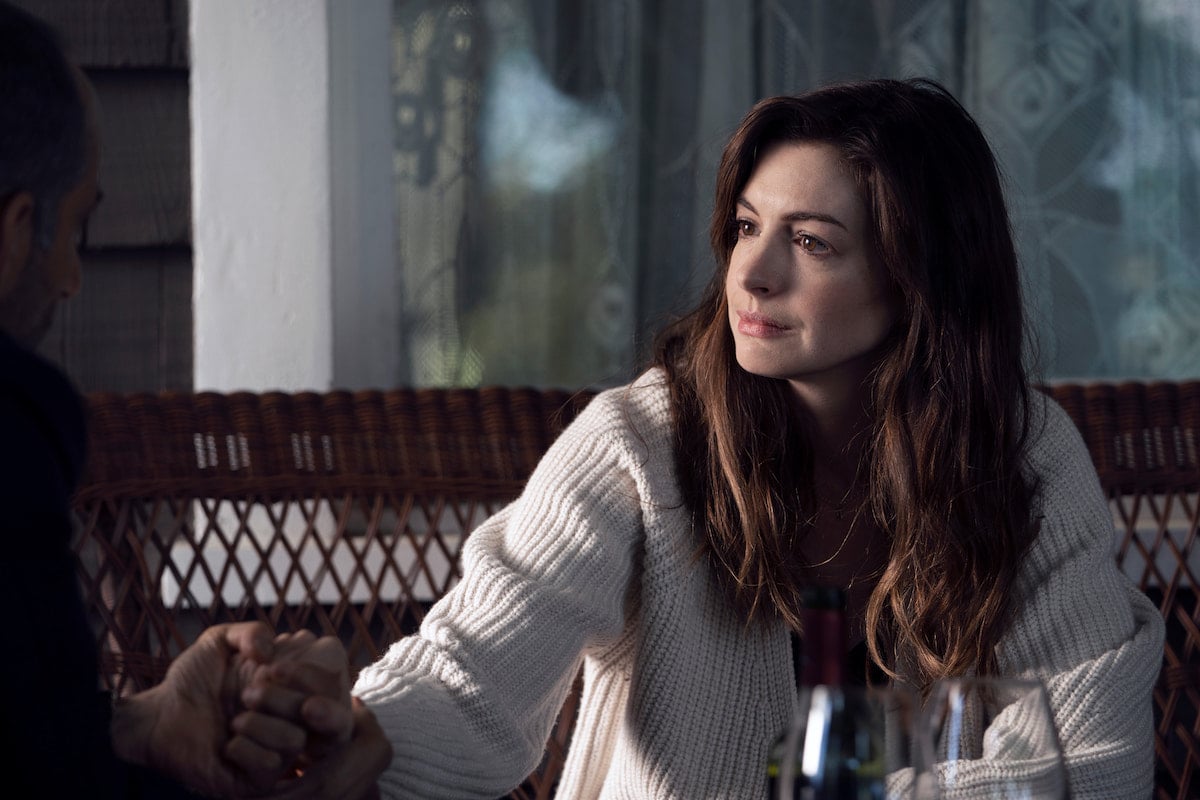 Rebekah has other things on her mind. She thinks back to childhood memories spent on the property with her brother, Keith Paltrow. There's not much time to reminisce because Adam wants her to go to a silent disco. 
She leaves the party early which doesn't go unnoticed by the New York Times reporter. Rebekah returns to the house where she attempts to write a character reference for her father, Bob Paltrow (Peter Jacobson). 
He's in legal trouble and, come to find out, has been for two years. His sentencing hearing is soon. 
Rebekah knows what to write after a "last supper" with Bob. Thinking back to Keith's death, she recalls it being especially hard on her father. She puts it down as the day he stopped living and the day she stopped eating meat. 
An attempt at damage control makes WeWork employees even more upset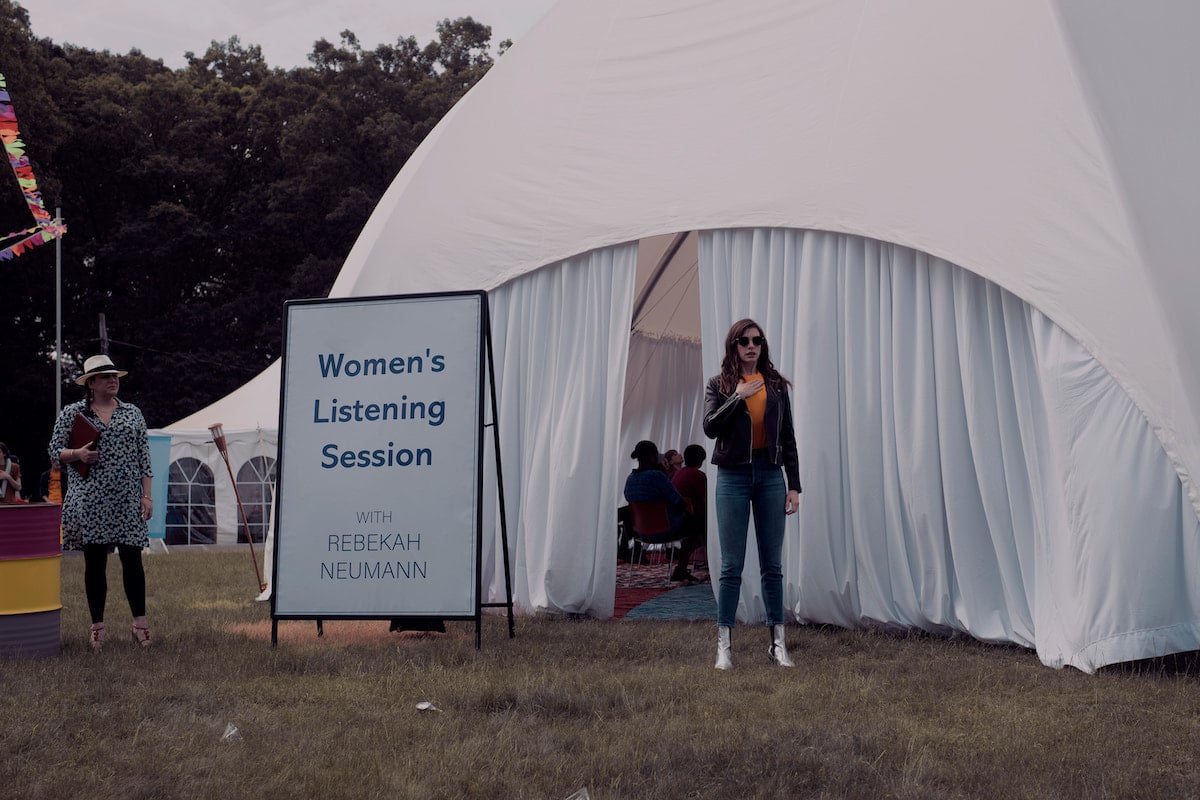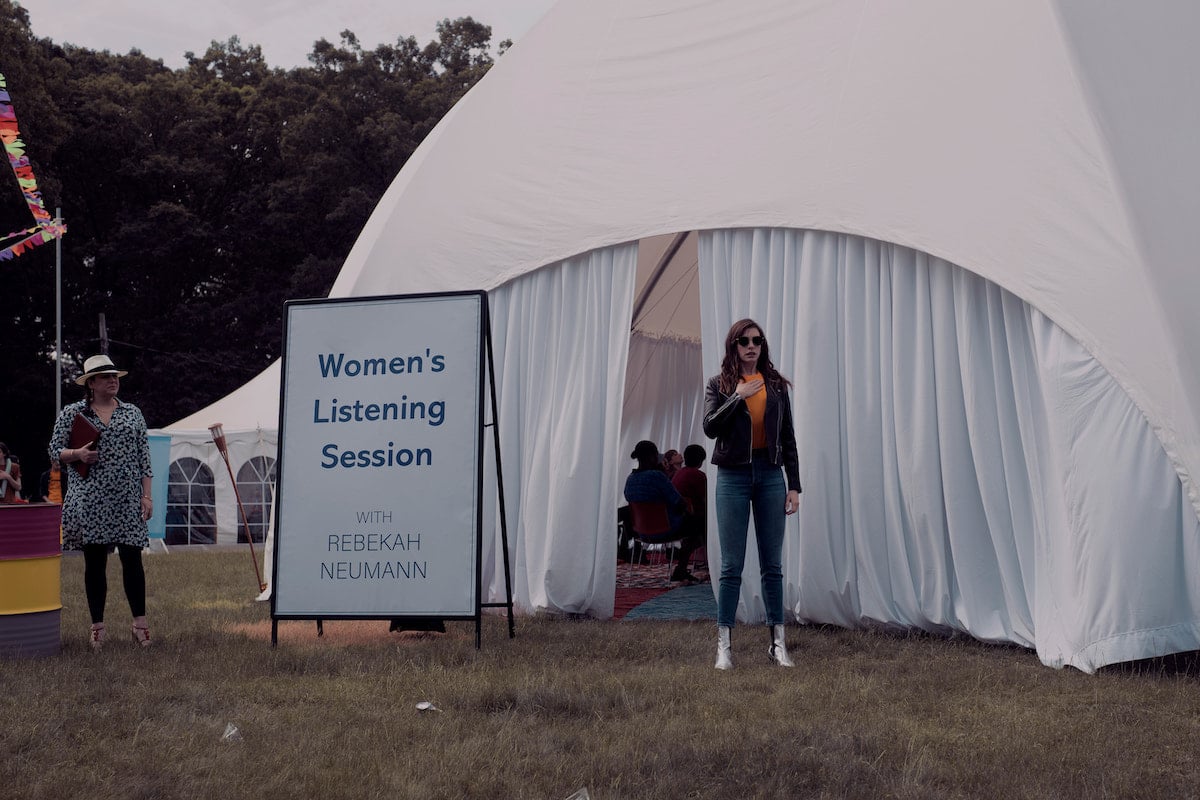 Summer camp continues and Rebekah tries to clear her head by going for a swim. On her walk to the lake, however, she steps in remnants of the night before; empty cups and a used condom. 
Later, she shows up to host a yoga class but no one is there. The employees are boycotting her class following her comment about a woman's role being to help men. The company's legal team urges her to issue a statement. It's what Adam wants they tell her. 
Rebekah refuses and hosts a women's listening session in which the women of WeWork say they're fed up. They want "real wages" and are tired of the party atmosphere and the "f**k closet." "WeWork is a really bad place to work," one says while the New York Times reporter takes notes.
Rebekah's attempt at keeping the millennials happy because, according to the lawyers, they'll work 80 hours a week for beer and free t-shirts, fails. Later, she meets with the New York Times reporter to figure out what it will take to keep the events of the weekend out of the press. Her solution? Hire them as WeWork's new head of communications.