'Weird Science': Kelly LeBrock Wanted 'to Kill' Anthony Michael Hall and Ilan Mitchell-Smith in Shower Scene
Part of growing up in the '80s meant watching John Hughes' movies like Weird Science. The classic film starred Kelly LeBrock as Lisa, Anthony Michael Hall as Gary, and Ilan Mitchell-Smith as Wyatt. It's one of Hughes' many comedies that fused an awkward coming-of-age tale with goofiness and teen fantasy.
Fans can name each memorable scene in the film, including Lisa's first appearance and that moment she turned Chet into a talking turd. And then there was the shower scene (which might not fly by today's standards). Though Hall and Mitchell-Smith played mad scientists in the movie, they did one funny thing that made it challenging for LeBrock to get through the shower scene.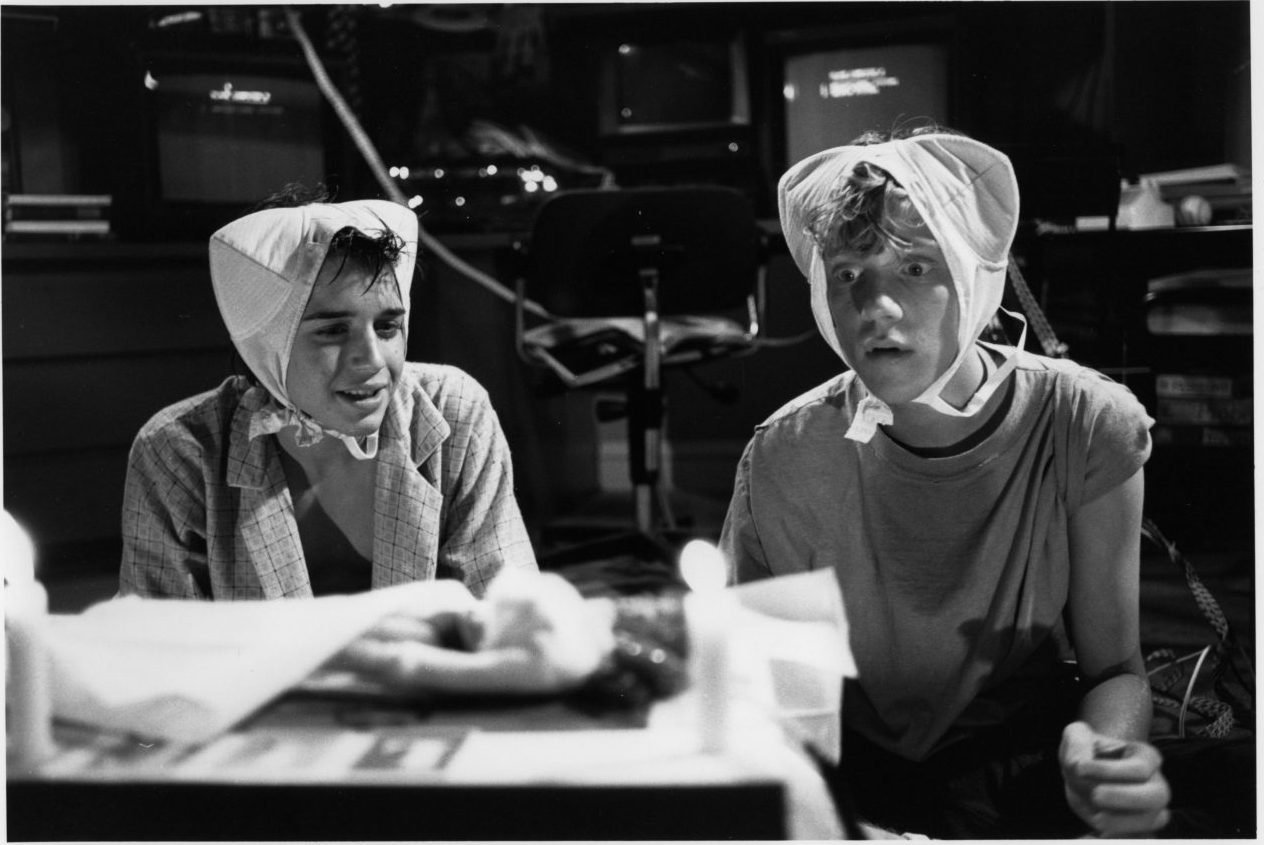 Lisa's shower scene in 'Weird Science' made the boys 'giggle'
Not longer after Gary and Wyatt welcomed their creation into the real world, they takea a non-sexual shower with her before she shepherds them to a nightclub. During an appearance at Awesome Con in 2019, LeBrock recalled how co-stars Hall and Mitchell-Smith couldn't stop cackling.
"I could have killed them in the shower scene because they had the giggles," she said jokingly. "I had Band-Aids here and little Polish military underwear, and they couldn't stop laughing. And so what should have taken about an hour took a few days."
Mitchell-Smith teased and said they were so sad about the extra time, while Hall chimed in with a memory of his own. He compared LeBrock's entrance on set to the old Sea Breeze commercials where a woman walked by onlookers and her magical wind knocked them in the face. At that time, she was a supermodel and had starred in The Woman in Red.
Anthony Michael Hall and Ilan Mitchell-Smith were real-life teenagers in 'Weird Science'
These days, it's common for 20-somethings to play teens in movies and TV shows. Just look at Outer Banks and Never Have I Ever as examples. But in Weird Science, Hall and Mitchell-Smith were legit teens in their starring roles. "I was 15 back then," said Mitchell-Smith, defending his nervousness. He added that because he was so young, he didn't take his interactions with LeBrock too seriously.  
Hall was 17 years old when he shot Weird Science. That same year (1985), he appeared in season 11 of Saturday Night Live as the show's youngest cast member ever. LeBrock remarked that she felt sorry for her young co-stars because not only did they have to film a movie, but they also had to do schoolwork. She said they didn't have much downtime, and they were too young to hang out.
LeBrock views 'Weird Science' as an anti-bullying film
Throughout the movie, Lisa coached Gary and Wyatt on their confidence, standing up for themselves, and how to appear "cool." But she also handled their bullies. During the panel discussion, LeBrock expressed that her character did a wonderful thing for the boys by taking them under her wing. The cast attributed that theme to Hughes' penchant for wanting his characters to learn lessons.
Fans of Weird Science can stream the film via Hulu, Amazon Prime, or YouTube.