Wendy Williams Speaks Out About Kylie Jenner's Parenting: 'There Are a Lot of Problems With Kids Having Kids'
Wendy Williams doesn't shy away from sharing her opinions. The talk show host has made a name for herself based on speaking her mind, and it's part of the reason her "Hot Topics" segment is so successful on her show.
Each morning, Williams highlights the trending news in entertainment. And this morning, she discussed how fans were dragging Kylie Jenner for her parenting. Though Williams seemed to think Jenner was a little young to have a daughter, she actually came to the reality star's defense.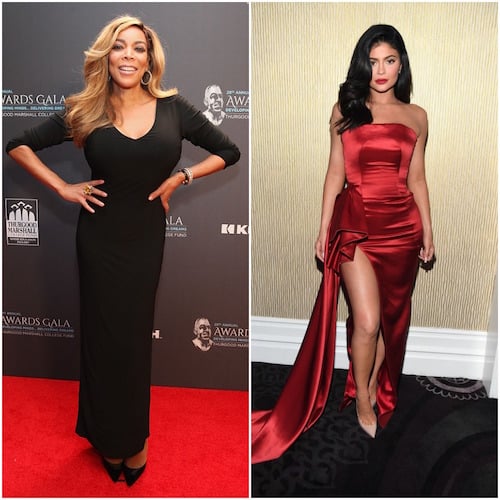 Kylie Jenner had her daughter, Stormi, when she was 20
Stormi might be the best thing in Jenner's life, but she came as a surprise. Back in 2017, Jenner had only just started dating rapper Travis Scott when the two realized they were expecting their first child. Jenner hid the pregnancy in its entirety, and she announced Stormi's birth several days after she welcomed the little girl.
Fans were shocked to learn Jenner had had a baby, since she was only 20. But today, Stormi is two, and despite Jenner's busy schedule, she works hard to be the best mother she can be.
Fans dragged Jenner for letting her daughter wear hoop earrings
Jenner loves to spoil her little girl. And on February 18, Jenner posted a photo shoot of her daughter to Instagram; Stormi's gold hoops were the highlight. The earrings had "Stormi" written inside of them, and though it's unclear how much they cost, Jenner likely spared no expense on them.
Some fans weren't crazy about Jenner allowing her daughter to wear hoops as a two-year-old. Besides that it made Stormi seem way too grown up, some saw it as a safety hazard, since Stormi could easily try to pull the earrings out of her own ears.
Wendy Williams actually came to Jenner's defense over the controversy
Williams discussed Jenner's earrings controversy on her show on February 20, and she highlighted that fans saw the earrings as a safety issue. But while Williams did refer to Jenner as a "kid," she didn't seem to think there was anything wrong with the hoop earrings.
"There are a lot of problems with kids having kids, but I don't believe this is one of them," Williams said. "My opinion is that Kylie probably put these earrings in her ears for a staged photoshoot, then took the earrings out." Williams also suggested that Jenner didn't allow her daughter to go to sleep with the earrings in and was probably watching Stormi while she was wearing them. "Are you serious?" Williams said to the haters.
Williams has landed in hot water with her opinions in the past
Though Williams took Jenner's side, she doesn't always take the side of the celebrity. And her opinions have occasionally landed her in hot water. She was dragged by Tommie Lee, Rob Kardashian's new girlfriend, after making fun of the Love & Hip Hop star. She also had choice words about Lori Loughlin's daughter, Olivia Jade, calling her "stupid" and "entitled." But Williams always stands by what she says, and we do love her for that.